Togakushi Village and the nearby Togakushi Shrine are situated in the north of Nagano within the Joshinetsu National Park – just 45 minutes drive from Myokokogen, Nozawa Onsen or Nagano City. This volcanic area has an altitude of 1,200m and is located at the foot of the two volcanoes, Togakushi and Iizuna.
Togakushi Village, Togakushi Shrine
About Togakushi Village, Togakushi Shrine, Nagano
Togakushi Village nestles amongst 900 year old cedars and is not only a beautiful place to visit but it's delicious soba noodles are also famous throughout Japan. There is also a small reproduction ninja village and school open in the warmer months whilst in winter there is a great ski resort with lots of the renowned Japanese powder. Why not try a short stopover in this ancient Japanese village?

Togakushi Village was formerly known as the village of Togakure which some consider to be the birthplace of Togakure Ryu Ninpo – a school of ninjutsu founded eight hundred years ago by Daisuke Nishina (Togakure). Daisuke became the first Soke (family head) of one of the arts now known as ninjutsu. The name Togakure or Toh Gakure, means "Concealing Door" and refers to the myth of the door which sealed the cave that the sun goddess, Amaterasu had hidden in.
See a Google Map of Togakushi Village

Togakushi Weather
Togakushi Ninja Village
The local Togakushi Ninja Village (Togakushi Ninja Yashiki or Chibikko Ninja Mura) is not an actual village full of ninja or a place to study ninjutsu (see below) but rather a fun and popular place to visit with a ninja theme. It's open 9am-5pm (late April – late November) and closed Thursdays (except mid-July to late August). Admission for adults is 450yen and children (over 4) 200yen. Some group packages are available. There is another attraction nearby named Togakushi Ninja Karakuri Yashiki (Ninja Trick House) which is quite fun, although a bit more geared toward adults or older children. It's also open 9am-5pm. To get there catch the bus to Chusha-miya-mae and walk about 15 minutes (more directions below).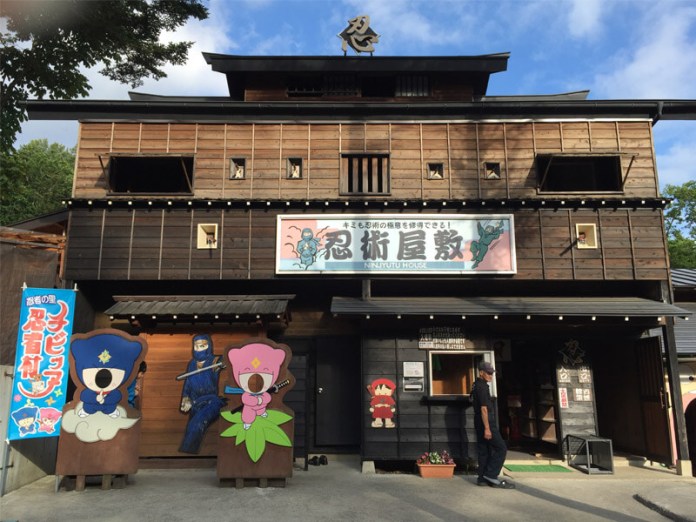 Togakushi Ninja Museum
There is also a ninja museum in the village. Togakushiryu Ninpo Shiryokan is a former ninjutsu building now established as an annex to the Togakushi Minzokukan (see below). It's exhibits include 500 items related to ninjutsu and two hundred picture panels of ninjutsu practices.
Togakushi Shrine
Togakushi-jinja (Shrine) stands in the midst of a wood with cedar trees that are over a hundred years old, just at the foot of the precipice of Mt. Togakushi. It consists of three shrines – the lower shrine is Hoko-sha (Treasure of Light), the second Chu-sha (Middle Shrine) and the third Oku-sha (Deep Sanctuary). They were built at intervals of roughly two kilometers (see Togakushi Shrine map or Togakushi Google map). These shrines are dedicated to mythological gods and each has a long history. The approaches to each shrine are unique and it is customary to clap twice when worshiping at shrines to awaken the gods before praying. The approach to the upper shrine (see photo at top) is known for its natural beauty, lined with over three hundred majestic old Sugi trees. Check out the official website here (Japanese), as well as the video below.
Togakushi Museum (a.k.a. Togakushi Minzokukan)
Togakushiryu Minzokukan has many different items (over 2,000) on display which help to show what life was once like in the Togakushi area.
Ninjitsu Training
For kids and adults alike who want a bit more reality in their ninjutsu, there is an actual Togakure Ryu Ninpo teacher available. The teacher has a gift shop at the foot of the Chu Sha, the "middle shrine" of the three great shrines of Togakushi. Lessons are Sunday nights from 8pm, and if one would like to try an introductory lesson, you can go into the gift shop and ask for Matsuhashi-sensei. He doesn't speak English, but there are a couple of students who can interpret for any would be ninja. Most students are only passing through, but there are three locals (two of which speak English) that learn regularly.
Togakushi Soba Noodles
Togakushi village is famous throughout Japan for it's soba (buckwheat noodles) which come in a variety of sizes and are defined by how much buckwheat flour is used in their making. At least 30% buckwheat flour must be used in order for noodles to gain the trademark of soba. Higher buckwheat content makes sobamuch more desirable to the discerning public. It started its history there as sustenance for monks during their severely austere religious training; these monks ate soba powder dissolved in water, or took grilled soba powder into the mountains when they went for training. Today it's still used in Togakushi's harvest festival – and in Spring you can see fields of soba flowers, which are used to produce the flour for making soba. There are as many as thirty soba shops boasting the superior taste of their hand-made soba that line the long road leading to Togakushi shrine. Accordingly, the area is a favored destination for soba lovers from throughout Japan and overseas. For a sample check out this local soba restaurant and menu.   You can also check out the Togakushi Soba Museum (open 9am-4.30pm) where you can make your own buckwheat soba noodles under the guidance of a master chef or just enjoy watching noodles made by an expert. The 'A' Course (instructional) is 3,000 yen, whilst the 'B' Course (cook and eat!) is only 700 yen. Both include admission to the museum as well. Courses run daily between 10am-3pm and reservations are recommended.
Togakushi Ski World
Togakushi Snow World (戸隠スキー場), a.k.a. Toga kushi Ski Menou, enjoys a wonderful position at the foot of Mount Menou. Togakushi Snow World is only is a medium sized ski area but still offers skiers and snowboarders a respectable 548 metres (1798 feet) of vertical descent with good powder conditions often available. Togakushi offers fewer crowds than the other better known Nagano resorts like Hakuba and Shiga-Kogen. Please refer to the Togakushi ski and snowboard page (English) or go the Togakushi Snow World website (Japanese only). A resort map can be downloaded here. Live cams can be seen below or here on our webcam pages.
Onsen
Many of the good hotels in the area have onsen (hot springs) plus there are several fine public onsen. These include Iizuna Resort Onsen Tengu no Yakata (phone 026-253-3740) which is three minutes by car from Iizuna Resort. It's open 10:00 – 21:00 (closed every 3rd Tuesday) and the cost is ¥500 for adults and ¥300 for children. Nearby Togakushi Snow World at the end of the road by Togakushi Shrine is Togakushi Kamitsuge Onsen Yukokan (phone 026-254-1126) It's open 9:00 – 21:00, but be warned they have irregular closing days. Adults are ¥600 and children ¥300. Local town onsen are also available and quite inexpensive but usually consist of only one smallish bath.   Check our onsen page for further details
Shopping
Togakushi bamboo craft work has been produced via traditional skills in the village since the Edo period. They are now highly-rated as fine art. You will find these sold in a number of local gift shops and artisan quarters   As well as it's famous soba noodles, the local area has numerous roadside stalls and farmers' markets where you can buy great local produce for just a fraction of the price you would pay in Tokyo or Osaka. The tomatoes and peaches are renowned and the region grows blueberries, apples, pears, corn, edamame(green soybeans) and dozens of other fruits and vegetables. You will also discover all sorts of local specialties such as Scotch thistle preserve, walnut jam and aloe vera honey.
Events & Festivals
The Togakushi Soba Festival is held during the fall equinox, Shūbun no hi. This time also celebrates the buckwheat harvest, without which there would be no soba. People buy small sake cups on the eve of the festival and eat soba at any (or all!) of the twenty one participating restaurants. Admission is free.
Togakushi videos: (1) Togakushi Ninja Village House
Togakushi videos: (2) Togakushi Shrine in snow
Birdwatching in Togakushi
More than one hundred kinds of wild birds inhabit the nearby highlands – one of the most renowned areas in Japan for wild birds. Togakushii Forest Botanical Garden (part of the Jo-shin-etsu National Park) covers over seventy hectares and is visited by many bird watchers and hikers.  

Other nearby attractions
Zenkoji Temple in Nagano City is Nagano's most popular tourist spot. Historic Lake Nojiri, with a variety of activities available, is about 30 minutes by taxi.
The rugged ridges of Mt. Togakushi attract many mountaineers, hikers and climbers. This mountain is sometimes linked to then religious myths associated with the foundation of early Japan. Also regarded as a sacred place, it has long been worshiped by Buddhists, making it the aim of many religious pilgrimages. Check out Togakushi hiking maps via the Togakushi English Travel Guide. Also, watch out for the wildlife!   In November Togakushi hosts a 45km race that takes runners up and down the hilly hiking trails of Togakushi, Iizuna and Kurohime's glamorous mountain range. A 25km middle course is an option for those looking for something less challenging. For beginners, juniors or team competitors a special 5km course is also available. See the official site for more details.   "A superb year-round destination for hikers as well as skiers, and the ascent of Togakushiyama is a great introduction to the area…" Hiking in Nagano: Togakushiyama-Door Hiding Mountain
Togakushi Accommodation options
Need a place to stay? Check out these establishments below and more at our Togakushi and Iizuna accommodation guide plus sightseeing map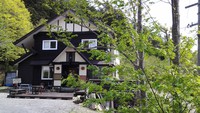 Lodge Pico is popular Togakushi accommodation that is only a 3-minute walk from Togakushi ski area. It features ski-to-door access, ski storage and Japanese-style rooms plus offers freshly baked bread as well as a free shuttle is available from the nearest bus stop. Map to Togakushi Lodge Pico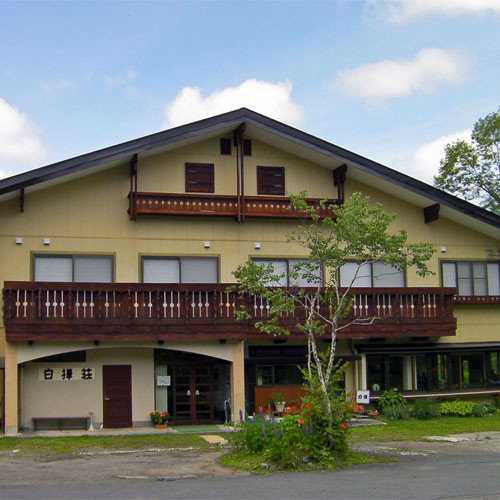 Togakushi-Kogen Minshuku Rindo is a popular Togakushi accommodation establishment in a central location with in-house courtesy van, satellite TV and ski rental. One hour by bus from JR Nagano Station or thirty minutes drive from Lake Nojiri. Map to Togakushi Tabinoyado Sirakabasou
Find the best deal, compare prices and read what other travelers have to say about hotels in Togakushi
Togakushi live webcam (real time images)
Directions to Togakushi Village
Exit Nagano station via the Zenkoji exit, then take a Kawanakajima bus bound for Togakushi Camp-jo or Togakushii Chusha-miyamae from the Kawanakajima bus station opposite Nagano station (Stop 7). Get off at Hokosha-miyamae if wanting to see all three of the Togaksuhi Shrines or Chusha-miyamae if wanting to start at the middle shrine. The scenic bus trip up takes approximately 45-50 minutes through a coil of switchbacks, hairpin bends and mountain passes. Cost is ¥1350 one way and return ¥2400. See here for more details.
If you are coming from Kanazawa or Niigata you can take the train to Kurohime station. From Kurohime station there is a free shuttle bus (40 minutes) to Togakushi, but you must make a reservation at the resort. You can also go by taxi. See here for more details
If you are coming by car from Tokyo, take either the Chuo or the Joshin-etsu expressways to the Nagano exit. Follow the signs to central Nagano, then to Zenkoji temple and finally to Togakushii. It should take between 30 and 45 minutes by car from central Nagano depending on traffic and weather conditions. From Nagoya or Osaka, take the Chuo expressway to the Nagano exit and follow the same directions. See here for more details.
Something to read on the plane or train
The Togakushii Legend Murders is a suspenseful murder-mystery/detective story, skillfully intertwined with authentic local legends from the Togakushi area of Nagano. These just enough background and color to the tale without detracting from the murders and their investigation which are the main thrust of the plot. The story opens in war-time Togakushi, a small village whose main claim to fame is the legendary Maple Demoness, a woman who fed poisoned sake to a famed general during an ancient conflict. Fast forward a few years and all sorts of skeletons come out of the cupboard as the protagonist tries to uncover the perpetrator of a series of murders. A series of subplots will keep you guessing right till the very end.
Togakushi reviews
Inspired by boyhood memories of ninja movies, Stephen Phelan of the Sydney Morning Herald looks for signs of stealth in the forests of Togakushi.
Togakushi Photo Galleries – click here
Togakushi Map

View Togakushi Village, Togakushi Shrine and Iizuna in a larger map
Tags: Togakushi Japan, Accommodation, Bird Watching, Directions to Togakushi Village, Events and Festivals, Forest, Hotel, Iizuna, Japan, Nagano, Ninjitsu Training, places to stay, Soba Festival, Soba Museum, Soba Noodles, Temple, Togakushi, Togakushi Legend Murders, Togakushi Ninja Village, Togakushi Shrine, Togakushi Snow World, Village, Webcam