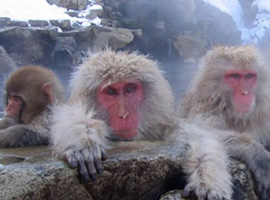 A visit to the Nagano area would not be complete without seeing the Japan Snow Monkeys in Jigokudani Monkey Park (地獄谷野猿公苑 Jigokudani Yaen Kōen) in Yamanouchi Town, Nagano Prefecture. It is a popular day trip from Myoko Kogen, Nozawa Onsen, Shiga Kogen, Nagano City and Togakushi. Check out our new Japan Snow Monkeys Street View!
Japan Snow Monkeys:
Information, Directions, Tours, Maps & Hotels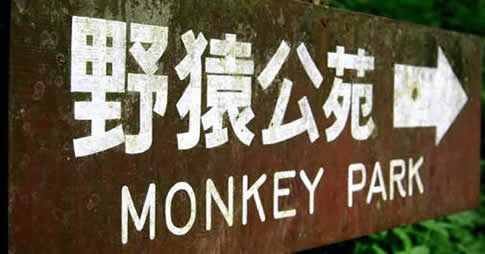 Check here for inclusive one day tours to the Japan Snow Monkey Park!
From Tokyo : From Hakuba : From Nagano

Japan Snow Monkeys Onsen Park: About
The Japan Snow Monkey Onsen is located in the valley of the Yokoyu River which is part of the Joshinetsu-Kogen National Park. Despite its relatively remote location, roughly 90,000 visitors trek through the woods of Nagano each year to see Japan snow monkeys in the Jigokudani Wild Monkey Park. Overnight visitors usually base themselves in nearby Kanbayashi Onsen, Shibu Onsen or Yudanaka Onsen
Short Japan Snow Monkey video
The large population of wild Japan snow monkeys go to the valley during the winter foraging elsewhere in the national park during the warmer months. The main onsen bath was constructed specifically for use by the monkeys. The monkeys descend from the steep cliffs and forest to sit in the warm waters of the onsen, and return to the security of the forests in the evenings. The monkeys are all free-ranging; their numbers move in and out of the valley depending on the season. In winter, when food is limited, monkeys congregate in and around the pools for warmth and the daily supply of barley and soybeans. However, they are still sometimes sighted even in the summer as they take occasional baths. Some would say that this is because they are lured by food thrown into the pool by park wardens.
The name Jigokudani, meaning "Hell's Valley", is due to the steam and boiling water that bubbles out of small crevices in the frozen ground, surrounded by steep cliffs and dense forest. Jigokudani is as nearly as far north as it gets for monkeys (the furthest extreme being the Shimokita Peninsula at the northern part of the Honshu island). No primate, with the exception of humans, is known to live in a colder climate. And it does get cold here—snow covers the ground for four months of the year, and winter temperatures average 14ºF (-10º).

Discount Shinkansen Tours: Great deals for visitors to Japan – up to 52% off!
How did the Japan snow monkeys start bathing in the onsen?
The story goes that in 1963, a young female monkey clambered into a hot spring to collect soybeans that were floating on the surface of the water. The behavior was copied by others in the troop, and soon it became common for the monkeys to retreat to the hot pools when the harsh winter arrived. Naturally the tourists followed soon after.
Japan Snow Monkeys: Warnings
Leave any food you may have inside the visitor's centre. It is also not advisable to carry plastic bags or eat in front of the Japan snow monkeys. You are also warned not to touch the monkeys nor stare into their eyes. Travel lightly, especially in winter – good shoes/boots and a backpack rather than a suitcase. And watch out when leaning over to take photos!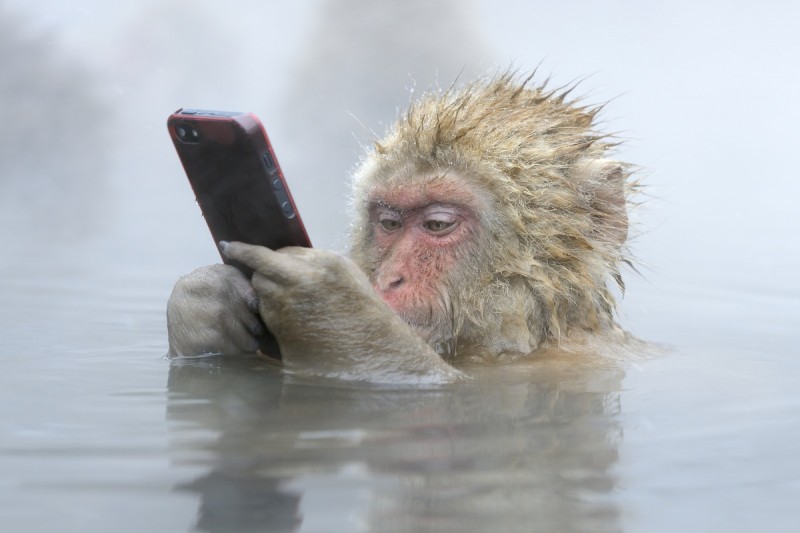 Japan Snow Monkeys: Webcam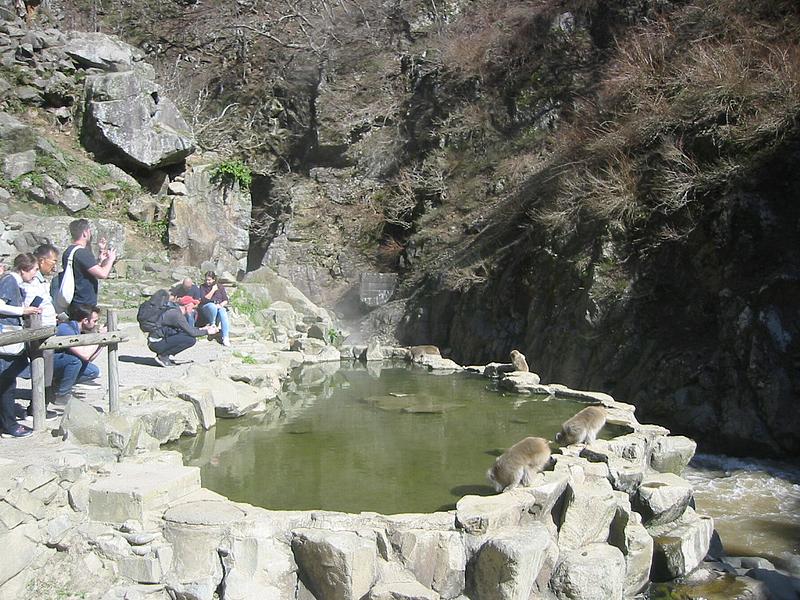 For more local Nagano webcams click here!
Snow Monkeys Japan Hot Spring Park: Local Weather
Japan Snow Monkeys: Admission Fee
 Single ticket
 Group ticket
(20 more people)
Annual Pass
 Adult
 800yen
 680yen
 3000yen
 Child
 400yen
 340yen
1500yen
Notes:
Consumption tax is included;
Adult price is 18+ years old;
Child price is for 6-17 years old;
A child aged below 5 is free of charge but must be accompanied by a parent or guardian;
No senior discounts available
Japan Snow Monkeys Onsen Park: Getting there
Brief directions about how to get to the Japan Snow Monkeys in Nagano
During winter, one and two day tours are available from Nagano, Myoko Kogen, Madarao, Yudanaka, and other nearby centres to the Japan Snow Monkeys plus also even from Tokyo.
From Nagano Station to the Japan Snow Monkeys
There are four options to get from Nagano Station to the snow monkey park:
1. Japan Snow Monkey taxi charter (from ¥2,722 per person round trip)
Have a hassle-free taxi trip to the snow monkey park from Nagano Station. The cost is 21,500 yen for a regular taxi (4~5 people) or 29,500 yen for a jumbo taxi (~9 people) including transportation to Kanbayashi and back, and stand-by time so you can enjoy the monkeys for an hour. Request a Japan snow monkeys taxi booking here.
2. One day Japan Snow Monkey tour from Nagano – organized by JTB. Ideal for those on a JR Rail Pass. Runs in winter only.
3. Express Bus to Kanbayashi (¥1,300)
Nagaden express buses operates 8+ buses a day during the winter from Nagano Station's East Exit (see map) up to the Shiga Kogen ski area. They drop off at "Snow Monkey Park" stop in Kanbayashi Onsen (formerly "Kanbayashi Onsen Guchi" stop) which is in the vicinity of the Kanbayashi trailhead. Just be aware that it's still a 30-minute walk from the bus stop to the actual monkey park.
4. Train to Yudanaka (¥1,130~1,230 yen)
If you want to take a train from JR Nagano Station, take the Nagano Dentetsu limited-express train to Yudanaka 湯田中. Service is more frequent than the above-mentioned express buses, and you can choose between local trains (¥1,130 yen, approx. 1 hour 15 min.) and express trains (45 mins / ¥1,230). A JR Pass cannot be used on this line but a Shinshu Pass is available (see below). Also see the video below for a visual explanation and also how to get to the Japanese Snow Monkeys from Yudanaka Station.
From Yudanaka Station to the monkey park, you can choose from the following:
1. Local Bus (¥210)
Roughly matching up with the train arrivals, local buses connect Yudanaka Station to the Kanbayashi trailhead in a quick 7 minutes.
2. Mini Shuttle Bus (prices start from¥700 one way)
Shibu Onsen provides a mini shuttle bus from Yudanaka Station directly to the Jigokudani Parking Lot. It is closer to the monkey park entrance than Kanbayashi (15 minutes walk vs. 30 minutes), but is a lot steeper of a walk. Reservations required (tel 0269-33-8636 – 8:30-17:00). The shuttle only runs on particular days from December to March.
3. Taxi. From Yudanaka Station take a taxi to the trail head at Kanbayashi Onsen (roughly ¥1,000).
One day Snow Monkey Train Pass
Nagaden now offers a 1-Day Pass that includes transportation and entrance to the Jigokudani Yaen-koen Monkey Park for 2900 yen (a savings of 400 yen). Unfortunately at Nagano Station it's not sold at the Nagaden bus stop where the buses depart (East Exit). Instead you have to go to their train ticket office in the subway station outside the Zenkoji or Midori Exit.
See a Japan snow monkey access map here.
Video for getting to the Snow Monkeys in Nagano, Japan
Walking to the Japan Snow Monkeys Hotsprings
From Kanbayashi it's all on foot, trekking up the snow covered road until a trail breaks off through the trees (see below). For two kilometres the path winds its way through a forest of red pine and Japanese larch until finally arriving at Jigokudani. All up it's about a thirty minute walk (roughly three kilometres in total) to the Jigokudani Yaen-koen entrance of the Japan Snow Monkeys.
See the 'live' Japanese Snow Monkeys walk on Google Street View
Onsen for humans!
If you feel like a hot spring dip yourself many of good hotels can be found in the area further down the valley. Jinpyokaku is conveniently located just under the gateway of mountain path to Jigokudani Yaen-koen, whilst dozens of 

ryokan with hot spring baths are located in and around Yudanaka and Shibu Onsen. There are also several fine public onsen (see a Shibu Onsen map here) known as Soto-yu Meguri. Look for the this symbol (right) on maps and signs when seeking onsen.
Important note: Can you bath with the monkeys? Yes, possibly, but why would you? Remember, the monkeys are not toilet trained or into personal hygiene. Bathing in an onsen that has been used by them would like swimming in monkey's toilet.
Check out this onsen page for further details of Nagano onsen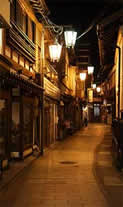 Shibu Onsen
Nearby Shibu Onsen 渋温泉 with its narrow streets offers a particularly nice atmosphere with people strolling in their yukata and wooden geta sandals. Some inns date back sixteen generations and their wooden facades look like they came from a historic period drama. The main Inn "Kanaguya" was one of the models for Studio Ghibli's award winning Spirited Away. Check the fantastic Shibu Onsen video below featuring Kanaguya below to get an idea. See a Shibu Onsen map
Snow Monkey Park, Nagano: Accommodation and Sightseeing Map
See larger Jigokudani Koen Snow Monkey Park Accommodation & Sightseeing Map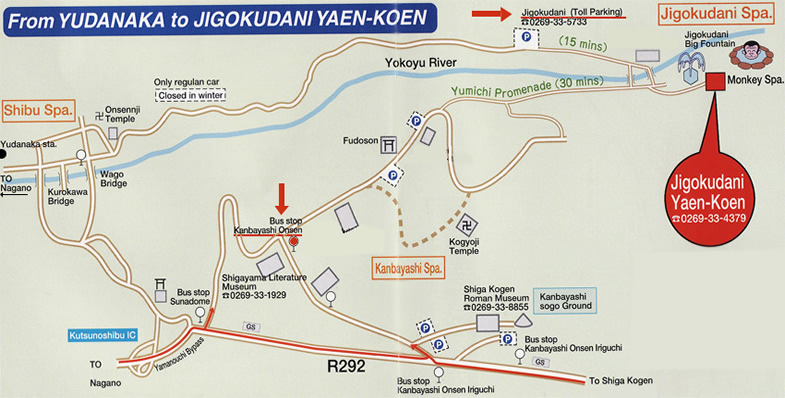 Need a place to stay? Check out the establishments below or see TWENTY more places at our Japan Snow Monkey Accommodation page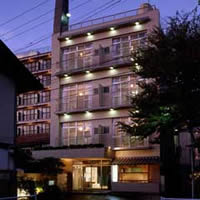 Shimaya Ryokan is our No. 1 accommodation destination in Yudanaka Onsen. It is located in the centre of town and only 8 minutes away from Yudanaka station. When requested, the ryokan will provide 'on-demand' free shuttle services to and from the Jigokudani Snow Monkey Park. Read or leave a review of Shimaya Ryokan here. See more Yudanaka Onsen / Snow Monkey accommodation here
Yudanaka Seifu-so is a traditional Japanese style guest house located in Yudanaka Onsen. Free breakfast and LAN connections provided. The building was built during the Meiji era (1868-1912) with a traditional inner garden too. All of the 15 guest rooms are Japanese-style rooms with tatami mats. Guests can use the onsen privately upon request (for free). Dinner is available and features Japanese specialities made with Shinshu beef and other fresh local products. Free wi-fi available.See more Yudanaka Onsen / Snow Monkey accommodation here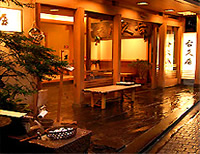 Shibu Onsen Kokuya Inn is a popular historical inn dating back 400 years with friendly hosts located in Shibu Onsen. The Kokuya prides itself on providing a genuine Japanese inn experience. The hotel has five indoor hot springs (onsen) and four open-air baths. Enjoy a hot tub on the balcony too! See more Shibu Onsen / Snow Monkey accommodation here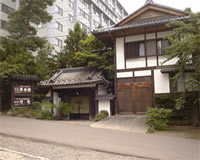 Jinpyokaku Honten is an authentic Japanese inn with a history over 100 years that sits near the entrance to the Jigokudani-koen Monkey Park. Over the years it has played host to a large number of famous writers (inc. Yasunari Kawabata) & artists. Rated as one of the "100 real hot-springs" in Japan in 2004.  See more Kanbayashi Onsen / Snow Monkey accommodation here


Find the best deal, compare prices and read what other travelers have to say about hotels for the Japan Snow Monkeys in Shibu Onsen, Yudanaka Onsen and Kambayashi Onsen