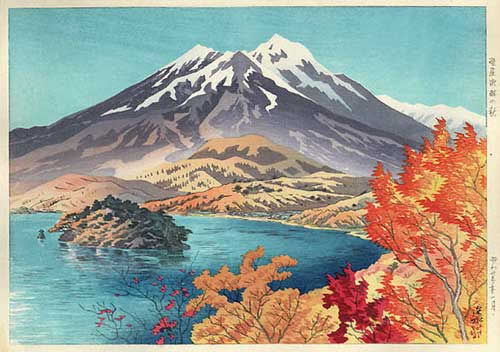 Lake Nojiri (nojiriko – 野尻湖) is an ancient glacial lake – Nagano's second largest, and located within a three-four hour journey from Tokyo.
About Lake Nojiri (Nojiriko)
Long term Japan residents have been secretly sneaking off to this idyllic spot for years and many own summer houses dotted among the trees in the kokusaimura (international village) area. If you're not lucky enough to have a host, there are several pensions and small hotels in the main town. With a lively and diverse foreign community, friendly locals, great fresh food and a host of water sports, it's easy to see why Lake Nojiri has a special place in many Japanophile's hearts. If you can't surrender to the temptation to do nothing, try a spot of fishing, a swim in the lake, a stroll along the Woolly Mammoth trail or a nice healthy hike. Upon enquiry locals can run hikes and foraging expeditions for wild foods like mushrooms and mountain vegetables.
The area's most famous current resident is C. W. (Nick) Nicol, a local author and conservationist whose passion is the local mountain area – Japan's last remaining old-growth birch forests, where bears still prowl.
Weather for Lake Nojiri, Shinano-machi and Kurohime
Summer or winter – great deals at Lake Nojiri Guesthouse LAMP
 Activities and things to do in and around Lake Nojiri
A variety of activities take place all year round at or near the lake, including the following:
Summer:
waterskiing
sailing & water sports camps
swimming
wakeboarding
windsurfing
sailing
cycling
hiking the Shin Etsu trail and walking
grass skiing
fruit picking
The Lake Nojiri Triathlon is an increasingly popular event for both contestants and spectators. It held every year around the middle of July. Competitors came from all over Japan as well as overseas.
Ricky's Summer Sailing Camps are a unique summer experience of sailing, canoeing, kayaking, swimming and fun. The Camp is managed by Ricky Simeonsson, a life long Japan and Lake Nojiri resident. The late summer highlight is when areas of Kurohime Plateau (kurohime kogen) become covered in the new blooms of cosmos flowers – more than a million blooms in every colour of the rainbow. In early summer lavender grows all over an area on the south face of Mount Kurohime.
Sometimes a Celtic music workshop is held in summer at Lake Nojiri. Check here for details or email
There are several excellent golf courses in the area including Madarao Tokyu Golf Club and Madarao Kogen Country Club. Click here for more golf course information
The highlight of each summer is the Lake Nojiri hanabi (fireworks festival). This is a spectacular fireworks display over the lake held near the end of July every year. Try to arrive early – the traffic can be heavy! See an album from 2014 here.
Winter:
In winter visitors can engage in the uniquely Japanese sport of fishing for smelt (wakasagi), using red-dyed ant-eggs as bait. Wakasagi are a tiny silvery freshwater fish about the size of an anchovy. As the lake freezes over (though be warned it is not thick ice for walking on!), specially designed boats are available for hire. You can sit in the cabin warmed by a kerosene heater sipping warm local shochu (a little similar to sake) as you fish. A fishing guide map (in Japanese) is here.
There are many nearby ski resorts, including Kurohime, Madarao and Tangram. Check out our snow and ski page for more details.
Indoor activities:
natural dyeing techniques
glass-making
pottery making
In nearby Shinanomachi lies the home of the revered Japanese poet, Issa.
Shin Etsu Hiking Trail
This newly completed hiking trail (2009) runs for eighty kilometres through the Sekida mountains starting near Lake Nojiri. The trail runs through a relatively easy accessible range of thousand metre peaks covered with old forests of Japanese buna beech trees. These woods, filled with springs, lakes and ponds, are unique for being almost entirely free from other tree species, and also for the way they have been shaped and polished by the region's heavy winter snowfall. The Shinetsu Trail is open year-round, and is a wonderfully convenient way to explore the delights of nature in Japan. You can download maps and info here  (Japanese), see a Shin Etsu Trail video (English) here plus see a photo album here from the Shinetsu Trail Club (Japanese).
Japan Monkey Onsen Park – Click here
Other nearby attractions
Togakushi Shrine nestling amongst 900 year old cedars is just 30 minutes drive from Lake Nojiri. It's not only beautiful place to visit but it's delicious soba noodles are also famous throughout Japan. There is also a small reproduction samurai village school.
Zenkoji Temple in Nagano City is also a popular tourist spot. Catch the Dentetsu line train to Gondo or Zenkoji stations and then walk about 10 minutes.
Places to stay in & around lake Nojiri – Pensions, Resorts, Cabins & Hotels
See our Lake Nojiri Accommodation page for options or book online!
Shopping
Local Produce: For just a fraction of the price you would pay in Tokyo or Osaka, the Lake Nojiri area has numerous roadside stalls and farmers' markets where you can buy great local produce. The tomatoes and peaches are renowned throughout Japan and the region has local farmers growing blueberries, apples, pears, corn, edamame (green soybeans) and dozens of other fruits and vegetables. You will also discover all sorts of local specialities such as Scotch thistle preserve, walnut jam and aloe vera honey.
Beer: Check out the Shinano Brewery in Kurohime. Reviews can be found here. This brewery is nestled in the gentle rolling hills of Kurohime Heights. The brewmaster apprenticed at Ipswich Ale, near Boston. The result is four distinctive craft-brewed beers in bottles attractive enough to convert into vases or candleholders. Tel: 026-255-6633 Open: 11am-5pm daily
Check our shopping page for more ideas
Lake Nojiri and Kurohime Videos
A promotional video of Shinano-machi and the local area
History:
After Japan was opened up in the Meiji period the Nagano Mountains were 'discovered' by Christian missionaries, particularly the area around Karuizawa. To escape the hot summers of the Kanto plains many would retire to the coolness of the North Alps. These summer escapes for those of European blood were a common story across the colonized world, particularly with the British in Asia. In the later Taisho period, many of these foreign missionaries began to come to Lake Nojiri instead to avoid the burgeoning crowds at Karuizawa. The subsequent 'international village' (kokusaimura) that arose on the shores of the lake is still a popular summer resort today (see below for further details).
Historical Sites:
The Lake Nojiri Naumann Elephant Museum includes an exhibition of the fossils of Naumann Elephant and Big-horned Deer from Jomon times around 40,000 years ago. These were excavated in the Lake Nojiri area and are displayed together with an exhibition of stone tools and bone tools.
In nearby Shinanomachi lies the home of the revered Japanese poet, Issa
The International Community At Lake Nojiri:
For people who want to find out what it like to be a part of this historic volunteer owned and operated international community, a few cabins are usually available for rent each year directly from the members during the July-August season. See the Nojiri Lake Association website for more information .
Reviews
"I fell in love with the Nojiri region while I was living in Japan in the 1990s, because of the unspoilt beauty of the countryside…in a quiet glade in what is quaintly called the Joshinetsu "quasi national park" – and the hospitality of the locals"
Ben Hills in the Sydney Morning Herald
Nojiri Lake webcam
More Myoko and Nagano webcams here
Take a shinkansen (bullet) train to Nagano. Travelling time is 2.5 – 3 hours from JR Tokyo or JR Ueno stations (depending on connections and stops). Next swap to a train bound for MyokoKogen and alight at Kurohime station. To get to Lake Nojiri take the 'Nagaden' bus from Kurohime Station.
By car, take Route 18 or the Joshin-etsu Expressway between Nagano and Joetsu City and look for the turn-offs to Lake Nojiri. Car rentals are available here!
For fuller details visit our access page.
For an array of stunning photos of Lake Nojiri please go to the Four Seasons of Nojiriko website
"Autumn by Lake Nojiri", by Ito Shinsui (1948)
Descriptor: Information, directions and maps for Lake Nojiri, Nojiriko, Japan. Find here Nojiri Hotels, Nojiriko cabins, Pension Nojiri and places to stay . Discover water sports, fishing, sailing, boating, etc. 長野県, 野尻湖