Welcome to the new TheDailyFlake.com*. We are just getting the new site into gear so please bear with us as we get up to speed. The new focus is for Nagano Snow Reports – in particular looking at the Nozawa Onsen, Hakuba, Myoko Kogen and Shiga Kogen ski resorts. There will lots more info coming over the season so bookmark us and keep checking in because TheDailyFlake.com's snow & weather reports are a great window into the amazing winter one can find in Nagano, Japan.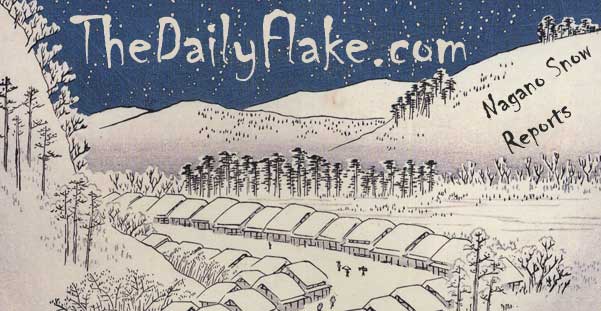 TheDailyFlake.com: Nagano Snow Reports & Weather
Want to join our team? See the note at the bottom of this page!
 
.

Hakuba

Hakuba Ski Resort Information – coming soon!

 
.

Myoko Kogen

 
.

Nozawa Onsen

Nozawa Onsen Ski Resort Information

Nozawa Onsen Weather Forecasts – coming soon!

 
.

Shiga Kogen

Shiga Kogen Snow Reports – coming soon!

Shiga Kogen Weather Forecasts – coming soon!

Book Shiga Kogen accommodation

Shiga Kogen Ski Resort Information – coming soon!
Positions Vacant
Are you working in Shiga Kogen or Hakuba for the 2013/14 season? We are looking for writers (reports), contributors (pics/videos) and/or sponsors for our DTheDailyFlake.com Nagano snow reports. We presently work with some awesome people in Nozawa Onsen and Myoko Kogen and would love to have some new crew on board for our Nagano snow reports in Shiga Kogen and Hakuba. Please contact us for further information.
*Disclaimer: This site has no connection with the original 'The Daily Flake'
.