The Daily Flake: Nagano Snow Reports
The Daily Flake: Nagano Snow Reports & Weather
Welcome to The Daily Flake: Nagano Snow Reports*. Our 2014/15 seasons reports are underway. Here's hoping for a great season!
Find and book Japan ski accommodation instantly via our secure travel booking site!
We will be regularly updating snow and weather conditions with the a focus on Nagano Snow Reports – in particular looking at the Nozawa Onsen, Hakuba, Myoko Kogen, Madarao Kogen and Shiga Kogen ski resorts. There will lots more info coming over the season so bookmark us and keep checking in because The Daily Flake's

snow & weather reports are a great insight into the amazing winter experience one can find in Nagano, Japan. Don't forget to like us on Facebook!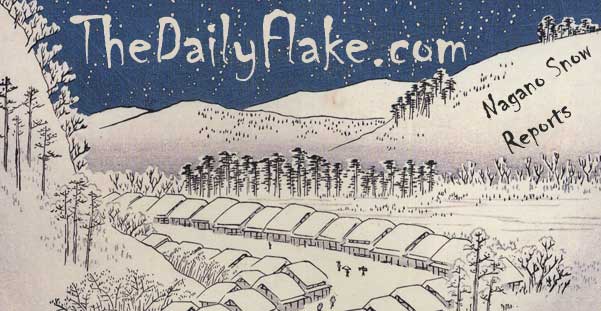 Want to join our Nagano Snow Reports team? See the note at the bottom of this page! Get snow reports by email
The Daily Flake: Nagano Snow Reports – Daily Flake video
First snow report for 2014/15

Reporting from Akakura Onsen, November 15 2014
Got a great Nagano ski video that you'd like to share? Or would like to show yourself off here to the world by presenting a guest snow report? Upload your best efforts and then contact us with the details!
The Daily Flake: Today's Nagano Snow Reports
.

Nozawa Onsen

Latest Nozawa Onsen snow report


When things are just out of reach for good reasons. Base up top: 190 cm Temp Top; -4 Degrees Base at bottom; 140 cm New Snow since close: 0 cm Weather; Overcast Everyone has been shovelling hard around the village late into the night yesterday. This means only one thing, snow is coming! Forecasts suggest heavy snows are expected over the coming days right up to the end of the week. Combined with what fell over the weekend we are looking towards a very solid december base indeed. No new snow fell overnight and yesterday afternoon felt decidedly warmer once the

[...]

See more at the Nozawa Onsen Snow Report

.

Myoko Kogen

Latest Myoko snow report


Myoko Snow Report: 13th December 2014 Day 1 of Season 2014/15 What a great opening day in Myoko! Last weeks falls were followed up with more snow starting yesterday. Akakura Onsen and Myoko Suginohara opened up a week early and today the crew hit plenty of fresh at Suginohara with hardly a soul on the slopes. Book your best Myoko accommodation deals now! Overall we have a present base of nearly 90cm. About 10cm have fallen since we took this picture this afternoon at Red Warehouse. The crew went up to Suginohara today for some laps and this was what fell on the Redmobile between

[...]

See more at the Myoko Kogen Snow Report

.

Hakuba

Hakuba Ski Resort Information – coming soon!

Latest Hakuba snow report


- Happo-one / ◎210cm / Sunny / December 19, 2014It was the first clear sky in 9 days since December 10. Temperature dropped down to -10℃, and Hakuba Sanzan looked beautiful. It was a perfect morning with no wind. [Alpine Quad lift]Both Usagidiara and Kurobishi Areas had untouched powder slope. Snow was squeaking beneath my boots, which got me e...

See more at the Hakuba Snow Report
.

Madarao Kogen

Madarao Kogen Snow Reports – coming soon!

Madarao Kogen Weather Forecasts

Book Madarao Kogen accommodation

Last Madarao Kogen snow report: 31st March 2014

Madarao Kogen closed today despite the presence of a great snow base. There will be another new tree run coming for 2014/15. Stay tuned!

.

Shiga Kogen

Shiga Kogen Snow Reports – coming soon!

Shiga Kogen Weather Forecasts – coming soon!

Book Shiga Kogen accommodation

Shiga Kogen Ski Resort Information – coming soon!

Shiga Kogen latest Snow Report: April 12, 2014

Beautiful sunny day today in Shiga Kogen. A number of areas have now closed for the season but some areas still will have lifts running right through up to Golden Week (May 6).
Positions Vacant
Will you be working in Shiga Kogen, Madarao or Hakuba for the 2014/15 season? We are looking for Nagano Snow Reports writers (reports), contributors (pics/videos) and/or sponsors for our The Daily Flake Nagano snow reports. We presently work with some awesome people in Nozawa Onsen and Myoko Kogen and would love to have some new crew on board for our Nagano snow reports in Madarao, Shiga Kogen and Hakuba. Please contact us for further information.
*Disclaimer: This site has no connection whatsoever with the original 'The Daily Flake' which was formerly based in Niseko and ran it's last reports in 2011.