The Daily Flake: Nagano Snow Reports
The Daily Flake: Nagano Snow Reports & Weather
Welcome to The Daily Flake: Nagano Snow Reports*. Our 2014/15 seasons reports are underway. Here's hoping for a great season!
Find and book Japan ski accommodation instantly via our secure travel booking site!
We will be regularly updating snow and weather conditions with the a focus on Nagano Snow Reports – in particular looking at the Nozawa Onsen, Hakuba, Myoko Kogen, Madarao Kogen and Shiga Kogen ski resorts. There will lots more info coming over the season so bookmark us and keep checking in because The Daily Flake's

snow & weather reports are a great insight into the amazing winter experience one can find in Nagano, Japan. Don't forget to like us on Facebook!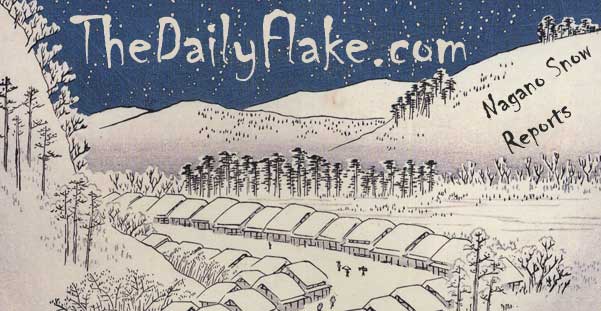 Want to join our Nagano Snow Reports team? See the note at the bottom of this page! Get snow reports by email
The Daily Flake: Nagano Snow Reports – Daily Flake video
First snow report for 2014/15

Reporting from Akakura Onsen, November 15 2014
Got a great Nagano ski video that you'd like to share? Or would like to show yourself off here to the world by presenting a guest snow report? Upload your best efforts and then contact us with the details!
The Daily Flake: Today's Nagano Snow Reports
.

Nozawa Onsen

Latest Nozawa Onsen snow report


Tempting backcountry lines. Base up top: 350 cm Temp Top; +3 Degrees Base at bottom; 155 cm New Snow since close: 0 cm Weather; Clear Its another perfect spring day in Nozawa Onsen. Light winds, cloudless bluebird skies and a perfect deep spring snowpack. For the best riding today head to the upper groomed runs or park. Intermediate to advanced riders will appreciate the Yamabiko groomers and the challenge area whilst beginners should head to the mid mountain green runs. Off piste may have some nice spring corn snow now its sufficiently packed. Yesterday saw nice spring conditions also. Runs were mostly

[...]

See more at the Nozawa Onsen Snow Report

.

Myoko Kogen

Latest Myoko snow report


Myoko Kogen Snow Report 12th March 2014: Light haze and soft snow Myoko Kogen Snow Report There is a high haze blocking out the sun but its still a great ski day. Its a bit above zero and the snow has softened. Here is a few shots yesterday of the instructors at Myoko Snowsports training with Richie Berger; one of the best technical bumps skiers in the world. The Team, Richie Second from Left Richie leading the charge down the zipper line Cassandra mid turn Charlie Evans concentrating hard Tom L looking a treat Book your best Myoko accommodation deals now! Current snow and weather conditions in Myoko now 24

[...]

See more at the Myoko Kogen Snow Report

.

Hakuba

Hakuba Ski Resort Information – coming soon!

Latest Hakuba snow report


- Happo-One / ×50cm / Intermittent Clouds / November 20, 2014With high expectation of clear sky, I hiked up to Happoike Sanso. Usagidaira was all covered in the snow of 50cm. Around 9:30am, there were some snowboarders and skiers who could not wait until the opening of the resort hiking up. [Usagidaira Area]Riesen Grat Course, which lays in the national park ...

See more at the Hakuba Snow Report
.

Madarao Kogen

Madarao Kogen Snow Reports – coming soon!

Madarao Kogen Weather Forecasts

Book Madarao Kogen accommodation

Last Madarao Kogen snow report: 31st March 2014

Madarao Kogen closed today despite the presence of a great snow base. There will be another new tree run coming for 2014/15. Stay tuned!

.

Shiga Kogen

Shiga Kogen Snow Reports – coming soon!

Shiga Kogen Weather Forecasts – coming soon!

Book Shiga Kogen accommodation

Shiga Kogen Ski Resort Information – coming soon!

Shiga Kogen latest Snow Report: April 12, 2014

Beautiful sunny day today in Shiga Kogen. A number of areas have now closed for the season but some areas still will have lifts running right through up to Golden Week (May 6).
Positions Vacant
Will you be working in Shiga Kogen, Madarao or Hakuba for the 2014/15 season? We are looking for Nagano Snow Reports writers (reports), contributors (pics/videos) and/or sponsors for our The Daily Flake Nagano snow reports. We presently work with some awesome people in Nozawa Onsen and Myoko Kogen and would love to have some new crew on board for our Nagano snow reports in Madarao, Shiga Kogen and Hakuba. Please contact us for further information.
*Disclaimer: This site has no connection whatsoever with the original 'The Daily Flake' which was formerly based in Niseko and ran it's last reports in 2011.