The Daily Flake: Nagano Snow Reports & Weather
Welcome to The Daily Flake: Nagano Snow Reports*. For Season 2013/14 we will be regularly updating snow and weather conditions with the new focus on Nagano Snow Reports – in particular looking at the Nozawa Onsen, Hakuba, Myoko Kogen, Madarao Kogen and Shiga Kogen ski resorts. There will lots more info coming over the season so bookmark us and keep checking in because The Daily Flake's

snow & weather reports are a great insight into the amazing winter experience one can find in Nagano, Japan. Don't forget to like us on Facebook!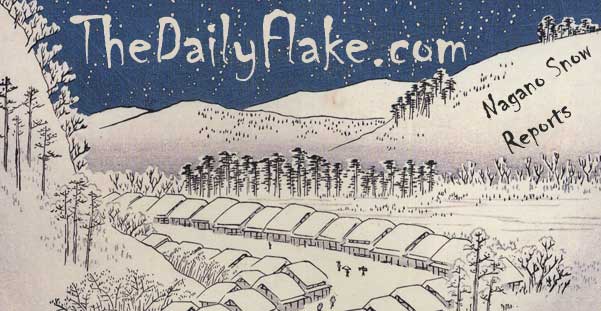 Want to join our Nagano Snow Reports team? See the note at the bottom of this page! Get snow reports by email
The Daily Flake: Nagano Snow Reports – today's Daily Flake video
Our featured video is Snowboarding Japan 2014
Thanks to Shay O'Neill – keep up the good work!
Got a great Nagano ski video that you'd like to share? Or would like to show yourself off here to the world by presenting a guest snow report? Upload your best efforts and then contact us with the details!
The Daily Flake: Today's Nagano Snow Reports
.

Nozawa Onsen

Latest Nozawa Onsen snow report


Gab and Luke from Nozawa Holidays have seen more powder days than most. They reckon today was as good as any! Base up top: 370 cm        Temp Top; -11 Degrees Base at Uenotaira 310cm Base at bottom; 205 cm New Snow since close: 40 cm Weather; Bluebird Perfection Anyone up here enjoying this March madness would be forgiven for pinching him or herself! Another day another "Magic Foot" and then some. Official report showing 60cm of fresh at Uenotaira! 40cm at other areas and now the sun has come out for another perfect Blue bird day! Yesterday was sublime and as good as any day

[...]

See more at the Nozawa Onsen Snow Report

.

Myoko Kogen

Latest Myoko snow report


Myoko Kogen Snow Report 9th March 2014: Fun in the Sun Myoko Kogen Snow Report It doesn't get much better than this. the sun is out, the piste is perfect and there is pow in the trees. Mark, such a lovely young lad Best friends and great snow, doesn't get much better And ski patrol making sure the slop is safe for everyone :) Book your best Myoko accommodation deals now! Current snow and weather conditions in Myoko now 24 Hr Snow Fall: 20cm Current Snow Depth at Base: Official Akakan 270cm Madarao Kogen 220cm Suginohara 180cm Akakura Onsen 210cm Ikenotaira 210cm Seki Onsen 450cm Current Snow Conditions: Perfect groomers and 20-40cm of pow in the trees Current temperature at base: -2° at 9:30am Current Weather: Sunny with

[...]

See more at the Myoko Kogen Snow Report

.

Hakuba

Hakuba Ski Resort Information – coming soon!

Latest Hakuba snow report


In preparation for the National Ski Championship which will begin on March 12, nets have been set up along Alpen Quad Lift. Sodeguro Area, which will be used in the competition, was also groomed. Strong chill continued on, and the snow squeaked beneath the boots. [Usagidaira Area]Many people seemed happy with the snow condition at Sodeguro. Wide and flat slope had nice and firm snow, and skis ran smoothly. [Usagidaira Area]Area by Kurobishi No. 2 Quad Lift was also good that it was hard to believe it is already March. The edges gripped well and the skis ran smoothly. Kurobishidaira

[...]

See more at the Hakuba Snow Report
.

Madarao Kogen

Madarao Kogen Snow Reports – coming soon!

Madarao Kogen Weather Forecasts

Book Madarao Kogen accommodation

Latest Madarao Kogen snow report: 8th February 2014

In Madarao Kogen they've had light falls of snowfall from last night which has provided some great conditions. Cloudy and reasonably cold this morning with the base at -6 ?. Currently 220cm base with falls continuing and the snow is in great condition.

.

Shiga Kogen

Shiga Kogen Snow Reports – coming soon!

Shiga Kogen Weather Forecasts – coming soon!

Book Shiga Kogen accommodation

Shiga Kogen Ski Resort Information – coming soon!

Shiga Kogen latest Snow Report: February 6, 2014

After large falls yesterday and 10cm overnight, this morning it was still snowing lightly in Shiga Kogen. Very cold at -18 degrees with the sun now shining through the clouds. Snow is in good conditions but some icy patches still about to watch out for.
Positions Vacant
Are you working in Shiga Kogen, Madarao or Hakuba for the 2013/14 season? We are looking for Nagano Snow Reports writers (reports), contributors (pics/videos) and/or sponsors for our The Daily Flake Nagano snow reports. We presently work with some awesome people in Nozawa Onsen and Myoko Kogen and would love to have some new crew on board for our Nagano snow reports in Madarao, Shiga Kogen and Hakuba. Please contact us for further information.
*Disclaimer: This site has no connection whatsoever with the original 'The Daily Flake' which was formerly based in Niseko and ran it's last reports in 2011.