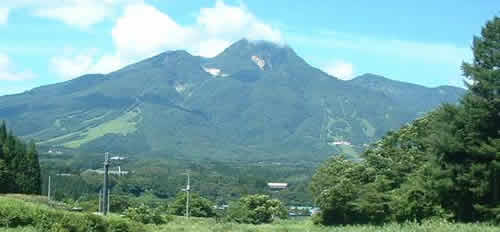 Welcome to Myoko Kogen and Myoko City (Myoko-shi) – 'The Heart of Japan'. The city is located on the border of Nagano and Niigata Prefectures within easy reach of Tokyo (See: Access).
Recommended reading: Twelve things to do in Myoko Kogen
Myoko Kogen & Myoko City
Myoko Kogen: About the area
Dominated by the mountain for which it is named after Myoko Kogen lays in beautiful mountain surroundings near Lake Nojiri (Nojiriko) and the historical entrance to the Echigo Plains. Mt. Myoko (Myoko-san 妙高山) is listed as one of the hundred most famous mountains in Japan with it's summit recorded as 2,454 meters above sea level.
In 1916, Myoko Kogen became nationally famous when it came first in a vote taken to find the most popular summer resort in Japan. By the 1930's Myoko Kogen had become Japan's first international winter resort. It is a traditional winter holiday destination for Japan's imperial family and each year receives an average of 14 metres of snow!
Find and book Myoko Kogen accommodation instantly via our secure travel booking site!
The 'Snow Country' of Niigata is famous throughout Japan and has inspired countless writers, poets and artists. In 2005 the town of Myoko Kogen merged with Arai City and Myoko Village to form the new 'Myoko City'. Unlike many of the modern ski towns in Japan that followed later, Myoko Kogen grew up around its mountain, rather than for it – and the quaint and traditional small-town feeling still remains strong today.
Myokokogen is 'twinned' to Zermatt in Switzerland, and is central to the nearby local mountain villages of Suginosawa, Akakura, Sekigawa, Tsubame Onsen, plus several others. This central location provides an excellent base for visiting the many Myoko attractions in the surrounding countryside (see: Access). The Myoko Kogen area possesses the largest campground in Japan which can take up to 3,000 people! With more than 200 establishments there are also plenty of different types of accommodation to suit all tastes and budgets – both within the town area and on the mountain.
Myoko Kogen is truly 'The Heart of Japan' and a place for all four seasons. 
 Learn Japanese on your iPod or add a phrasebook.
Myoko Kogen: Skiing & Snowboarding
Options in Myoko Kogen's powder snow are almost endless. Founded in the 1930's, Myoko is one of the oldest established ski areas in the world with snow walls sometimes building up to more more than three metres high at the height of the season. With its rich history, you have the ideal holiday place to enjoy a total Japan ski resort experience. The Myoko Ski Area is made up of ten mountains: Myoko Akakura Onsen, Akakan Resort (a.k.a. Akakura Kanko or Shin-Akakura), Ikenotaira Onsen, Myoko Suginohara (which boasts the longest ski run in Japan), Seki Onsen, Kyukamura, Myoko Ski Park, APA Resort Myoko Pine Valley (presently closed), Madarao Kogen and Tangram Ski Circus, all with their own distinctive and special features. With great quality powder snow, terrain parks, refreshing long runs and kids parks / child care for small children, the Myoko Kogen Ski Area has something for all skiers. See Ski the Heart of Japan – our dedicated Myoko skiing site for more details. A number of famous alpine sports people have their origin or received their training in Myoko City. Myoko was rated one of the world's best ski resorts by The Telegraph (U.K.)
See the Myoko Kogen video here.
Myoko Kogen Weather, Myoko City
Myoko Kogen Webcams
Myoko City Office – for more Myoko Kogen webcams see here
Attractions & things to do in Myoko Kogen
Most of Myoko Plateau has been designated as National Park territory and approximately 80% of the town area is covered in forest. Mt. Myoko is the highest peak of the Myoko volcano range and is surrounded by the outer rim of the crater, Mt. Akakura, Mt. Mae, and Mt. Kanna. It's onsen (hot springs) are the place to unwind – Myoko Onsen, Akakura Onsen, Suginosawa Onsen, Ikenotaira Onsen, Tsubame Onsen, Seki Onsen, and more. Jigoku-dani valley between Mt. Myoko and Mt. Mae is the rich source of the local onsen hot springs. The water is taken from Jigoku-dani Valley and provided to the eight spa areas of Myoko-onsen: Akakura, Shin-Akakura, Ikenotaira, Suginosawa, Myoko, Seki, Tsubame and Matsugamine.   Nature abounds here and, whatever the season, there are always plenty of things to do. See the attractions and activities page for some of these. And when the snow melts there are plenty of golf courses to choose from and mountain retreats away from the summer heat. You can also visit historical monuments, the excavation museum or the Ukiyoe museum. Looking for something to eat? There are more than forty restaurants scattered throughout the area serving a selection of Japanese and Western meals. Don't miss the sasazushi (sushi on bamboo leaves), takenoko jiru (bamboo shoots and miso soup), local soba noodles or native mountain vegetables, as well as the sake (rice wine) and koshihikari rice that Niigata is famous for. See our shopping page for more ideas.

Myoko Kogen Accommodation
Find and book Myoko Kogen accommodation instantly via our secure travel booking site!
Want to look up a local area within Myoko? Click here for the maps page or check our interactive map guide.
Myoko Kogen Reviews:
At the foot of Mt Myoko in Niigata Prefecture is a href="http://myokokogen.net/">one of the world's oldest established ski areas in the world. Apart from its 13-metre annual snowfall and abundant ski areas, it's not hard to spot the appeal. The area has a reputation for stunning beauty amid stark natural contrasts. For those skiers seeking adventure Suginohara slopes have a vertical drop of around 1124m. A signature part of the Mt Myoko scenery is the intimate run through thick beech and aspen forests. Myoko has a children's park and on-slope daycare facilities for those travelling with children to ensure a relaxing holiday. Also available is a guided tour through the forest which introduces participants to a wide range of Japanese flora and fauna, including adorable tanuki (raccoons). At the end of the day, the public or hotel onsen (hot springs) await to relax and revitalise. More Myoko Kogen reviews here!
Myoko Kogen History:
In 1916, Myoko Kogen became nationally famous when it came first in a vote taken to find the most popular summer resort in Japan. The beginning of Myoko Kogen's history began when groups such as Tokyo University Red Gate Club and the Keio Mita Club started skiing practice at the foot of Mt. Myoko. The local people welcomed the students and named their practice area "University Slope." In 1922, the Akakura Ski Club was formed and skiing started taking root in the region. It was through this that Myoko Kogen began it's journey as an all-year-round mountain resort.
In 1937, the now famous Akakura Kanko Hotel opened for business. At that time the tourist bureau of the Ministry of Railways had been widely promoting sightseeing in Japan to the outside world and the establishment was planned to be a main means for attracting visiting foreign tourists. During plans for the hotel construction, the owner (Okura Kishichiro) flew to Switzerland to observe similar European mountain hotels. The Akakura Kanko Hotel was born as a modern resort hotel, and at that time it was the only one of its kind in Japan. With this hotel as a nucleus, Akakura became a resort area clearly distinguished from any other at that time.
In 1950, wooden pole lifts were constructed in the Akakura and Ikenotaira areas. The local districts below Mt. Myoko then went into full-scale development and eventually grew to its present-day scale as Myoko Kogen. During that time, numerous national ski championships were successfully held in Akakura. With the inauguration of the Nagano Shinkansen, Myoko Kogen became a 150 minute ride from Tokyo and with the subsequent completion of the Joshinetsu Expressway, it also became possible to easily drive to Myoko directly from the greater Tokyo area.
Interesting facts about Myoko Kogen: Godzilla Goes Myoko!
Myoko Kogen is featured in the 2001 movie – Godzilla, Mothra and King Ghidorah: Giant Monsters All-Out Attack (a.k.a. "Gojira, Mosura, Kingu Gidora: Daikaiju sokogeki")
Synopsis: Fifty years after his initial onslaught, Godzilla is all but forgotten by many people. While Yuri Tachibanan is filming a special docu-drama about Mt. Myoko, the head of the local village tells them to stop filming such lies. When Yuri tries to discuss with him about how it will be good for tourism, a tremor hits. Afterwards, Yuri spots an old man on in area and when she looks back, he disappears!
That night, a biker gang is killed during a tunnel cave-in, and the truck driver witnessing the event sees a giant head looking back at him. While the D-03 missiles (special missiles with drills at the head) are being used to uncover the tunnel, the driver is interrogated about what he saw. He claims he saw Godzilla. Yuri tries to convince her boss to cover the odd occurrence, but he declines. Later her advisor, Teruaki Takeda, brings her a book about a local legend: a group of legendary creatures known as the Guardian Monsters.
Myoko Kogen Galleries – Click here
Synopsis: Travel to Myoko City / Myoko-shi and see Myoko-kogen / Myokokogen – which is a.k.a. Myouko or Myokou. Ski Myoko and find Myoko Hotels. Note: Spelling can also be rendered as Myouko Kogen, Myoko Kohgen or Myokou Kogen. Myoko City is also known as Myoko-shi