Looking for Nagano City hotels and Nagano accommodation? All of the Nagano City hotels and accommodation choices below offer instant confirmation and, except in the case of Nagano hotel specials, free cancellation. 
If you are looking for Nagano City hotels, Nagano accommodation or even Zenkoji Temple lodgings you will find plenty of options here. Nagano City was initially a temple town whose development was centred on Zenkoji Temple, the grand 1,400 year-old National Treasure that continues to draw millions of people of all Buddhist sects to make pilgrimages to visit its many ancient religious structures and artifacts. Nagano is more known worldwide as the site of the 1998 Olympic Winter Games and much of the legacy of that event remains.
Nagano City Hotels, Ryokan & Temple Lodgings
Check our Nagano City Hotels Booking Engine here!
Tourists can find plenty of cheap Nagano accommodation that is centrally located and visit venues such as the Big Hat ice arena (which continues to host ice hockey games), the White Ring, the figure skating site, and M-Wave, where the speed skating competition took place and the local Olympic Museum now resides. Modern infrastructure improvements, such as the Shinkansen line from Nagano city to Tokyo, are also evident (see Nagano station map below)
Nagano is located over 200 kilometres north-west of Tokyo and it's airport and 260 kilometers northeast of Nagoya. It is the home to 360,000 people and is the capital of the prefecture of the same name. Nagano has relatively fewer attractions than some of the more famous Japanese tourist meccas; however, the city's location amongst the Japan Alps helps provide a unique variety of sites with historical, cultural, and natural characteristics that is hard to match elsewhere in the country. So basing yourself in one of the many fine Nagano City hotels on offer will provide good access.
Nagano's natural environment also draws skiers to resorts in the nearby Japan Alps such as Myoko Kogen, Nozawa Onsen, Shiga Kogen and Hakuba. Nature lovers, bird watchers and hikers are attracted by the region's many parks and forests such as in Togakushi Village. Deep within the Joshin-Etsu Kogen National Park near Yudanaka Onsen is also a famous small valley called Jigokudani Yaen-koen where, during the winter, visitors can walk amongst hundreds of wild Japanese Macaques who come down from the mountains to warm themselves in the hot springs by the Yokoyu River. Golf is also a popular pastime in Nagano with many high quality courses. Finally there are always plenty of onsen to relax in such as Akakura Onsen, Shibu Onsen, Yudanaka Onsen and Togura-Kamiyamada Onsen.
Nagano City Webcams
For more local Nagano webcams click here!
Zenkoji Temple is still, by far, the top attraction of the region and the heart of the city. The city was previously known as Shinano before the arrival of the Ikkou Sanzon Amida Nyorai, the Amida Golden Triad, believed to be the first image of the Buddha in Japan. The sacred image inspired the construction of the temple during the seventh century and the city has developed around it ever since. The road to the temple is lined with shukubo – the kind of lodging that is traditionally attached to a Japanese temple. A shukubo is similar to traditional Japanese inns but at a shukubo you can join in morning prayers with the temple monks and eat shojin ryori – the special austere, vegetarian meal for monks. If this is not your scene there is a good selection of other Nagano City hotels and accommodation nearby.
Another cultural and historical attraction is the Matsushiro district in the southern part of the city. Matsushiro has many samurai residences and Buddhist temples to visit. Of more recent historical interest are the World War II tunnels dug into the base of the local mountains, the result of a last desperate plan to protect the imperial family, government, and military headquarters from what seemed to be an inevitable invasion of the country at the end of that turbulent period. We hope you will enjoy your stay in Nagano and one of the Nagano City hotels on offer!
Local Weather – Nagano City Weather Forecast
Nagano City Hotels: Recommended Nagano City Ryokan
Matsuya Ryokan is an amazing traditional inn located right at the heart of Zenkoji Temple. Matsuya is recommended for those who love to have a taste of very traditional Japanese culture, architectural design and value for money. There is a Jizo statue related to the Zenko-ji Temple at the entrance. As it is a traditional ryokan, there is no internet access. This popular establishment also offers private reservable rotemburo (outdoor baths). Map to Matsuya Ryokan, Nagano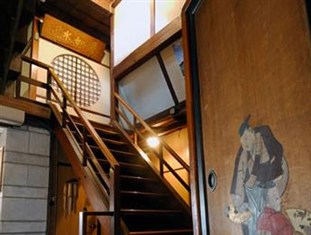 Chuoukan Shimizuya Ryokan is a traditional and popular Nagano ryokan that boasts over 160 years of history. It is located in the centre of Nagano – just a few minutes walk from Zenkoji Temple and a 20 minute walk from JR Nagano Station. There are single rooms, double rooms as well as rooms for 3 and 4 persons available. Internet access available. Map to Chuoukan Shimizuya Ryokan, Nagano
Check our Nagano City Hotels Booking Engine here – great deals & free cancellation!
Nagano City Accommodation: Nagano temple lodgings & Nagano budget accommodation
 
Zenkoji Tokugyoubou is located right in the grounds of Zenkoji Temple. It is a shukubo – the kind of lodging that is traditionally attached to a Japanese temple. A shukubo is similar to traditional Japanese inns but at a shukuboyou can join in morning prayers with the temple monks and eat shojin ryori – the special austere, vegetarian meal for monks. The rooms are traditional Japanese rooms with tatami mats and a light cotton yukata is offered for sleeping. No credit cards accepted.  Map to Zenkoji Tokugyoubou,
1166 Backpackers Nagano is budget accommodation in Nagano City designed to make your stay in Nagano as comfortable as possible. The tastefully refurbished old house was built 60 years ago and still retains the atmosphere of days gone past. An easy walk from JR Nagano Station and to Zenkoji Temple. 1166 Backpackers can only accommodate a maximum of 12 people. Map to 1166 Backpackers Nagano
 
Moritomizu Backpackers Hostel is located only a five minutes walk from Nagano station and also close to Zenkoji Temple. There is a tatami living room with a well-equipped kitchen and the supermarket is very close by. Guests can choose between male-dorms, female-dorm and/or private rooms. Guests can choose a train-view room at cheaper prices if able to put up with a little less quiet. Map soon

Nagano City Accommodation: Recommended Nagano City Hotels

 
Chisun Grand Nagano (formerly Holiday Inn Express) is a modern twelve-storey business hotel has 138 rooms and is just a five minute walk from the Zenkoji Exit at JR Nagano Station. Chisun Grand Nagano is also convenient to shopping, restaurants, and temples. Rooms are available for upgrade to deluxe, executive, and other suites. Amenities in each room include high speed Internet, satellite TV, and direct dial phones. Their restaurant offers magnificent views of the Japan Alps. Check reviews of Chisun Grand Hotel Nagano or see a map to Chisun Grand Hotel, Nagano
 
Sunroute Royal Hotel Nagano boasts a pleasant ambience and comfortable accommodation. Sunroute Royal Hotel Nagano is an ideal place for business as well as leisure travellers. This property offers modern guestrooms and is situated in the heart of the city right across from the JR Nagano Station and the Nagano Metro, while the famous Zenko-ji Temple is only ten minutes by taxi. You can visit the city and its attractions at your leisure. A free shuttle service to Iizuna Resort Ski Area is available in winter. Map to Sunroute Hotel, Nagano
Hotel JAL City Nagano is a modern business hotel close to Nagano station on Zenkoji Omotesandou in Nagano City. For business travellers, this Nagano City hotel is conveniently located and for tourists, it provides easy access to the Zenkoji, National Treasure, and Higashiyama Kaii gallery. In winter it provides a shuttle service to Iizuna Resort Ski AreaRead Hotel JAL City Nagano reviews. Map to Hotel JAL City, Nagano
Hotel Metropolitan offers excellent value with a good location right in front of Nagano Station. There are 265 rooms in total as well as five bars/restaurants. Helpful English speaking staff are ever present to ensure that foreign guests get the best out of their trip in Nagano. Check Reviews of Hotel Metropolitan
Toyoko Inn Nagano-eki Zenkoji-guchi is a modern budget accommodation option for Nagano City hotels. It is only three minutes walk from Nagano Station on the way to Zenkoji Temple. Rooms are equipped with a flat-screen TV, a fridge and an electric kettle. An air humidifier and nightwear are provided, while laptop computers can be rented for in-room use. A daily Japanese breakfast is available in the lobby, which features free Wi-Fi, drink and snack vending machines and a microwave. Map to Toyoko Inn Nagano-eki Zenkoji-guchi

Nagano City Accommodation: Nagano City Hotels quick links
Nagano City Hotels Video: A Day in Nagano City
Saihokukan Hotel is one of a few Nagano City hotels that are situated between Nagano Station and Zenkoji Temple, – the perfect place to stay for sightseeing. Inside the hotel there are five original restaurants and themed bars adding to its original atmosphere and a feeling of local history.
All rooms at the Nagano New Hotel have non smoking rooms, inhouse movies, hair dryer, television, satellite/cable TV as well as other amenities. Featuring bar/pub, laundry service/dry cleaning, meeting facilities , restaurant, car park, this Nagano hotel is sure to make each guest's trip an enjoyable one. Located close to Nagano Station this service-oriented hotel with superb facilities and amenities provides excellent value.
Well situated in downtown Nagano City, the Hotel Nagano Avenue offers communal baths and saunas with a stunning vista. Some rooms can be booked that are exclusively for non-smokers. For those into gadgetry all the guestrooms have hi-tech Japanese toilets!
Kokusai21 Hotel Nagano blends pleasant ambiance and cosy atmosphere making Kokusai21 Hotel Nagano  an ideal place for business as well as leisure travellers, with English speaking staff on hand. Situated in the heart of the city, the Kokusai 21 Hotel Nagano is ten minutes drive from the Nagano Station as well as being within walking distance to the famous Zenko-ji Temple. Check reviews on Kokusai 21 Hotel
Shinshu Matsushiro Royal Hotel is located in the south of Nagano City and close to the old samurai area of Matsushiro where a Samurai House and Castle still exist. Guests can play tennis or relax in the sauna during their free time.
Ryokan Umeoka is a comfortable and homely style Japanese Inn. This Nagano family inn is well located in the centre of Nagano City.
The Comfort Hotel Nagano is a budget price hotel in a convenient location, only three minutes walk from Nagano Station. It offers free in-room internet access as well a free continental breakfast.Each well appointed room is cozy, clean and comfortable. The hotel's business friendly facilities include copy and fax machine, high speed internet access, in room desk and free parking. The comfort and convenience on offer at the Comfort Hotel sets the scene for a pleasant stay in Nagano. Check Comfort Hotel Nagano reviews
New-Yama Hotel, Nagano City is a high-quality economy hotel that offers reasonable accommodation rates. Located in the Nagano city centre New-Yama Hotel is also close to the famous Zenkoji Temple. Convenient for business, sightseeing and group travel. Only three minutes walk from the nearby convenience store and Itoyokado supermarket.
Mielparque Nagano is a modern hotel just a short five-minute from Nagano Station. Guests have a choice of western or Japanese style rooms and there is a large public bath available. Read Mielparque reviews
Find the best deal, compare prices and read what other travelers have to say about Nagano City Hotel  accommodation, ryokan and temple lodgings
Nagano Plaza Hotel, Nagano City is ideally located just a one minute walk from JR Nagano station, so it's convenient for business as well as sightseeing. Reasonable accommodation plans available. All guest rooms come complete with widescreen LCD television plus a free breakfast is included.
Hotel Select Inn Nagano offers a complimentary buffet breakfast service, including a variety of breads, juice and coffee. An ideal Nagano City hotel base for business as well as sightseeing plus conveniently located close to the Nagano City entertainment district too. All guest rooms come complete with washlet toilet as well as a clean and spacious bed.
Hotel Daini Route-Inn Nagano Affordable business hotel in Nagano City – ten minutes by taxi from Nagano Station Read Hotel Daini Route-Inn Reviews
Hotel Route-Inn Nagano Daiichi (No.1) A comfortable business hotel just ten minutes by taxi from Nagano Station. Read Hotel Daiichi Reviews
Smile Hotel Nagano offers an affordable price and friendly service with a smile. All the big guest rooms come complete with free LAN connection. The hotel serves a light breakfast and have ample amenities. Ten minutes walk to Nagano Station.Read Hotel Smile Reviews
Nagano Station Map – See here for Tokyo to Nagano access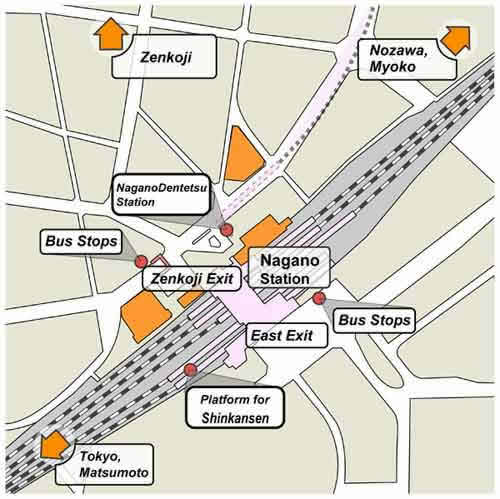 Nagano City hotels, accommodation and sightseing map
View a larger Nagano City Hotels & Sightseeing Map