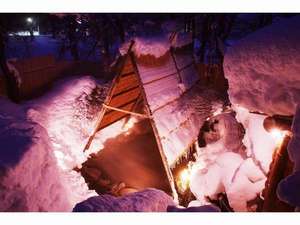 Ikenotaira Onsen Ski Resort (池の平温泉スキー場) is a medium sized ski resort in Myoko Kogen. There is an abundance of Ikenotaira Onsen accommodation available within the surrounding areas.
See the Ikenotaira Onsen Ski Guide
Ikenotaira Onsen Accommodation
Featured Ikenotaira Onsen Hotels
Park Lodge Sekine is a traditional style Ikenotaira Onsen accommodation located in an historic brewery building. Guests to this Ikenotaira accommodation can feel like they have stepped into a time gone past but still with modern touches such as modern toilets and free wi-fi. Each room is traditional style fitted with tatami flooring and futon mattresses. A shuttle to the nearby Ikenotaira Onsen Ski Resort is available. There are some restaurants and the Landmark Onsen Cafe within walking distance. See map to Park Lodge Sekine or check Ikenotaira Onsen Inn Reviews – Park Lodge Sekine
Surrounded by beautiful white birch trees, the Syumisen-no-yu Ichinoyado Gen (or Myoko Ryokan Gen) is a classic and quiet 14-room Japanese country house style ryokan inn just an easy walk from the Ikenotaira chairlifts. This establishment has been featured on national TV. It features outdoor and indoor hot spring baths where guests can truly unwind. The open-air bath Ochiba-no-yu, nestled among trees and featuring a unique wood tunnel walkthrough, is available all through the year for private use.
Hotel Alpenblick is a ski-in hotel adjacent to the Ikenotaira Onsen Ski Resort chairlifts Onsen Ski Resort chairlifts. The Tatra Myoko Beer Hall provides evening meals plus there is a great outside onsen (rotemburo)! A ski school and ski hire is available onsite. Ten minutes by car from the station or collection can be arranged. See reviews or see map to Hotel Alpenblick
Snow Goose Pension is situated in the highland resort area of Myoko Kogen within a 5-minute drive from 3 ski resorts in the area, including Ikenotaira Onsen Ski Resort. Free wi-fi is provided in the guest rooms. Ski equipment hire is available on site. A full course Western dinner is served in the dining room. See map or reviews
Ryokan Kitamura-Sanso is located just a 3-minute walk from Ikenotaira Onsen Ski Resort (see map). It features Japanese-style guestrooms and natural hot spring baths. Rooms at Kitamura-Sanso Ryokan are fitted with tatami flooring, futons & flat-screen TV. Relax in the hot spring baths 24/7 after a hard day of skiing. See reviews
Ikenoya Ryokan is located only a 10-minute walk from Myoko Ikenotaira Ski Resort. Ikenoya offers Japanese-style guest rooms and natural hot spring baths. Each room is fitted with tatami flooring, traditional futon bedding and free Wi-Fi. Cross-country ski equipment can also be rented on site. Reviews of Ikenoya
Lodge Myoko in Ikenotaira Onsen is only a short walk from the Ikenotaira chairlifts. Each room has a great view of Mt. Myoko and can sleep up to 4 people. Directly behind the lodge is the Alpenblick Tatra Beer Hall. Discounted ski lift passes are available at reception. See reviews or a map to Lodge Myoko in Ikenotaira Onsen
Pension Schoene is a relaxing pension and cafe situated only a 5-minute walk to Ikenotaira Onsen Ski Resort or free shuttle is provided. Ski, snowboard and ski wear rental available. Free Wi-Fi is offered in the guest rooms as well early check-in and late check-out options. See reviews or a map to Schoene Pension
Ikenotaira Hotel Saison offers Western-style accommodation. The Ikenotaira ski slopes can be viewed from the lounge and guest rooms. This Ikenotaira Onsen accommodation offers a relaxing natural hot spring and appetising fresh seafood directly from the Japan Sea. See reviews or a map to Ikenotaira Hotel Saison
Nagasaki LodgeMyoko no Mori
Lodge Mominoki
Find the best deal, compare prices and read what other travelers have to say about hotels in Ikenotaira
Ikenotaira Accommodation Map