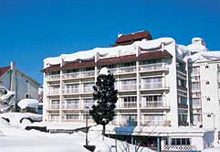 "The Akakura Hotel is in the heart of the Akakura village. Wonderful service and lovely onsen" (Review)
Note: We are not the official Akakura Hotel website. Please do not contact us for station pick ups, lost property or other formal requests.
Akakura Hotel, Akakura Onsen, Myoko Kogen
Akakura Hotel is a well known Akakura ski hotel in the very heart of Akakura Onsen Ski Village. It is only a four minute walk to the Akakura Onsen lifts from Akakura Hotel Myoko. There are refreshing 100% natural hot springs (Uen-no-yu) to relax in equipped with an open-air bath, sauna and jacuzzi. Guests can enjoy visiting various baths at the Hotel Akakura such as Rakuraku-no-yu or Ishiwari-no-yu. Enjoy fine food while staying in the guest rooms — Western, Japanese and combination rooms — each equipped with bath and washlet toilet. The hotel was named as one of the top 100 hotel and ryokans for its cuisine in a survey of professionals conducted by Ryoko Shinbun-Shinsha (travel newspaper). The seasonal menus feature the very best from the surrounding mountains and the nearby Sea of Japan. Breakfast and lunch are served at Chadle Dining Room.
Akakura Kanko Ski Resort is a 5-minute walk away, Naena Falls is a 20-minute drive, and Imori Pond is a 10-minute drive. Private hot-spring baths can be reserved for a fee, and the garden has foot baths available. Guests can also enjoy mini golf, karaoke or the hotel's game corner. The hotel business centre has free internet access.
Read or leave Akakura Hotel reviews
See more Akakura Onsen hotels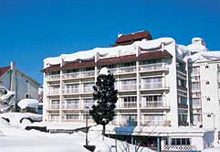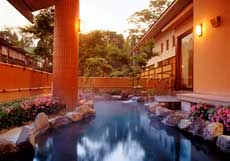 Hotel Akakura video
Akakura Accommodation: Quick links to hotels near Akakura Hotel Myoko
Takeda Hotel – Akakura Wakui Hotel –  Senke Hotel – Hotel Mumon – Red Warehouse
See more Akakura Onsen hotels