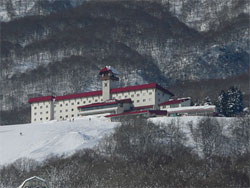 Akakan Ski Resort is also known by the local name of Shin-Akakura plus the former name of Akakura Kanko Resort (after the well known Akakura Kanko Hotel).
Akakan Ski Resort Hotels:
Akakan Accommodation,  Akakura Kanko Hotel
There are a good range of Akakan Ski resort hotels within walking distance or a short shuttle such as Guesthouse Bunk or Pension For You, with others clustered near the lifts such as Hotel Moc & Hotel Silverhorn, as well as the ski in, ski out Akakura Villa Mon Repos or Akakura Kanko Hotel. Canadian House is a home style pension that is very popular with foreign visitors. If you like to check out the location of various Akakan accommodation options see our Akakan Ski Resort Hotel Map or if you'd like more information on skiing in Akakan Ski Resort see our Akakan / Akakura Kanko Ski Guide. Please remember that Akakan Ski Resort Hotels should not be confused with Akakura Onsen Hotels.
Find and book Akakan ski accommodation instantly via our secure travel booking site!
Akakura Kanko Resort & Akakan Hotels: Recommended Choices
Guest House Bunk (aka Bonku or Bonk) is a bright and clean guesthouse located near the Akakan ski resort area (Akakura Kanko)  ski lifts. Run by the friendly Sasahana-san, it is an ideal choice for families with a snow play area right alongside that is easily supervised.  The bright and airy rooms at Bunk Guest House are mostly
western-style rooms that can fit up to 4 people. All rooms have a flat-screen TV and feature free WiFi. Read reviews for Guest House Bunk, Myoko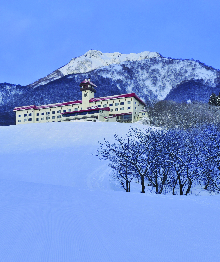 The Akakura Kanko Hotel is the most famous of all Myoko Kogen hotels and is regarded as a Japan ski industry icon. The hotel was built in 1937 and still retains its sense of history. This classic European style hotel, the first of it's kind in Japan, is perched 1000 metres high on the slopes of Akakan ski resort area where one can ski in and ski out. There are 52 guest rooms in
both Western and Japanese styles with a new extension being built. Expect a high standard of service and supberb views reaching all the way to the Sea of Japan. Guests at the Akakura Kanko Hotel can enjoy an onsen hot spring on the balcony in the snow. Spa treatments are available as well as private onsen bookings.  Read or leave reviews of the Akakura Kanko Hotel.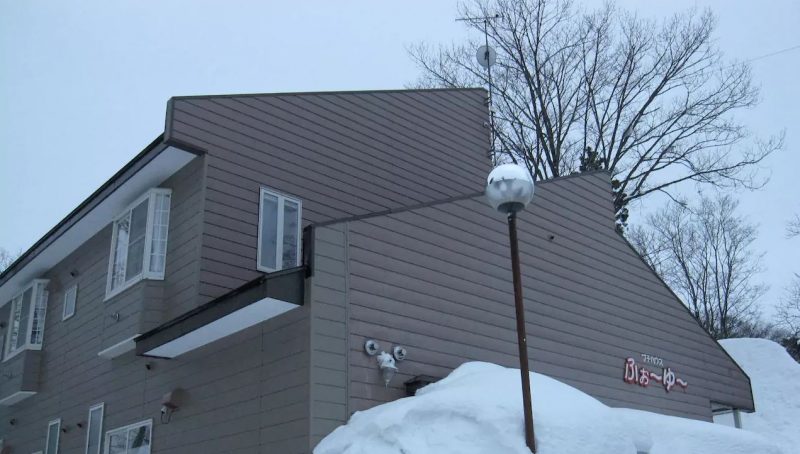 Pension Petit House For You (usually just known as 'For-Yu') is a bright and clean pension style guesthouse located near the Akakan (Akakura Kanko) Resort ski lifts. Run by the friendly Yu-san and Shige-san, a popular local couple, it is an ideal choice for skiers on a budget or those looking for a Myoko long stay. This small friendly guesthouse is about 5 minutes walk from the Akakan ski lifts.
Shuttles to other nearby ski resorts in the Myoko area can also be arranged. Read reviews for Petit House For You, Myoko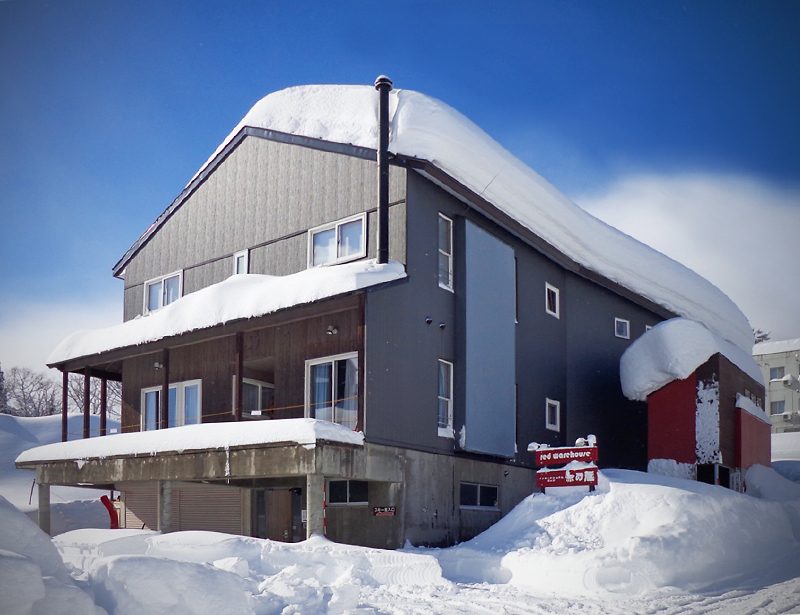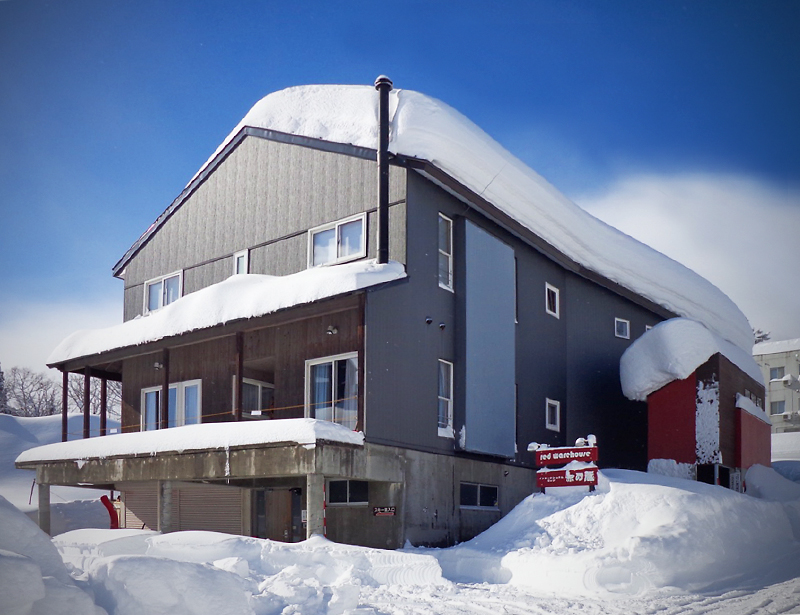 Red Warehouse in Akakura Onsen, Myoko is a family ski lodge with communal self contained facilities right in the heart of the ski village. The lodge is friendly Australian ski club style but with a Japanese twist. Red Warehouse family ski lodge enjoys a suberb, almost ski in, location in Akakura Onsen, Myoko Kogen, just off the main street. It's a very short walk to restaurants, shuttle buses and
ski schools/rentals yet only less than 3 minutes walk/ski to the ski lifts. There is a large communal living area with a pot belly stove fire and communal kitchen. A kids play area and games room/mini-theatre are available in the basement. Free wifi throughout.
Akakura Kanko Resort & Akakan Hotels: More Choices
Canadian House is a popular Myoko pension that offers both western & Japanese style Myoko budget accommodation. It is conveniently located between Myoko Kogen and Akakan Ski Resort with an English speaking host. Ski hire available & collection from Myokokogen Station can be arranged. Prices start from only 2,500 yen. See reviews or
map to Canadian House, Myoko
The Hotel Moc boasts a fantastic location right opposite Akakan Ski Resort. There are twelve semi-Japanese and three Western style rooms. The hotel amenities include washer/dryer, internet access & a ski rental shop. The hotel is only ten minutes drive from Myokokogen station. A complimentary shuttle bus from the station is also available. Check Hotel Moc ratings and reviews
Hotel Silverhorn
The Hotel Silverhorn offers a superb location right across the road from the Akakan Ski Resort Sky Gondola station. It is also an easy walk to the Akakura Ski Village.
Read Hotel Silver Horn reviews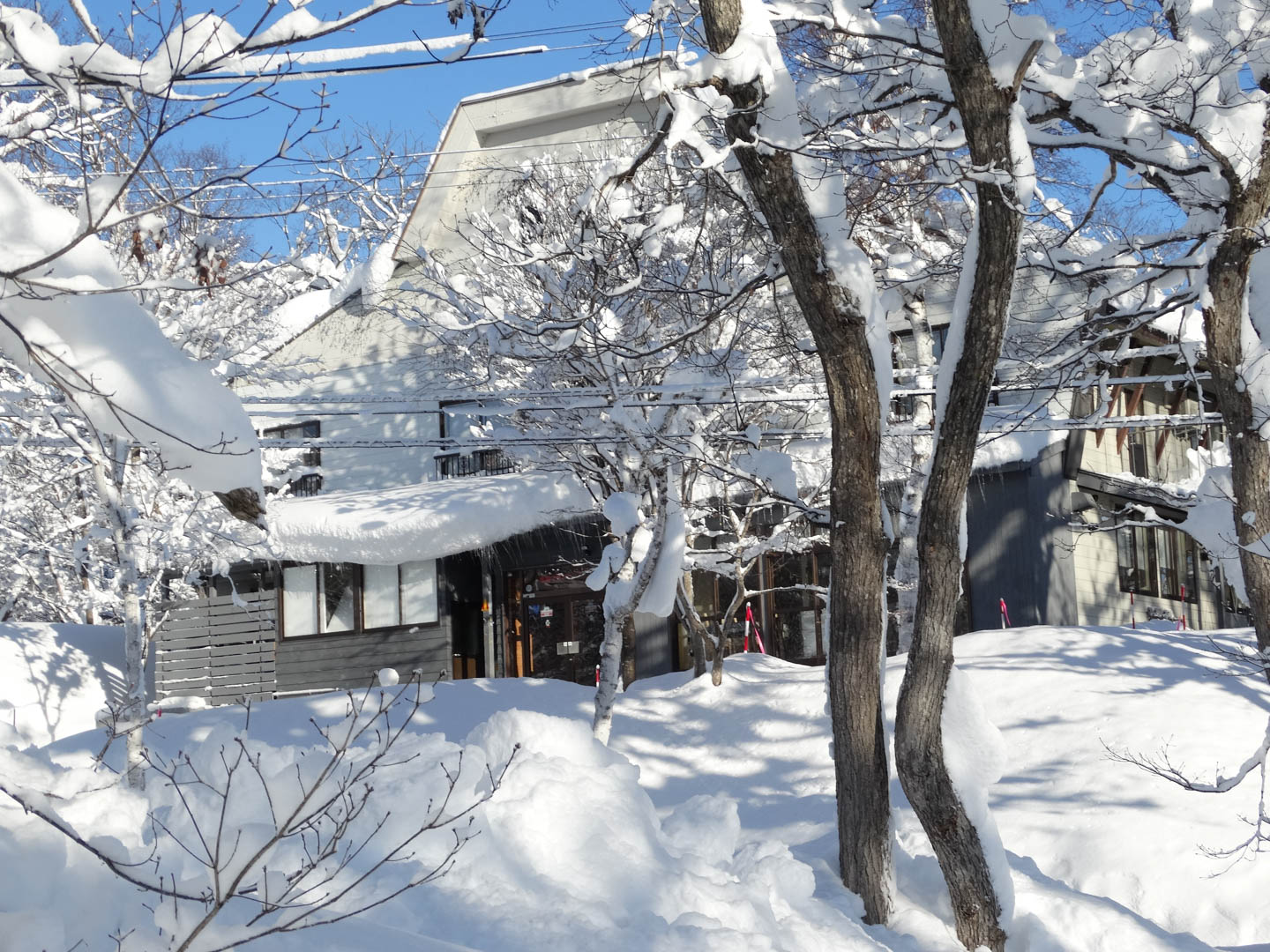 Myoko Mountain Lodge in Akakura is unique Akakan accommodation that has recently been fully renovated. With free shuttles available it is just 700 metres from the Akakura Kanko Ski Resort. The lodge can accommodate 26 guests and is popular with family groups with a mixture of Japanese and western rooms.
Full English breakfast is included and evening meals are available on request. Myoko Mountain Lodge has all the facilities & amenties you could want for a great stay. Michael and Tamami, the English speaking hosts, look forward to greeting you.
The homely Akakura Yours Inn is only five minutes drive from Myokokogen station and only a short distance to Akakan Ski Resort. Mine host Ogasawara-san is a well known local identity and will happily share his in-depth local Myoko knowledge. See Akakura Yours Inn reviews
Find the best deal, compare prices & read what other travelers have to say about Akakan Ski Resort hotels
Akakura Villa Mon Repos is located at the bottom of theAkakan Ski Resort slopes and the rooms offer a marvelous view of the Myoko landscape. Ski-in, ski-out. The hotel cuisine uses local ingredients from the mountains and sea is highly recommended. Group reservations available!
See map and reviews
Pension Kazamidori (a.k.a. Woody House) is a local family run pension close to Akakan (app. 5 minutes walk – see map) with a shuttle bus stop nearby. Kaza-midori can hold up to 18 people in 8 Western and Japanese style bedrooms. There is also a cottage available on request that sleeps up to 5 people.
Read Pension Kazamidori reviews here.
A 5-minute walk to Akakan Ski Area,  Lodge Monte Rosa offers simple accommodations with free Wi-Fi. Guests can choose to stay in Japanese-style rooms with tatami floors and Japanese futon bedding or in Western rooms with beds. Each room comes with a flat-screen TV and heating facilities.
Map to Lodge Monte Rosa
Akakura Kanko Resort & Akakan Hotels: More Choices
| | |
| --- | --- |
| | Myoko Kogen Hotel Windsor is on the road leading from Myoko Kogen to Akakura. It offers superlative views and is only five minutes walk from the nearest ski slopes in Akakan Ski Resort. A shuttle bus stops in front of the hotel to other ski areas too. Map to Windsor Hotel or check Myoko Hotel Windsor reviews |
| | Pension Primrose is a comfortable pension close to Akakan Ski Resort with free wireless LAN in each guest room. |
| | A 10-minute walk from Akakura Kanko Resort Ski Area, Lodge Tronco is a non-smoking accommodation featuring simple rooms with hardwood floors. Guests can choose to stay in dormitory-style rooms or in simple private rooms. |
| | Yamasan Lodge is run by a popular local identity and proudly offers guests delicious Japanese cuisine along with the famous Niigata koshihikari rice and sake. Akakura Kanko Ski Resort (Akakan) is only a two minute drive or a ten minute walk away! Map to Yamasan Lodge |
|   | Renovated in autumn of 2013, Ryokan Okayama offers public 24-hour hot-spring baths and rooms with tatami floors – some with an en suite bathroom. The air-conditioned rooms feature a flat-screen TV and fridge. A private reservable hot-spring bath is available if requested in advance. Ski equipment rentals are available and ski passes can be purchased on site. Akakura Kanko Ski Resort is a 5-minute walk away (see map). A free shuttle is available to and from nearby ski resorts. Read reviews. |
| | Yamabudou is just a short 10 minute taxi ride from Myoko-Kogen Station (free transportation available).  Enjoy the uniquely shaped, freshly baked bread which is all you can eat. Take out is also available. |
| | Pension Pocket in Higashi-Akakura is located amongst a number of other accommodation options just a short distance from the Akakura Kanko (Akakan) Ski Resort. It is surrounded by nature, with tennis courts and Akakura Golf Club nearby. No credit cards accepted. |
Akakan Ski Resort map, plus Akakan hotels and accommodation
View a larger Akakan Ski Resort Hotel Map