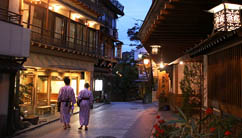 Nagano Accommodation, Myoko Hotels: About
The Heart of Japan offers simply the widest range of Nagano accommodation available across the region. You can book online a choice of over 400 ryokan, resort hotels, backpacker hostels, ski lodges, pension & traditional inns and receive instant confirmation.
Find and book Nagano accommodation instantly via our secure travel booking site!
Nagano Accommodation, Myoko Hotels
If you are looking for comfortable, affordable and cheap accommodation in Japan's "White Triangle" – Myoko Kogen, Hakuba, Akakura Onsen, Akakan Resort, Lake Nojiri, Nozawa Onsen, Madarao Kogen, Togakushi, Joetsu, Yudanaka Onsen (Japan Snow Monkey Park), Shiga Kogen and surrounds – hotels, pension, inns, hostels, ski lodges, cabins, minshuku, b&b or ryokan – then you have come to the right place. We can also help you book online at the same time for any stopovers in Nagano City, Tokyo Airports, Osaka, Tokyo, Nagoya or Kyoto. We can also assist with group bookings throughout Japan
Please note that Myoko Kogen and the "White Triangle" is made up of several different areas (as listed above) and the establishments below are only a small fraction of the properties offered. The following are a small selection of recommended inns, pensions, hotels and ryokan. For a full list of accommodation in the different areas of Myoko Kogen and the White Triangle please use the links on our accommodation menu at top. If unsure of the area you are looking for check out our extensive access and maps pages.
Explore the Heart of Japan offer by far the widest available range of accommodation in the area where reservations can easily be done online in English. Each area has its own hotel map so you can see exactly where the property you are booking lies in relation to local transport, resorts and services.
We have gathered all of the available bookable online establishments and are constantly adding to our lists. We utilise only well known reputable companies and you can therefore book securely with confidence, and at the best possible price, via our own secure travel booking site or one of the following – Booking.com, Japanican (JTB), or Rakuten. Confirmation is usually immediate.
Can't find what you're looking for? Ask us via our Nagano Accommodation booking request page
Note: If you have stayed in the area and can recommend (or not recommend) a place you have stayed in we also welcome your input via email or our forums. Without feedback, no responsibility can be taken for the service or standard of any of the establishments listed herein.
English may not be spoken at many of the accommodation options listed.
Nagano Accommodation: Featured places to stay
Myoko Kogen accommodation:
Akakura, Akakura Kanko, Ikenotaira, Suginohara & Seki Onsen

Ryokan Kofukan is near Myokokogen Station. It was opened in 2004 featuring large rooms with both Japanese and Western style accommodation available, wonderful relaxing hotsprings and a great view of Mt. Myoko. A free shuttle bus service is available to and from Suginohara ski field during the winter. Discount ski lift tickets are also available for purchase. Friendly service (in English), great food and reasonable tariff. Map to Hotel Kofukan, Myoko-kogen


More Myoko Kogen accommodation in the central Myoko Kogen town area here
The Hotel Silverhorn boasts a fantastic location right opposite the Akakura Kanko (Akakan) Ski Resort. There are twelve semi-Japanese and three Western style rooms. The hotel amenities include washer/dryer, internet access and a ski rental shop. The hotel is only ten minutes by car/taxi from Myokokogen station. A complimentary shuttle bus from the station is also available. Check Hotel Silverhorn ratings and reviews
Check out more Akakura Kanko (Akakan Resort) accommodation options here

Akakura Hotel is a well known Akakura ski hotel in the very heart of Akakura Onsen Ski Village with only a four minute walk to the lifts. Refreshing 100% natural hot springs equipped with an open-air bath, sauna and jacuzzi. Guests can enjoy visiting various inside and outside onsen baths. Read or Leave Akakura Hotel reviews

Check out more Akakura Onsen accommodation and Akakura Hotel options here
Soratobu Usagi Myoko in Myoko Suginohara Ski Area is right in the middle of the Myoko Suginohara ski area trails, with one of the chairlifts going almost past the window (see map). They also have some self-contained accommodation which would be ideal for a family or small group of friends.
Check out more Myoko Suginohara accommodation, pension & hotels here
Tsubame Highland Hotel in Tsubame Onsen (high above Seki Onsen) is the perfect place for relaxing, hiking, trekking and skiing. To get to Akakura Ski Resort you can ski or snowboard down directly from Tsubame Onsen then get a free pick-up by snow tractor.
Check out more Tsubame Onsen & Seki Onsen accommodation and hotels here




Park Lodge Sekine is located in the beautiful highland area of Ikenotaira Onsen (Myoko Kogen). It offers traditional Japanese style guestrooms and hot spring baths.
Check out more Ikenotaira Onsen accommodation and pension options here
Tokyo Hotels
Nagano Accommodation: Nozawa Onsen, Lake Nojiri and Madarao Kogen
The Australian owned Alpine Villa Nozawa in Nozawa Onsen is just 200 metres from the ski lifts of and 50 metres from a free-use public hot-spring. Guests can enjoy the fireplace lounge, spacious free-use kitchen and home theatre room at Alpine Villa Nozawa. Read reviews of Alpine Villa Nozawa and/or see map to Alpine Villa Nozawa.
Check out more Nozawa Onsen hotel, pension and ski lodge options here
Labo Land in Lake Nojiri / Kurohime is five minutes by car from the Shinano-machi interchange. This establishment has a homely cabin feel. Facilities include coin laundry, ski and snowboard rental as well as ski wear, a ski drying room and internet access.
Check out more Lake Nojiri & Kurohime accommodation, cabin and hotels here

Guests at Fujio Pension in Madarao Kogen enjoy great scenery from their room at a 1,000 metre elevation in Madarao Kogen. The pension boasts connecting family rooms something not common in Madarao-kogen pensions. A popular choice for visitors seeking Nagano accommodation. Map to Fujio Pension in Madarao

Check out more Madarao Kogen accommodation, inn and hotel options here
Japanese Snow Monkeys Accommodation:
Yudanaka Onsen, Shibu Onsen, Kanbayashi Onsen, Shiga Kogen
Nagano Accommodation: Nagano City, Zenkoji Temple, Togakushi Village & Hakuba
Zenkoji Tokugyoubou in Nagano City is located right in the grounds of Zenkoji Temple. It is a shukubo – the kind of lodging that is traditionally attached to a Japanese temple. A shukubo is similar to traditional Japanese inns but at a shukubo you can join in morning prayers with the temple monks and eat shojin ryori – the special austere, vegetarian meal for monks. The rooms are traditional Japanese rooms with tatami mats and a light cotton yukata is offered for sleeping. No credit cards accepted
Check out more Zenkoji Temple lodgings & accommodation options here
Togakushi Kogen Hotel in Togakushi Village

Located right in front of Togakushi Ski Resort, Togakushi Kogen Hotel offers simple accommodation with views of Mount Togakushi. Free Wi-Fi is available at the public areas. One hour by bus from JR Nagano Station or thirty minutes drive from Hakuba

Check out more Togakushi accommodation and hostel options here
Just 300 metres from Hakuba Goryu gondola station, the completely non-smoking Bears Den Mountain Lodge has free Wi-Fi throughout and boasts a Japanese-style hot tub with mountain views, massages, a lounge with an LCD TV, board games and books, and a large drying room.
Check out more Hakuba accommodation and Hakuba hotel options here
Matsuya Ryokan in Nagano City is an amazing traditional inn located right at the heart of Zenkoji Temple. Matsuya is recommended for those who love to have a taste of very traditional Japanese culture, architectural design and value for money.
Check out more Nagano City hotel and Nagano Ryokan options here
Do you own or run local Nagano accommodation, a hotel in Hakuba or Jigokudani Monkey Park, a Togakushi pension, a Nagano ryokan, a Nozawa Onsen lodge, etc.?
If you are an owner/manager of any type of lodging in the area please contact us to see how your establishment can be listed here.
Hotel and Accommodation Booking Links: Myokokogen, Myoko City – Hakuba – Suginosawa, Suginohara – Ikenotaira Onsen – Akakura Onsen, Shin-Akakura – Seki Onsen & Tsubame Onsen – Nozawa Onsen – Togakushi, Iizuna, Iizuna-Kogen – Tangram, Madarao, Iiyama – Lake Nojiri, Kurohime, Shinano – Joetsu, Takada, Naoetsu, Arai – Jigokudani Monkey Park – Nagano City – Tokyo Stopover – Osaka Stopover – Nagoya Stopover – Kyoto Stopover – Group Bookings
Descriptor: Are you looking for Nagano accommodation or a ski hotel in Myoko? Perhaps a Myoko Hotel? On this page is listed Myoko accommodation, Niigata accommodation, Nagano accommodation, Nojiri Hotels, The best places to stay in Hakuba, Cabins in Lake Nojiri, Myoko Hotels, Myoko ski resorts and Myoko ryokan. You will also find an assortment of backpackers, ryokan, pension, minshuku, B&B, hostels and inns for Niigata, Nagano City, Hakuba Village, Nozawa Onsen, Akakura, Ikenotaira, Suginohara, Togakushi, Madarao, Kurohime, Seki Onsen, Tsubame Onsen, Yudanaka Onsen, Kanbayashi Onsen and Shibu Onsen. Please click on any of the main links at the top for further information.,
400+ choices of Myoko & Nagano Accommodation. Myoko Kogen, Snow Monkeys, Hakuba, Nozawa Onsen, Nagano City, Madarao, Lake Nojiri, Togakushi + many more!