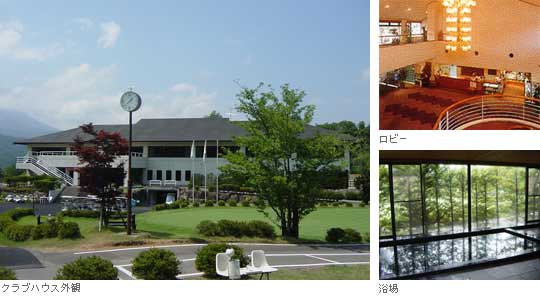 Myoko-kogen and the surrounding areas of Nagano and Niigata offer a broad range of Japan golf courses – from exclusive clubs to some lower cost community courses. We have listed below most options in the immediate area. Please be aware that, as with most aspects of life in Japan, there are certain protocols to be followed. Many Japanese golfers play nine holes, have lunch and/or drinks then complete the last nine holes. Often there are onsen onsite to enjoy after the game.
Nagano Golf, Myoko Golf Courses
Information is as up to date as possible but please remember to confirm any details directly beforehand as prices can change, hours and conditions can vary plus equipment will very likely be extra cost. If you keep an eye out there can be many specials and packages on offer. Please check for these at the local tourist centres or sports shops. Happy golfing!

MYOKO KOGEN GOLF CLUB
Myoko Kogen Golf Club is built in natural harmony with it's surroundings where you can play on the picturesque fairways in the shadow of Mount Myoko (see above). It is a an 18 hole course (par 72) with a total length of 6,957 yards
| | |
| --- | --- |
| | 1074-2, Sekigawa, Myoko City |
| | |
| | |
MYOKO COUNTRY CLUB
Myoko Country Club is a Canadian designed 18-hole golf course featuring large greens and long fairways. Apart from a couple of tricky water traps the course offers few surprises and will suit golfers of different abilities. The course is located adjacent to the Seki Onsen ski area within the famous Joshinetsu National Park at the foot of Mt. Myoko. Prices can start at 6,500 yen for 18 holes, lunch and onsen (listed days only). Staff speak some limited English. Transport is available via taxi or bus from Sekiyama Station.
| | |
| --- | --- |
| | 6323-4 Sekiyama, Myoko City |
| | |
| | |
MYOKO COUNTRY CLUB LIVE WEB CAM
Click here for more Myoko Web cams
MYOKO SUNSHINE GOLF CLUB
Myoko Sunshine Golf Club is a course taking full advantage of its natural environment, including a great view of Mt. Myoko from the fairway. This challenging yet subtle 7000-yard course is perfect for those with low handicaps who enjoy a tough game with friends. The course is situated next to Myoko Sunshine Land. Access is available via taxi from Sekiyama Station.
| | |
| --- | --- |
| | Matsugamine Onsen, 846-1 Eguchi, Nakago-ku, Joetsu City |
| | |
| | |
APA JOETSU-MYOKO RESORT (PINE VALLEY) COUNTRY CLUB
..
APA Myoko Pine Valley Country Club is a resort offering much more than just golf in the midst of nature. The golf course with 27 holes is located on the beautiful high plains of Myoko Kogen and offers a strategic challenge. Golfers of all standards will enjoy the classic greens but it is especially popular among traditionalists. One can also enjoy the convenience of taking a golf cart from the hotel right to the start of the course. Click here for hotel rates.
APA JOETSU-MYOKO RESORT WEB CAM
Click here for more Myoko Web cams
AKAKURA GOLF COURSE
..
Akakura Golf Course is a quality resort golf course located at the foot of famed Mt. Myoko at an elevation of 750 metres. Designed in harmony with its natural setting, it is of the same layout and design as it's famous 'sister' course at Mount Fuji. White birches and other trees also create a nice atmosphere, so you can enjoy some wonderful scenery as you go around this challenging course. Access is available via taxi or bus from Myokokogen Station.
MADARAO TOKYU GOLF CLUB – TANGRAM
Set amongst the natural landscape and canoe birch trees of the grand north Shinano and Madarao plateau, Madarao Tokyu Golf Club enjoys beautiful greens on all of it's 18 holes. Prices can start as low as 4,900 yen for early bird starters looking for Nagano golf. Check here for nearby Tangram hotels.
| | |
| --- | --- |
| | 3575-8 Furumi, Shinano Town |
| | |
| | |
Reviews of Madarao Tokyu Golf Club
MADARAO KOGEN COUNTRY CLUB
Madarao Kogen Country Club is a dynamic Nagano golf course rich in strategic characteristics and developed over an immense site of 950,000 square meters. Set amongst the five famous peaks, including Togakushi, Kurohime, Madarao and Myoko, you are surrounded 360° by nature as you play. Check here for nearby Madarao hotels.
| | |
| --- | --- |
| | 8156 Toyotsu, Nakano City |
| | |
| | |
SHINANO GOLF CLUB
Shinano Golf Club is a quite young Nagano golf course, celebrating it's 20h year in 2017. The club runs regular championships. It is a standard 72 par over 7,029 yards.
| | |
| --- | --- |
| | 2433 Oitakayama, Shinano Town |
| | |
| | |
NAGANO INTERNATIONAL (KOKUSAI) COUNTRY CLUB
The Nagano Kokusai Country Club is set in natural surroundings on the north Shinetsu plateau. It offers three choices all at reasonable cost – the Myoko course, the Kurohime (black princess) course and Shiroyama (white mountain) course.
IIZUNA KOGEN RESORT GOLF CLUB
Green fees at the Iizuna Resort Golf Club start at a very reasonable 3,500 yen (US$40) on weekdays. The course is a standard 72 par over 6,112 yards. Check here for nearby Iizuna hotels.
The Matsugamine Country Club course was established in 1972. The course has 27 holes in total with a total 108 par with each 9 holes around 6,700 yards each. Members green fees are a very reasonable 3,800 yen, whilst guests are 5,000 yen on weekdays and 7,500 on weekends.
| | |
| --- | --- |
| | Okakawa, Nakago-ku, Joetsu City |
| | |
| | |
GREEN MESSE GOLF CLUB
The Green Messe Golf Clubcourse is a city-owned 9 hole course up in a mountain valley from the Sea of Japan. The club offers affordable weekday packages for 4,300 yen which includes 18 holes, lunch, cart and public bath. Nine holes on a weekend is 2,350 yen and 18 holes is 3,350. The course is a mixture of 3 and 4 par holes that are mostly ideal for novices and intermediates, but there are also some more challenging holes. There is no public transport available to the course.
| | |
| --- | --- |
| | Nou, Itoigawa City (off Route 8) |
| | |
| | |
TAGS: Nagano Golf Club, Myoko Golf Courses. Japan Golf Courses and Golfing. Madarao, Akakura, APA JoetsuMyoko, Myokokogen, Tangram, Itoigawa, Nagano, Niigata