Myoko Transport: Shuttle, Bus, Train, Taxi
For all your Myoko ski shuttle info plus Myoko transport, transfer and local transport options.
More good reading: Getting to Myoko Kogen
Hint: Print these directions out and put it safely in your carry-on luggage
Note:
1. For highway bus, taxi and car access information click here.
2. For Tokyo to Tokyo to Myoko info click here.
3. For Tokyo to Nagano access click here.
4. For Osaka to Nagano access click here.
Myoko Transport: Shuttle, Bus, Train & Taxi
Myoko Transport: Nagano Ski Resort Shuttle & Airport Transfer
Private Limousine Nagano (Lampya) is pleased to offer a Myoko-Nagano ski resort shuttle for foreign guests visiting Japan. Lampya offers a Nagano airport transfer to/from Narita, Haneda and Nagoya Airports as well as Nagano ski resort transfers, day trips and tours. Lampya is a great option for medium to large groups as you are chartering the vehicle for your own personal use.

If coming individually or in small groups check outNagano Snow Shuttle schedules. Public transport options for getting to Myoko can be found here.
Myoko Transport: JoetsuMyoko Station Shuttle bus
JoetsuMyoko Station to Akakura Onsen and other Myoko resorts
There is a shuttle that runs three times a day to and from JoetsuMyoko Station to Akakura Onsen and the other ski resorts. Services run from 23 December 2016 until 20 March 2017.
Click here to download or print the schedule.
Please note that the shuttle bus from JoetsuMyoko Station to Suginohara via Akakura Onsen is for transport of regular passengers only. Please do not use for ski transport but instead use the designated service – Mount Myoko Shuttle (as below).
Stop
Cost
Departure

Joetsumyoko Station (East Exit)
ー
8:45
12:15
16:35
Arai Road Station
540円
9:00
12:30
16:50
'Tomato' Market
900円
9:25
12:55
17:15
Akakura Onsen bus stop
1,100円
9:45
13:15
17:35
Akakura Kanko Resort
1,100円
9:48
13:18
17:38
Landmark Cafe (Ikenotaira)
1,200円
9:53
13:23
17:43
Ikenotaira Imori Pond
1,200円
9:56
13:26
17:46
Suginosawa Village (Suginohara)
1,300円
10:00
13:30
17:50
Suginohara Ski Resort
1,300円
10:07
13:37
ー
Stop
Cost
Departure

Suginohara Ski Resort
ー
10:40
14:20
ー
Suginosawa Village (Suginohara)
170円
10:47
14:27
18:20
Ikenotaira Imori Pond
300円
10:51
14:31
18:24
Landmark Cafe (Ikenotaira)
300円
10:54
14:34
18:27
Akakura Kanko Resort
400円
10:59
14:39
18:32
Akakura Onsen bus stop
440円
11:02
14:42
18:35
'Tomato' Market
700円
11:22
15:02
18:55
Arai Road Station
1,200円
11:47
15:27
19:20
Joetsumyoko Station (East Exit)
1,300円
12:02
15:42
19:35
Discount Shinkansen Tours: Great deals for visitors to Japan – up to 52% off!
Myoko Transport: Ski Resort Shuttle buses
Myoko Transport: Mount Myoko ski resorts shuttle
Myoko shuttle buses are available at a number of stops stretching from Akakura Onsen Ski Area to Suginohara Ski Area plus now to Tangram and Madarao Kogen.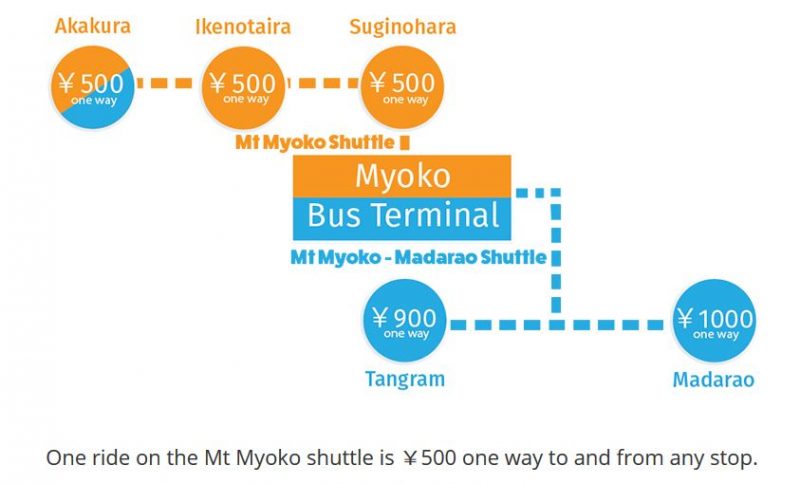 For full schedules and bus stops, please click on the following links to download. The fare must be bought at one of the listed offices. Tickets cannot be bought on the bus. The service runs until mid-late March 2017. Click here for the 2016/17 Mount Myoko Shuttle timetables.
Myoko Transport: Akakura (Myoko) – Madarao Ski Shuttle bus
For season 2016/17 Powder Express from Akakura Onsen to Madarao Kogen will run every day from Dec 23 – Mar 5. From there connections can be made to Nozawa Onsen. Click here for the 2016/17 Myoko-Madarao Shuttle timetables.
Myoko Transport: Akakura Onsen (Myoko) – Seki Onsen Ski Shuttle bus
There is also a daily shuttle between Akakura Onsen and Seki Onsen between January – February. Cost is 5,500 yen including van, lunch, drink and ticket. Ask at your hotel desk for details.
Akakura Onsen to Madarao Kogen and Iiyama Transfer Bus
The Akakura Onsen – Tangram – Madarao Kogen – Iiyama Station bus service is not running for 2016/17 season. Please use the Akakura – Madarao / Madarao – Nozawa Onsen services listed above.
Myoko Transport: Local buses
Buses in Myoko-kogen run quite regularly from outside the station. Turn right as you come out of the station and the new bus stops are almost right at the front. The stops have English signage and the buses themselves will have the destination in English as well. Some routes and times differ slightly according to seasons.
A special bus runs to Sasagamine (past Suginohara) during the summer climbing season. A special tour shuttle also runs during the warmer summer months to some of the scenic tourist spots in Myoko. An all day pass is only 500 yen. See the Keinan Bus site (Japanese) for further information on Myoko buses. A fare sheet (Japanese) for Myoko buses can be downloaded here.
Myokokogen station area and bus stops map

Myoko Transport: Taxi Services

Taxis are available from the front of the Myoko Kogen rail station or from the Kougen Taxi depot diagonally left across from the station.  Bookings can be arranged on 0255-86-3141 (Japanese only). Trips to ski resorts, the Snow Monkeys or further afield are possible. Ask your hotel for details.
Myoko Car Rental
This is generally not possible unless you make arrangements with a major company for local pick-up. Cars can be hired in or near rail stations in major cities such as Nagano and JoetsuMyoko Station.
Myoko-Nagano Train Pass

For 1,000 yen the one day Nagano pass will get you between Nagano and Myoko Kogen stations for a whole day. Buy at the ticket window in Myoko Kogen.