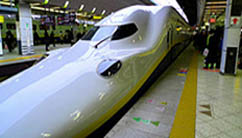 Discover how to get from Osaka or Tokyo to Nagano. Check train times, bus schedules, find fares or rent a car.
Tokyo to Nagano | Tokyo to Myoko Kogen
Note: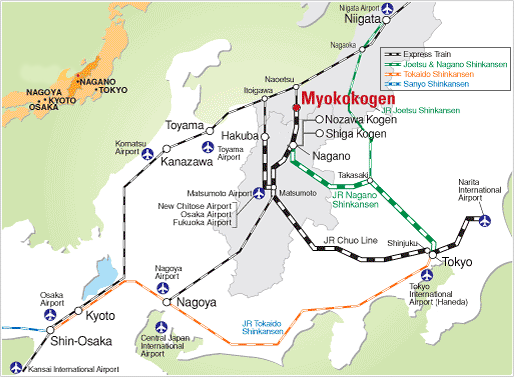 Nagano Ski Resort Shuttles & Airport Transfer
ACCESS: Train Tokyo to Nagano, Myoko Kogen, Jigokudani, Togakushi & Nozawa
Getting your JR Pass
JR EAST TRAVEL SERVICE CENTER AT NARITA AIRPORT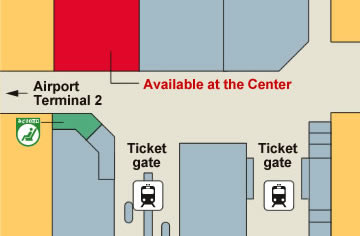 Before you travel from Tokyo to Nagano and further on you may need to buy your JR East Pass or swap your vouchers for a JR Pass. JR East Travel Service Centers are located in both Narita Airport Terminals 1 and 2. JR East Travel Service Centers are open every day from 11:30 AM to 7:00 PM. The service centre handles sales and exchanges of JR East passes as well as Japan Rail Passes (available for purchase only overseas). Other services include ticket sales and sightseeing information. JR accepts most major credit cards but not travellers checks.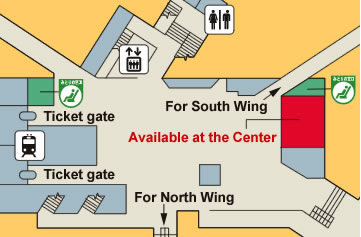 If the JR East Travel Service Center is closed, go to the JR ticket office. They also exchange and sell tickets.
Hours of operation:
Terminal 1: 6:30 to 11:30 AM, 7:00 to 9:45 PM
Terminal 2: 6:30 to 11:30 AM, 7:00 to 9:50 PM
MAPS OF NARITA AIRPORT: 
Terminal No. 1 & Terminal No. 2
BUY YOUR JR EAST PASS ONLINE
You do not need a JR Rail Pass if you are only travelling Tokyo to Nagano then onto to Myoko Kogen, Nozawa Onsen, or one of the others resorts in Niigata or Nagano. A far better choice is one of the JR East Passes which can be used for five non-consecutive days in a 2 week period. These can be bought at the offices listed above (you DO NOT need to buy it beforehand) or you can now purchase a JR Pass exchange voucher via the internet. However please be aware that the last leg from Nagano to Myoko-Kogen is a private line and not covered by the pass.
JR EAST INFO LINE
English information hotline for JR service questions – Call (050) 2016-1603 – 10.00 AM to 6.00 PM (closed during the New Year holiday)
USEFUL JAPAN TRAIN LINKS – FIND FARES, TIMETABLES & ROUTE
TOKYO NARITA AIRPORT – LEFT LUGGAGE & BAGGAGE STORAGE
Both terminals at Tokyo Narita Airport have luggage storage areas for left baggage. In Terminal One there are two left luggage counters – one on the Arrivals level and one on the Departures level. On the Arrivals level, (first floor) the counter is open 07:00 to 22:00 (7am-10pm) daily. On the Departures level (fourth floor) the counter is open 07:00 to 22:30 (7am-10.30pm) daily. Terminal Two has two baggage storage counters on the Arrivals level and two on the Departures level. They are open 07:00 to 22:00 (7am-10pm). One of the counters (GPA) in Arrivals is open 06:30 to 22:30 (6.30am-10.30pm). The cost is \500 to \800 per item per day depending on size.
See here re sending your luggage via courier service
FROM NARITA AIRPORT TO TOKYO VIA JR
From Narita Airport one can board the JR Narita Express train (N'EX) to JR Tokyo station. Frequent departures are available from the airport rail terminals. Once aboard the N'EX stow your bags in the luggage storage areas at the end of each car, and sit back for the one hour ride to Tokyo. Trains from Narita Airport arrive at underground platforms nos. 1-4.
FROM NARITA AIRPORT TO TOKYO (UENO) VIA KEISEI LINE
There are two routes between Ueno/Nippori and Narita Airport. Please note that the fare and the time required are different depending on the route. The new Narita Sky Access Line has been recently upgraded with train running up to 160kph. This will reduce the travel time from 58-73 minutes, to as little as 36 minutes (Nippori) and 41 minutes (Keisei Ueno). The price for the new faster service is 2400yen. These savings in time could affect people arriving at Narita in the early evening who are heading from Tokyo to Nagano then up to Hakuba, Nozawa and Myoko Kogen
However remember that, whilst a bit cheaper, 1) it's not covered by a JR Pass and, 2) you have to negotiate your way from Keisei Ueno Station to JR Ueno Station to get the shinkansen (see below). You can also get off at Nippori Station and change to the Yamanoate Circle Line. Unless you want to save money (about 50%), do not take the local train – especially during rush hour! (see video below for a little laugh).
Video – Japanese train during peak rush hour
The JR and Keisei lines are accessible from the same concourse in Narita. Their platforms are separated but next to each other.
KEISEI UENO STATION MAP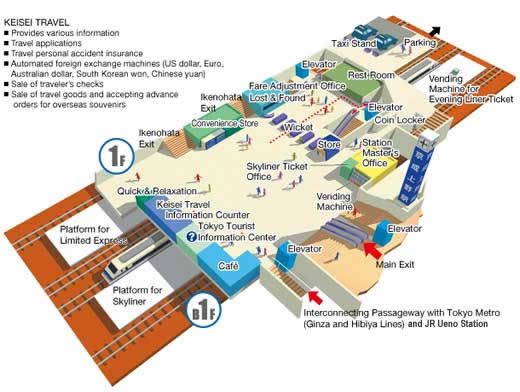 A map of JR Ueno Station can be found here (or download .pdf)
HOW TO GET TO CENTRAL TOKYO FROM HANEDA AIRPORT VIA TRAIN
Haneda Airport is only 10km from the city centre and is linked to JR Hamamatsucho Station by monorail. At Hamamatsucho you can then easily transfer onto the JR Yamanote Line or the JR Keihin Tohoku Line. The journey takes approximately 13 minutes and trains depart every ten minutes. Keikyu also operates "Airport Kaitoku" (limited express) trains that travel nonstop from Shinagawa Station to the airport terminal station, also in around 13 minutes. See the Haneda Airport page for more information. Board the shinkansen at Tokyo for the Tokyo to Nagano journey.

TOKYO STOPOVER
If having a stopover in Tokyo you can arrange for the cheap and easy Tokyo Airporter service to collect and/or deliver you to/from the airport/hotel.
JAPANESE STATION COIN LOCKERS
If just stopping over for a few hours in any major Japanese rail or bus station it's very easy to find secure coin lockers to store your luggage. These cost from \100 for a small locker up to \800 for a very large locker. JR's large coin lockers are not only tall but deep. You can see the sizes here. If your bag won't fit then you're using some really scary large luggage. There are usually no lockers for skis or snowboards (unless they're under a metre long). See below for ski storage in Nagano Station
TOKYO STATION COIN LOCKERS & SKI STORAGE
In Tokyo Station the "cloak room" is open everyday (except perhaps New Year's Day) from 10am-6pm for short term storage (1-2 days) of oversized bags or ski gear. It's located downstairs in the GranSta area just near the Gin-no-Suzu meeting place and costs a very reasonable \500 for each piece.
NAGANO STATION COIN LOCKERS & SKI STORAGE
Coin lockers (including 'extra-large') are available by both the East and Zenko-ji (West) Exits of JR Nagano Station (cost is \300-\800). See this JR Nagano Station map. The station has recently installed some larger lockers so you can now store your skis and snowboard bags securely whilst you go and explore Zenkoji Temple and/or grab a meal. These lockers are located on the upper concourse just opposite and left as you come out of the shinkansen gate (see pic). The largest ones cost \600 yen for the day (use 6 x \100 yen coins). If these are full go down the steps of Zenkoji Exit, turn left and the gift shop (to left of the Black Cat) will store skis/boards for a small fee. If you have a problem the tourist information centre in Nagano Station will write your request in Japanese for you to take down to them.
Note: Stations close overnight! If you want to retrieve your luggage make sure you get there before closing! If left after midnight extra charges will accrue.
More info on coin lockers here. See here re sending your luggage via courier service.
FROM TOKYO TO NAGANO STATION
At Tokyo Station (B5), take the up escalator, following the green signs for the Nagano Shinkansen which usually leave from Platforms 22 or 23 at Tokyo Station (see Tokyo Station map .pdf). Take the Nagano 'Asama' Shinkansen on the Hokuriku (Nagano) line to the Nagano station terminus. The journey usually takes between 1.5 – 2.5 hours (average is 1 hour, 50 minutes). The Nagano Shinkansen runs frequently until 10.00pm each day. The non-reserved cars are to the rear heading to Nagano (usually Car nos. 1-3). All cars are now non smoking. There are between 2-3 trains per hour. If staying overnight in Nagano City you can book accommodation near Nagano Station here.
Experience the Tokyo to Nagano Shinkansen ride on video
If you wish to use the highway bus to Nagano, you need to change at Ueno or Tokyo and head for Ikebukuro station for the Nagaden Bus Service or Shinjuku station for the Alpico Bus Service. Use the Yamanoate Circle Line for both stations. You can also catch a limousine bus direct to Shinjuku which costs approximately \3,000 yen and takes one hour. See this page for more non-train options.
TOKYO STATION (1F) MAP
FROM NAGANO STATION TO NARITA AIRPORT
Upon arrival at Tokyo Station from Nagano exit the Nagano Shinkansen (bullet train) tickets gate. From there follow the signs to the Narita Express that departs from Platform 4 on the Sobu Line (see map below). To get to Platform 4 on the Sobu Line take the escalators down. Alternatively, if not on a JR Pass, get off at Ueno Station and follow through to the adjacent Keisei Ueno Station to take the Keisei Skyliner. Make sure you know which terminal you are getting off at – Terminal 1 or Terminal 2. You will find lists inside the train showing which terminal each airlines uses.
FROM NARITA AIRPORT AND TOKYO TO HAKUBA
Apart from the bullet train option there is also another straightforward and slightly cheaper train option (for Tokyo to Hakuba bus or taxi options see here) From Narita Aiport take the N'EX (Narita Express) to Shinjuku Station (one hour). From Shinjuku Staion take the Chuo Limited Express (Super Azusa) to Hakuba Station (approximately three and a half hours). See here for information on getting to Hakuba from Tokyo or Osaka.
Nagano Station Area Map
Nagano Station google map here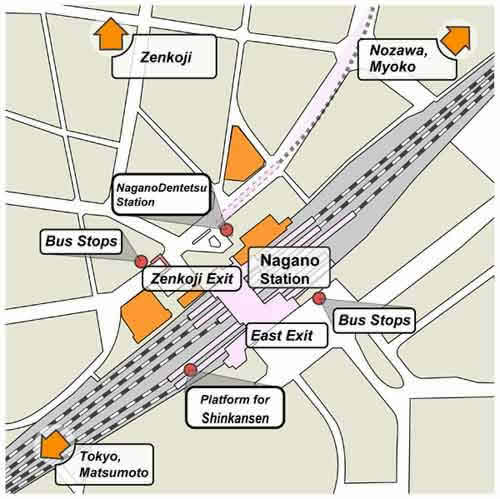 FROM NAGANO FOR MYOKO KOGEN & LAKE NOJIRI
After your journey from Tokyo to Nagano, upon arrival at Nagano station, take the up escalator or stairs.
After the privatisation of the rail line in March 2015, please note that you can no longer buy a through ticket to Myoko Kogen or Kurohime. You must buy a local line ticket when you arrive in Nagano.
Staying to the right, go through the ticket gate for the local Kita-Shinano line, bound for Myoko Kogen. For Lake Nojiri alight at Kurohime station. To get to Lake Nojiri take the 'Nagaden' bus from Kurohime Station. Myokokogen is the stop after Kurohime (app. ten minutes further). The ski resorts are approximately ten minutes from Myokokogen Station (see map below). Take a taxi or bus to your destination at Myoko, or the hotel may arrange a courtesy shuttle.
Also please note for your return – you can no longer buy shinkansen tickets in Myoko Kogen or Kurohime stations. You can only buy a local line ticket to Nagano or JoetsuMyoko Station then buy your bullet train ticket there. Please leave enough time for train changeover and getting to your destination!

MYOKOKOGEN STATION AREA AND BUS STOPS MAP COURTESY OF ALPICO BUS
An alternative is take the Hokuriku shinkansen to JoetsuMyoko then change to the Myoko Haneuma line for Myoko Kogen.
NAGANO TO MYOKO BUS
The Nagano to Myoko service is no longer running. A winter bus service will be available from Iiyama Station (via Madarao Kogen)
FROM NAGANO TO TOGAKUSHI
For Togakushi exit the station via the Zenkoji exit (see Nagano Station map above), then take a Kawanakajima bus from Bus Stop 7 bound for Togakushi Camp-jo / Camp World (approx. 45-50 minutes, cost \1,160) from outside Nagano station. If you are coming from Kanazawa or Niigata see below. You can alight at Kurohime for Togakushi and take either a taxi or a shuttle bus (during winter only and must be pre-booked).
FROM NAGANO TO NOZAWA ONSEN, IIYAMA AND MADARAO
Upon arrival at Iiyama Station alight and take a local bus (about 25-30 minutes). You can catch a bus from the station or call the local Nozawa Onsen taxi service. See the Nozawa Onsen access details here.

Discount Shinkansen Tours: Great deals for visitors to Japan – up to 52% off!
FROM NAGANO TO YUDANAKA ONSEN (JIGOKUDANI MONKEY PARK)
Upon arrival at Nagano, exit the JR station and go to the Nagano Dentetsu lines (see Nagano Station map above). The limited-express train to Yudanaka takes 45 minutes (¥1,230). A JR Pass cannot be used on this line. From Yudanaka, take a bus or taxi to Kanbayashi Onsen (15mins / ¥250 / 6km) for the Monkey Park. See the video below for a visual explanation. Note: video has recently been marked private – may not display.
FROM KANAZAWA OR TOYAMA
Take a shinkansen to JoetsuMyoko station then swap to a train on the Myoko Haneuma Line for Nagano. The stop before Myokokogen is Sekiyama. Myokokogen is followed by Kurohime (for Lake Nojiri), Furuma and Mure (for Iizuna). The trip from Naoetsu takes approximately 30-45 minutes. Use this very useful link to find time tables and fares. If going to Madarao or Nozawa Onsen get off at the next station (Iiyama).
LUGGAGE SERVICES
Japan has a well-developed courier service, commonly known as takkyubin. Luggage, including skis and snowboards, can be delivered anywhere in Japan, usually overnight. The courier companies operate out of Narita Airport (and most others), so you can send your luggage as soon as you pass through customs before travelling from Tokyo to Nagano. Look for the many service counters that are usually sited at the end of the departure lounge (for collection) or arrivals hall (for sending). Many convenience stores also handle takkyubin service. The company's name is Yamato Transport symbolised by a black cat logo. A luggage forwarding FAQ can be found here and a ski/snowboard forwarding FAQ here.
The cost depends on the destination but is usually around 2,000 yen. The service is safe and reliable, and highly recommended. A It allows guests to travel to their destination without having to try to negotiate luggage up and down stairs and in crowded train stations. There is no restriction on taking luggage on board the shinkansen (bullet train), but in practice these trains are designed with quite a lot less luggage space than most other train services. Nonetheless, all trains in Japan have very limited luggage space; overhead storage and a small luggage shelf at either end of the carriage are standard on all trains.
The larger train stations in Japan have escalators, but smaller ones usually do not. There are no luggage trolleys available at train stations, although there is a porter service available at Tokyo Station. For example, the porter can meet you at your carriage and take your luggage to your next train, or to the taxi rank, depending upon your destination. The cost is 500 yen per piece of luggage. The porter needs to be advised of the train and carriage number in advance. Small suitcases and bags can be stored in lockers at the larger stations, however there is no storage for skis and snowboards.
IMPORTANT POINTS TO REMEMBER ABOUT LUGGAGE DELIVERY SERVICES
When sending luggage to the airport, sufficient time must be given to guarantee your luggage arrives on time. Luggage and ski gear sent from Myoko, Hakuba and Nozawa Onsen to Narita Airport requires it to be sent two days before departure. Luggage will be stored up until the date of your departure and this information is specified on the luggage tag before it is sent. The luggage will be held by the luggage courier company at the airport and must be collected from there and then checked in to the flight departure counter by the owner of the luggage. Luggage cannot be stored at the airport if customers have onward flights and are wishing to collect luggage on their return flight home via Japan