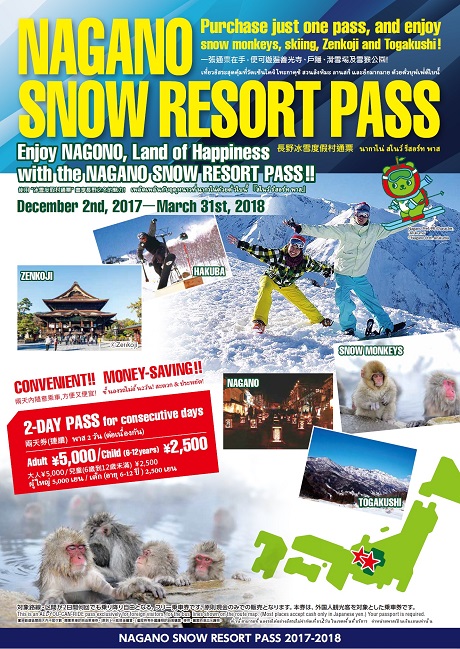 Nagano Snow Resort Pass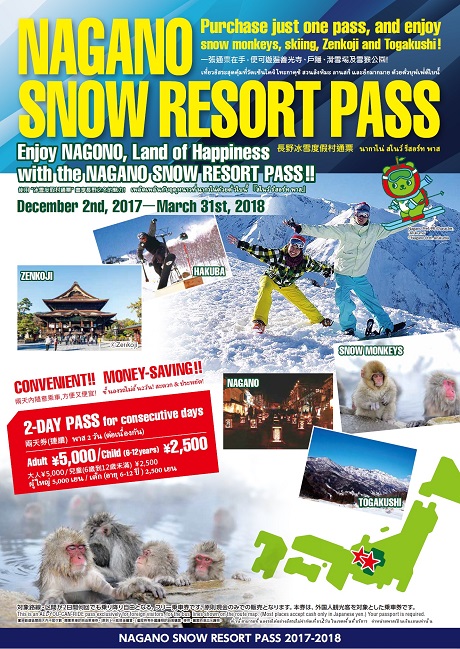 The Nagano Snow Resort Pass is a convenient and money saving unlimited rides pass. Enjoy unlimited access between Nagano City, the Hakuba Valley, Togakushi, Matsushiro, and the Snow Monkey Park for two consecutive days. A perfect option for travelers who want a taste of Nagano's winter charms but with limited time to savour them, for skiers who are having a couple of off-days to explore the area or for non-skiers travelling with skiing friends. See the details below for more information, or click the image right to see the flyer.
Period of Availability
December 2, 2017 to March 31, 2018
Looking for local accommodation options? Check here for Nagano City & Matsushiro, Hakuba, Togakushi and the Snow Monkey Park.
Price of Nagano Snow Resort Pass (two consecutive days)
Adult: 5,000 yen
Child (6-12 years): 2,500 yen
Child (0-5years): Free!
Where to catch the bus in Nagano?

Where to purchase the Nagano Snow Resort Pass?
Nagano City
Nagano City Tourist Information Center (JR Nagano Station 2F) (+81-26-226-5626) [Map]
ALPICO Kotsu Nagano Station General Information Center (+81-26-227-0404) [Map]
JTB Chubu Nagano Office (Diagonally Opposite Cher-Cher, Nagano Tokyu Dpt. Store) (+81-26-228-0489) [Map]
Hakuba Village
Kita Alps Information Center (Near Hakuba Station) (+81-261-72-3000) [Map]
Happo Information Center (Happo Bus Terminal) (+81-261-72-3066) [Map]
Hakuba Goryu Tourist Association (Kamishiro Station) (+81-261-75-3700) [Map]
Otari Village
Tsugaike Kogen Tourist Association (Near Tsugaike Kogen Bus Stop) (+81-261-83-2515) [Map]
Designated Buses (see link for timetables)
Conditions
This is not a ticket to the Zenkoji underground passage, Sanmon gate or Snow Monkey Park. Please buy an entrance ticket at each location.
This pass allows one passenger to ride buses on the route map.
Rides on JR/private trains are not included with this pass.
This pass will be good only for the date(s) stated on the front.
This pass is only refundable before the valid dates.
Some buses are not in service or do not go to the terminal on certain days. Please check the schedule (as above) before your trip.
This pass is non-refundable after the 1st date of validity even when services are suspended.
The buses may be delayed or cancelled due to the road and weather conditions.
Please show the bus driver the front side of this pass so the valid dates can be clearly seen.
This pass is valid only for the person who purchased it.
This pass is not valid for travel to/from Myoko Kogen, Nozawa Onsen or Shiga Kogen.
Rides taken outside designated routes will incur regular one ways cost.