Shinetsu Shizenkyo Super Value Ticket:
An all-access ski lift pass/coupon book for the Myoko-Nagano area
Now ski 22 ski resorts in northern Nagano and Myoko!
Get access to ALL ski resorts in the following cities and towns: Iiyama・Nakano・Myoko・Iizuna・Shinanomachi・Yamanouchi・Kijimadaira・Sakaemura・ Nozawa Onsen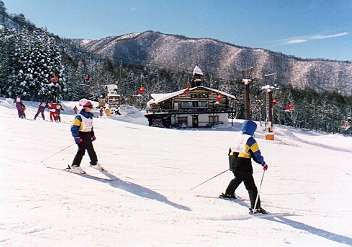 Click here to reserve a Shinetsu Shizenkyo Super Value Ticket.
Also of interest?
Myoko discount ski passes & coupons
Myoko-Nagano Lift Pass/Coupon Book details
¥21,000 for a 5-ticket pack
Each ticket can be redeemed for a 1-day lift pass at any participating resort.
Many resorts offer facility discounts and coupons in addition to the lift ticket.
Tickets can be exchanged for lift passes/coupons at the ticket center of each resort.
Sales Period/Validity
Coupon books are on sale October 1, 2015 – February 29, 2016
Note! Only 1,000 ticket books will be sold – ticket books may sell out before the end of the sales period
Tickets are valid December 19, 2015 – March 31, 2016
Any unused tickets may be returned between April 1 to May 31, 2016 in exchange for a ¥3,000 goods coupon.
Ticket Sales/Questions
Book online: http://www.shinetsu-shizenkyo.com/supervalue-ticket/english.php#entry
Email: info@iiyama-ouendan.net
Phone: 0269-62-3133 FAX: 0269-81-2156
Address: Iiyama 1110-1, Iiyama City, Nagano Prefecture, JAPAN 〒389-2292
*Coupon books can be ordered online or via phone. Payment is made by bank transfer ("furikomi")
Participating Resorts & Details
Myoko
①  Seki Onsen Ski Resort –
http://myokokogen.net/resorts/seki_onsen/
1 day lift pass + Meal ticket (¥800 ) + Drink Ticket
② Kyukamura Ski Resort
1 day lift pass + Meal ticket (¥800) + Onsen ticket + Omiyage
③ Myoko Ski Park – http://myokokogen.net/resorts/myoko_ski_park/
Day pack (Lift pass, Meal ticket, Drink ticket) for one adult and one child
④ Akakura Onsen Ski Resort – http://myokokogen.net/resorts/akakura-onsen/
Akakura Kanko Resort Ski Area (Akakan) – http://myokokogen.net/resorts/akakura_kanko/
1 day combo lift pass (Akakura Kanko Resort Ski Area + Akakura Onsen Ski Resort)
⑤ Ikenotaira Onsen Ski Resort – http://myokokogen.net/resorts/ikenotaira/
1 day lift pass + Onsen ticket + Beer ticket
⑥ Myoko Suginohara Ski Resort – http://myokokogen.net/resorts/suginohara/
1 day lift pass + ¥700 coupon for use at the resort
Shinano
⑦ Kurohime Kogen Snow Park – http://myokokogen.net/resorts/kurohime/
1 day lift pass + ¥800 coupon for use at resort facilities
⑧ Tangram Ski Circus – http://myokokogen.net/resorts/tangram_ski_circus/
1 day lift pass + ¥1,000 coupon for use at resort facilities + Onsen ticket
Iizuna
⑨ Iizuna Resort Ski Area – http://myokokogen.net/resorts/iizuna_resort/
1 day lift pass + Meal ticket (¥1300) + Onsen pass
Iiyama
⑩ Madarao Kogen Ski Resort – https://madaraokogen.com/ski/madarao-kogen-ski-resort/
1 day ski pass + Meal ticket (¥1000)
⑪ Madarao Sympathique Ski Resort – http://myokokogen.net/resorts/madarao_sympathique/
1 day lift pass + Meal ticket (¥800) + Onsen ticket
⑫ Togari Onsen Ski Resort
1 day lift pass + Meal ticket (¥500 weekends/¥1000 weekdays) + Onsen ticket
⑬ Iiyama Hokuryu Onsen Family Ski Resort
1 day lift pass + Onsen ticket + 10% discount on stays at the Bunka Hokuryukan
Sakae
⑭ Sakae Club Ski Resort
1 day lift pass + Meal ticket (¥900) + Onsen ticket
⑮ Nozawa Onsen Ski Resort – http://nozawa-onsen.com/nozawa-onsen-ski-resort/
1 day lift pass
Kijimadaira
⑯ Kijimadaira Ski Resort
1 day lift pass + Meal ticket + Onsen ticket
Yamanouchi
⑰ X-JAM Takaifuji Ski Resort/Yomase Onsen Ski Resort
1 day pass to X-JAM Takaifuji Ski Resort/Yomase Onsen Ski Resort/Yamabiko no Oka Ski Resort + Meal ticket (¥800)
⑱ Kita-Ryuo Komaruyama Ski Resort
1 day lift pass + Lunch ticket (¥800)
⑲ Ryuoo Ski Park
1 day lift pass + Meal ticket (¥1000)
⑳ Kita Shiga Kogen Ski Resort
1 day all mountain lift pass
Explore the Heart of Japan is not connected in any way with the production or sale of these coupon books. We are providing this information as a service to Nagano ski community. This is a translated version of the Japanese language information released in October 2015. Please direct all enquiries to info@iiyama-ouendan.net For more updates please like us on Facebook – http://www.facebook.com/Myoko.Hakuba.Nozawa.Nagano