Welcome to our media & press section. We appreciate you taking the time to check us out. Below should be most answers to the questions you will have – hopefully in light of the many questions and requests we receive each year. If these don't fully answer your query please feel free to contact us.
Media & Press: Myoko-Nagano, The Heart of Japan
About us
This website was first established in 2003 and has been for many years the leading English language web resource on the area with tens of thousands of web visitors every month. For more information see About Us.
TV, documentary, news and film crews
If you are coming to the Myoko and/or Northern Nagano region and would like assistance to set up your shoot or story feel free to contact us. Please include a proposal with expected broadcast/screening dates, expected audience reach and how you believe the area will benefit from the exposure. We have many resources and contacts in the region that we can help you tap into. As we are not funded by the local government or other organisations there may be a fee payable for our services (by negotiation). We are also available for interviews.
Please note that we cannot help bloggers and low profile websites with free accommodation, free lift tickets or the like. Unfortunately you will have to pay like anyone else.
Photography
We no longer offer free media images except in very rare circumstances, such as, 1) to help out an NPO, or 2) where we are are the focus of your article. We believe photographers should be paid for their work just like anyone else. If you'd like to request some paid photographs please contact us to work out a package.
Please also note that all photographs on our site are fully copyrighted. We have previously and will continue to seek full redress for any photos (or content) 'lifted' from our site without permission. This includes reporting you to Google and other search engines and requesting that your own website be de-indexed. Thank you for respecting our copyright.
Press about The Heart of Japan
Over the years we have received numerous links and recommendations from major media outlets as well as dozens of online web articles, tourist guides and blogs. In addition to the samples below, we are recognized as the authoritative guide by a variety of websites and travel companies including HIS, JNTO France, JNTO UK, Lonely Planet, Fox News, Snow Magazine,  Japan Guide, Snowforecast.com, News Corporation and CMH Heli-skiing, plus many others.
Please note some links in the original article point to our old html pages or to our former domain (myoko-nojiri.com)
This beautiful resort is a great starting point for those who've never skied in Japan before. There are no nightclubs or bars, just lots of snow — by mid-season there's usually around four meters. The resort, Japan's oldest, dating to 1911, is surrounded by an astounding 25 ski areas. CNN International
pdf | web
Just three years ago a Japanese film crew in Hakuba did a news story on us as they'd seen so few Australians; now Hakuba is full of Australians, with Australian pubs with VB on tap. Two years ago nearby Myoko Kogen had three Australians visit during the whole season, and this year there've already seen more than a thousand. If you discover a new ski resort in Japan, best keep it very quiet! MSN-Nine Travel
pdf | web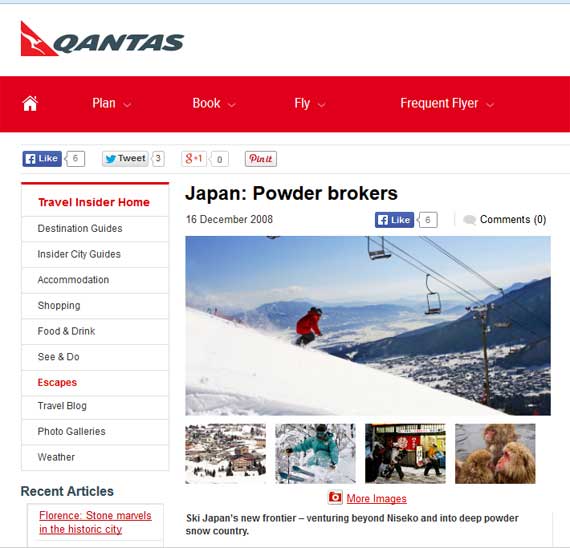 It may well be off the beaten track, but canny skiers know it's worth the effort. After a 45-minute bus trip from Nagano city, you'll discover a slice of Japan not yet on the mass-market radar. The snow can be so deep and light that even aficionados of more famous ski destinations rave about its quality. Qantas Travel Insider
pdf | web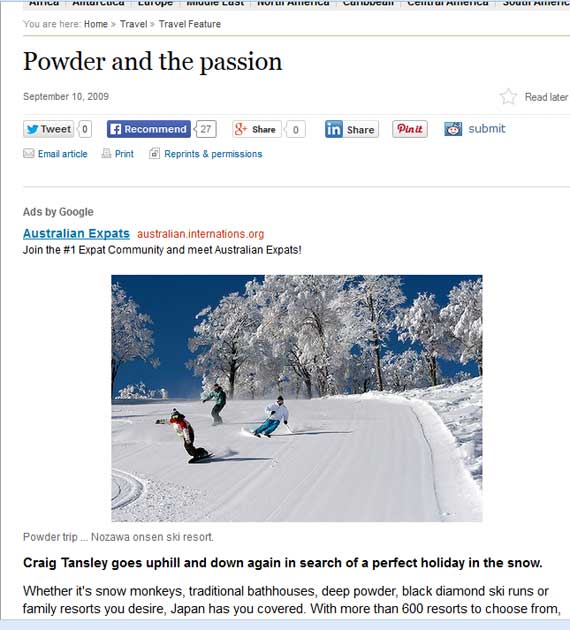 Whether it's snow monkeys, traditional bathhouses, deep powder, black diamond ski runs or family resorts you desire, Japan has you covered. With more than 600 resorts to choose from, offering some of the best powder-snow skiing available anywhere, it's really just a matter of deciding which snow experience you want to have. Here are our tips on Japan's best ski areas. Sydney Morning Herald Travel
pdf | web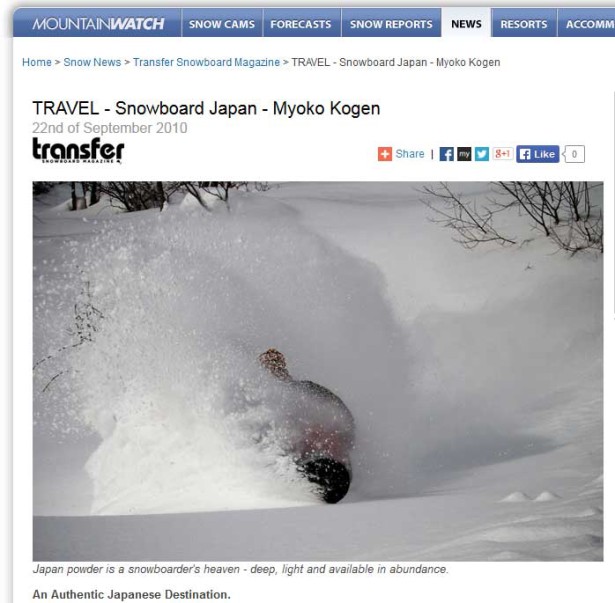 An Authentic Japanese Destination. Does that still exist in Japan? Hokkaido and Nagano are the obvious choices, but for me it was time to try something different. Niigata, on the island of Honshu, has always looked enticing and a road trip through there promised new mountains, fewer gaijin and a sense of adventure and discovery. Transfer Snowboard Magazine (Australia)
pdf | web
And the airlines like us too perhaps?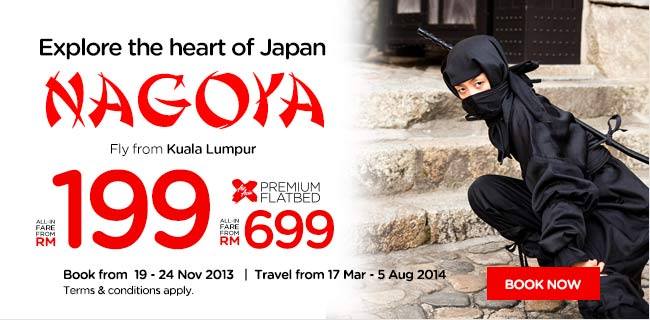 More coming soon!