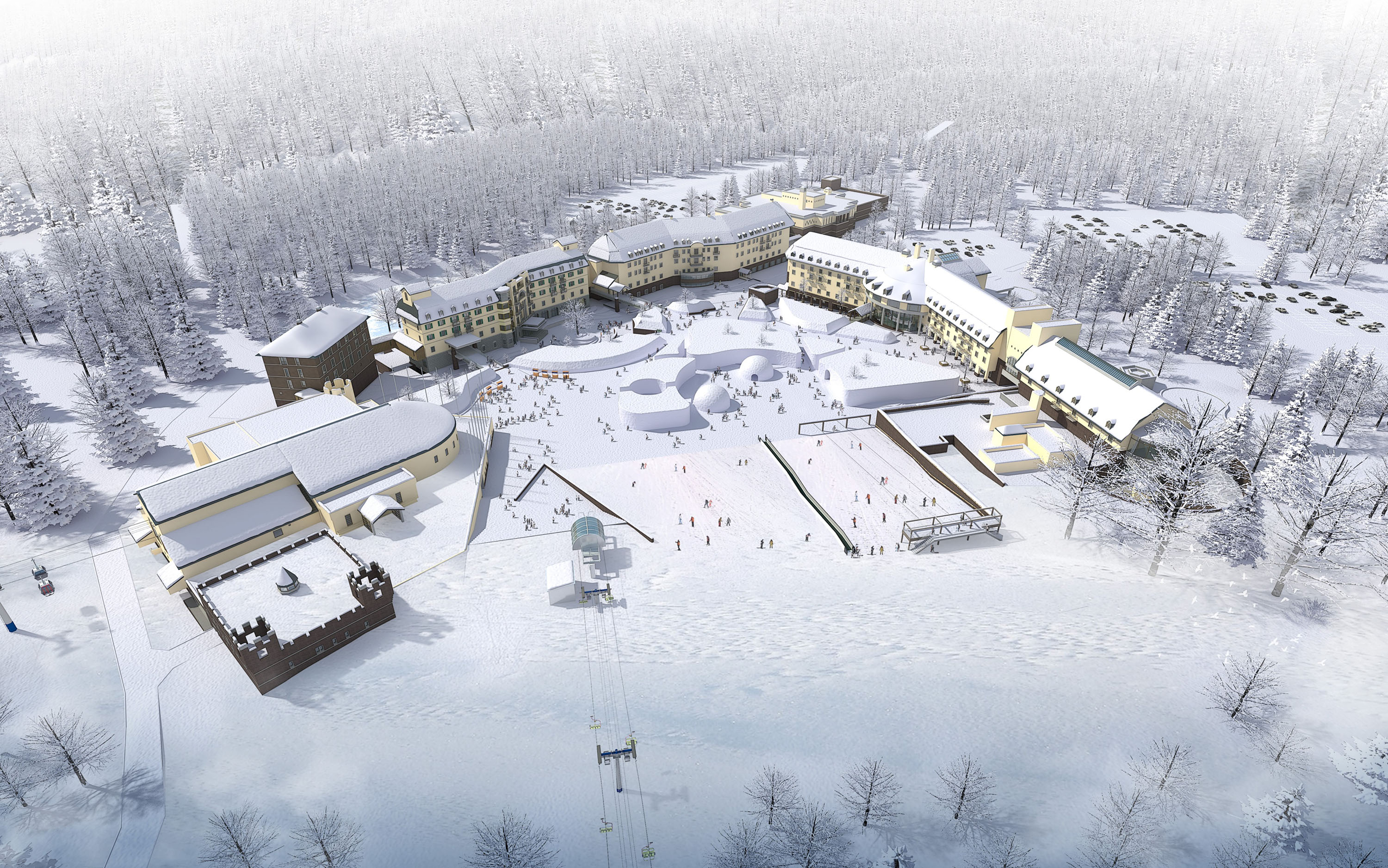 "We are very impressed. The renovation is fab." (Review)
Book a room at Lotte Arai Ski Resort hotels
Lotte Arai Ski Resort Hotels
Experience Japan's first true luxury ski resort, hotly tipped as the 'next Niseko'. Make the most of plentiful pillowy Japow with skiing, snowboarding and other adventure activities by day, relax in the Hoshizora natural hot springs and indulge in gourmet dining and karaoke when night falls.
Lotte Arai Ski Resort Hotels offer elegant, upmarket Arai accommodation with high-end service and friendly English speaking staff who understand the needs of international visitors and their Arai accommodation. Arai Resort features a large resort hotel complex with stylish western style accommodation set at the base of Arai Ski Resort ski and snowboard resort in Myoko City with a full range of services. Ideal for couples, singles and families Lotte Arai Resort hotel complex offers a hot spring centre and ski-to-plaza access, plus a sauna, gift shops and water sports facilities. Initial accommodation offerings for 2017/18 are separated over two buildings (The Lodge and The Arai) with 257 rooms ranging from superior twins through to the extravagant Presidential Suite. Guests can enjoy a meal at the many restaurants available offering different cuisines and atmospheres. Every room has a flat-screen TV and private bathroom as well as free WiFi throughout the resort. An international ski school and ski equipment hire is available.
Everything you may need is on hand at the resort, including Japanese, Italian and western dining, a lounge with a cosy fireplace to relax next to at the end of the day, a fun karaoke bar, a take-out café, a bakery serving freshly-baked bread and the sky-high Okenashiyama Sky Restaurant nestled spectacularly atop Zendana Station. Daily breakfasts at either the all-day dining restaurant or the Japanese restaurant are included in your package, so you'll be well set up for busy days of skiing.
If you want to request something specific for your Lotte Arai accommodation, you can do that in the next step, before you book. Once you book, we'll provide details so you can contact the resort directly.
Discount lift tickets can be bought at the hotel and the nearest ski lift is only 100-300 metres away. Cash or credit cards accepted.
Price Detail for Lotte Arai Ski Resort Accommodation:
Based on two or more guests in room
Superior Double or Twin Room: From ¥36,720 per night
Deluxe Twin Room: From ¥45,360 per night
Superior Family Room: From ¥57,888 per night
Deluxe Double Twin room: From ¥77,328 per night
Special packages including ski lift tickets are also available.
See reviews for Lotte Arai Resort Hotels
Lotte Arai Ski Resort Hotel amenities: At a glance

Check out more Myoko hotel options
Map to Lotte Arai Resort Hotels
See
Lotte Arai Resort Trail Maps here
.
Arai Resort hotel video
Arai Accommodation: Quick links to other hotels near Lotte Arai Ski Resort
Super Hotel Arai Niigata – Hotel Route-Inn Myoko Arai – Apa Hotel JoetsuMyoko Station – Best Inn Arai
Book Lotte Arai Ski Resort Hotels now!
Thank you for viewing Lotte Arai Ski Resort Hotels, Arai Resort Accommodation

Other places to stay near Arai Ski Resort:
Super Hotel Arai Niigata
offers accommodation about 5-6 minutes drive from Arai Resort. Every room at this Japanese-style business hotel is air conditioned and is fitted with a TV and free WiFi.
Hotel Route-Inn Myoko Arai is a 10 minute drive from Arai Resort. It features a free buffet breakfast with fresh-baked European breads and a hot public bath.
Check out accommodation options in Myoko Kogen. Some lodges, such as Red Warehouse, may offer private shuttles (depending on numbers).
Tags: Book Lotte Arai Ski Resort Hotels, Arai Resort accommodation, Lotte Arai reviews