Centrally located in Akakura Onsen, Myoko Kogen
"Couldn't Have Felt More Welcome" – see reviews of Myoko Daimaru Inn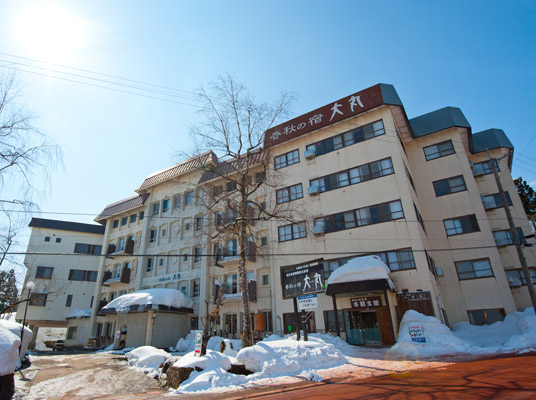 Myoko Daimaru Inn, Akakura Onsen, Myokokogen
Myoko Daimaru Inn: Outline
The Myoko Daimaru Inn (a.k.a. Synjyu-no-yado Daimaru or Daimaru Pensione) is 3-star traditional  ryokan style accommodation with a relaxed atmosphere and English speaking staff onhand. Guests will be welcomed with warm Japanese hospitality. A medium size hotel, with 35 rooms, the Daimaru guarantees you a relaxing, and enjoyable vacation.
Check prices for the Daimaru Inn Myoko
Daimaru is conveniently located in a great position in Akakura Onsen Village. The location is perfect – only a short walk away from ski lifts/slopes, and features stunning mountain views. It is a quick 5 minutes shuttle to the base Akakura Kanko Ski Resort.
The rooms have a combination of Japanese and Western facilities and are simply furnished with Japanese decor. En suite bathrooms are standard. There is a choice of either large traditional Japanese room with futon bedding, a private toilet, wash basin & a shared communal bathroom or large Western style rooms with western beds & a full private ensuite.
Breakfast is included for all guests and is a buffet meal featuring both Japanese and Western dishes. Dinner can be ordered and one of the full course Japanese set meals is a must at least once during your stay. We recommend the inn's traditional Japanese menu cooked using local seasonal ingredients from the mountains and Japan Sea, which is only 20 km away. Niigata Prefecture, where Myoko is located is famous in Japan for producing Japan's best rice. And don't forget the excellent local sake.
Fresh natural onsen water runs from the Akakura Onsen hot springs on the south side of Mt Myoko. It is one of the earliest established hot spring resort hotels in Japan, with a history of nearly 200 years. Hotel Daimaru also has its own onsen with views of Mt Myoko.
Check prices for the Daimaru Inn Myoko
Myoko Daimaru Inn: Features
Cold and hot onsen hot springs
Game centre
Helpful English speaking staff (winter only)
Close to 'nighta' night skiing slope
Free Wi-Fi
Morning buffet breakfast
Myoko Daimaru Inn: Gallery
See reviews of Myoko Daimuru Inn
Price per person, double occupancy
| | |
| --- | --- |
| Service | Rates |
| With Breakfast | From ¥7,500 |
| With Breakfast and Dinner | From ¥9,500 |
Japanese-Western room: 1 room x 2 guests + 2meals (dinner, breakfast) from JPY 18,400 per night
Akakura Accommodation: Quick links to hotels near Myoko Daimaru Inn
Takeda Hotel – Akakura Wakui Hotel – Senke Hotel – Hotel Mumon – Red Warehouse