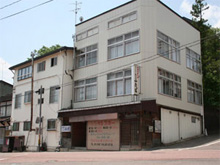 Kappo Ryokan Futaba is a traditional family ryokan just a short walk from Akakura Ski Area
Kappo Ryokan Futaba, Akakura Onsen, Myoko Kogen
Just a 1-minute walk from Akakura Hot Spring Ski Area, this family ryokan offers simple Japanese-style accommodations. Guests can enjoy traditional local specialties for dinner. JR Myoko Kogen Train Station is a 10-minute drive away.
Rooms feature heating facilities, tatami (woven-straw) floors and Japanese futon bedding. Japanese yukata robes are provided for all guests and green tea sets are available. Bathrooms and toilets are shared.
Photocopying services and luggage storage is offered at the front desk. Ski Storage is available and ski equipment rentals and servicing are provided.
Guests can enjoy Japanese meals featuring local produces, fresh seafood from Japan Sea and sukiyaki prepared with Niigata beef and other seasonal ingredients. Japanese sake can be enjoyed as well.
The inn is a 15-minute drive from Lake Nojiri and the shuttle stop to Myoko Suginohara Ski Area is nearby.
Rooms: 16
Kappo Ryokan Futaba video
Book
Kappo Futaba Ryokan now
!
See map for Kappo Ryokan Futaba
Read reviews for Ryokan Kappo Futaba
Check other Akakura accommodation
Akakura Accommodation: Quick links to hotels near Kappo Ryokan Futaba
Takeda Hotel – Akakura Wakui Hotel –  Senke Hotel – Hotel Mumon – Red Warehouse
Thank you for viewing Ryokan Kappo Futaba