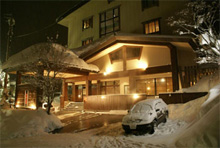 Hotel Shuzan is currently not taking bookings for this season!
"Loved my stay at the Seventh Door (Shuzan)" (review)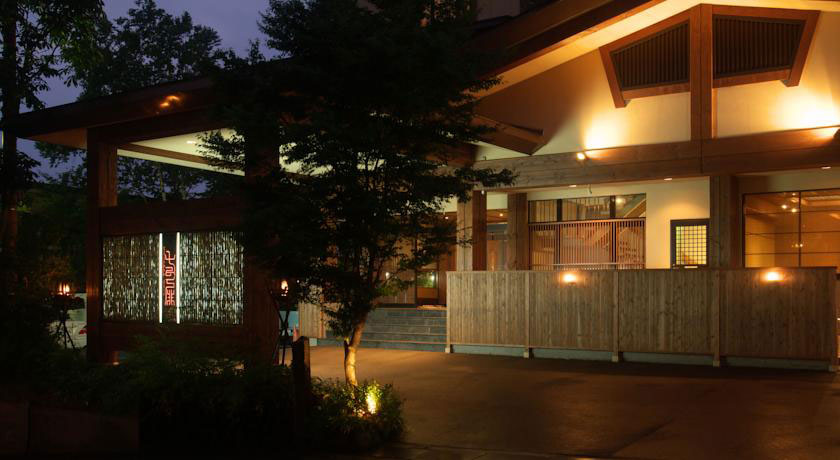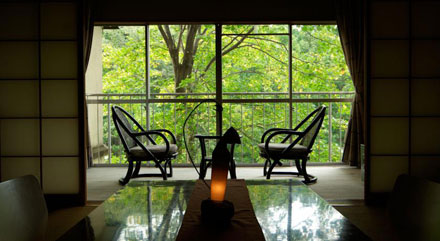 Hotel Shuzan is currently not taking bookings for this season!
Hotel Shuzan (a.k.a. Hotel Syuzan or the Seventh Door Inn) is nicely located in the centre of Akakura Village near the base of the Akakura Onsen ski resort. Lavishly decorated and well located (less than five minutes walk from ski lifts) Seventh Door Inn is a boutique ryokan providing several inside and outside onsen for relaxing after a hard day skiing but each room still has a private ensuite. Hotel Shuzan offers an outdoor and an indoor hot spring bath, massage treatments and ski gear rentals, as well as a souvenir shop, drinks vending machines and free Wi-Fi at the lobby.
The rooms at the Seventh Door Inn have a tatami (woven-straw) floor and a low table with seating cushions. Guests sleep in traditional futon bedding, and all rooms are fitted with an LCD TV and a fridge. The en suite bathroom contains a toilet, shower and bathtub, and comes with toiletries.
Shuzan Hotel is a 2-minute drive from Myoko Kogen Sky Cable at Akakan Ski Resort, which offers spectacular Lake Nojiri views. The shuttle stop to/from the Ikenotaira Onsen and Myoko Suginohara ski areas is a just a minutes walk away. Both the Myoko Kogen Golf Club and the Akakura Golf Course are a 10-minute drive away. JR Myoko Kogen Station is a 10-minute drive.
Guests at Shuzan are welcomed with a complimentary drink. They can unwind in public hot spring baths that are separate per gender. Aroma oils, a hot water bottle or an air humidifier are available at a charge at the front desk, which also offers laundry services. Free parking is available. A Japanese breakfast and dinner are served at the dining room. Meals feature local specialities and sake rice wine from Niigata.
Rooms: 52
Hotel Shuzan video (in Japanese)
Book Hotel Shuzan now!
See hotel map for Seventh Door Inn/Hotel Shuzan

Check other Akakura accommodation
Akakura Accommodation: Quick links to hotels near Seventh Door Inn/Hotel Shuzan
Akakura Hotel – Akakura Wakui Hotel –  Akakura Refre – Kogakuro Ryokan – Red Warehouse

Hotel Shuzan is currently not taking bookings for this season!
Thank you for viewing Hotel Shuzan