"Amazing accommodation and amazing people"(Review)
Myoko Mountain Lodge is a 9-room all season lodge that offers cosy rooms with shared facilities (but the bathroom can be used as private). It is located within a 5-minute drive from Akakura Kanko Ski Resort and a 10-minute drive from Akakura Onsen Ski Resort. There is free WiFi throughout and free on-site parking.
Myoko Mountain Lodge, Akakan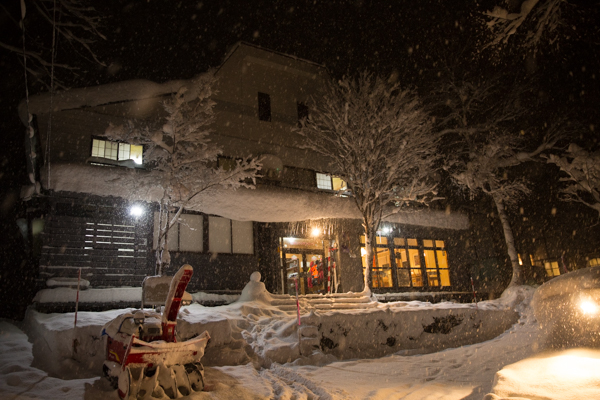 Myoko Mountain Lodge: Overview
The lodge is nestled in a national park forest, walking distance to the onsen village, singing birds fill the trees in the warmer months and is transformed to a winter wonderland in the ski season.
The property provides shuttle service to and from Myoko Kogen station and there is a stop nearby for the local ski shuttle service to Akakura Kanko, Akakura Onsen, Ikenotaira Onsen and Myoko Suginohara. Mountain Lodge Myoko offers a free shuttle to the local ski resorts during winter and local attraction throughout the season.
All rooms at Myoko Mountain Lodge are equipped with air-conditioning and heating facilities. Bathroom facilities are shared with other guests. There is a shared lounge where guests can relax and enjoy their favourite TV programmes or chat with fellow guests.
Akakura Golf Course and Lake Nojiri are located a 10-minute drive away from the property. The nearest train station Myoko Kogen Station is a 40-minute train ride from JR Nagano Station.
A prepayment deposit of 30 % of the full amount is required to secure your reservation. The property will contact you directly regarding payment details. Guests must complete the payment within 14 days of receiving email. The booking will be cancelled if the payment is not made on time.
Video for Mountain Lodge in Myoko, Akakan
 Check other Akakan accommodation options
Akakan Accommodation: Quick links to hotels near Myoko Mountain Lodge, Myoko
Akakura Kanko Hotel – Canadian House – Hotel Moc – Akakura Yours Inn – Pension Kazamidori
Thank you for viewing the Myoko Mountain Lodge Hotel in Akakan!