Arden Myoko
Arden Myoko 10-minute drive from Akakura Kanko Ski Resort and Akakura Onsen Ski Resort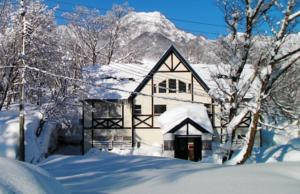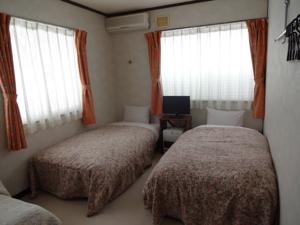 A 10-minute drive from Akakura Kanko Ski Resort and Akakura Onsen Ski Resort, Arden Myoko offers simple accommodations and free on-site parking. Ski storage and equipment rentals are provided on-site. A shuttle is available from JR Myoko Kogen Train Station, which is a 15-minute drive away and must be reserved at time of booking (charges apply).
All rooms feature air conditioning facilities, a TV and a sofa bed. Bathrooms and toilets are shared. Some rooms have a loft area, where extra guests can sleep on Japanese futon bedding.
Guests can purchase ski passes for Ikenodaira Onsen Ski Resort and Myoko Suginohara Ski Resort on site. During the summer season, guests can enjoy an outdoor barbecue at the terrace. A Western-style set menu is served for breakfast at the dining room.
Myoko Arden is a 15-minute drive from Akakura Golf Course and Ikenodaira Onsen Ski Resort. Lake Nojiri is a 20-minute drive away and JR Nagano Train Station is a 1-hour drive away.
Rooms: 7
Arden Myoko video
Book Arden Myoko now!
See map for Arden Myoko
Read reviews for Arden Myoko
Check out more Akakan Resort hotel options
Thank you for viewing Arden Myoko
Check out more Akakan Resort hotel options