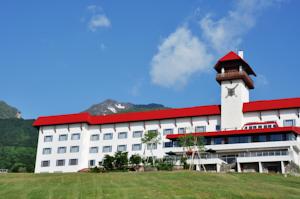 Akakura Kanko Hotel information
The Akakura Kanko Hotel is is the most famous of all Myoko Kogen hotels and is regarded as a Japan ski industry icon. The hotel was built in 1937 and still retains its sense of history. This classic European style hotel, the first of it's kind in Japan, is perched 1000 metres high on the slopes of Shin-Akakura (Akakan) ski area where one can ski in and ski out. Next door to Akakura Kanko Ski Resort, Akakura Kanko Hotel boasts a golf course, a tennis court and a spa centre. It features a top-floor terrace with panoramic views, 3 restaurants and hot spring baths.
Expect a high standard of service and enjoy a hot spring on the balcony in the snow with a view reaching all the way to the Sea of Japan. The host of facilities at the Akakura Hotel Kanko include two different onsen (mineral hot springs), an indoor pool, two restaurants, as well as a lobby and lounge bars. Elegant rooms have soft lighting, a seating area and a flat-screen TV. A DVD player, an air humidifier and yukata robes are provided. The bathroom offers Clarins toiletries for the female skin.
Guests at Kanko Akakura Hotel can unwind in an indoor or outdoor public hot spring bath, which are separate per gender, or rent a private hot spring bath. They can enjoy a Thai massage or a French facial treatment, or work out at the gym. Western cuisine can be enjoyed at restaurant Sorbier, while Kura specialises in sushi, and Shirakaba serves seasonal Japanese cuisine. All restaurants offer spectacular views of the area. The hotel also houses a café terrace, a bakery and a bar.
There are 60 guest rooms in both Western and Japanese styles. Free Wi-Fi is available.
Akakura Kanko Hotel video
Longer Akakura Kanko Hotel video (13 minutes) here
Book Akakura Kanko Hotel now!
See map for Hotel Akakura Kanko
Read reviews for Akakura Kanko Hotel
Check out more Akakan Resort hotel options
Thank you for viewing the Akakura Kanko Hotel
Check out more Akakan Resort hotel options