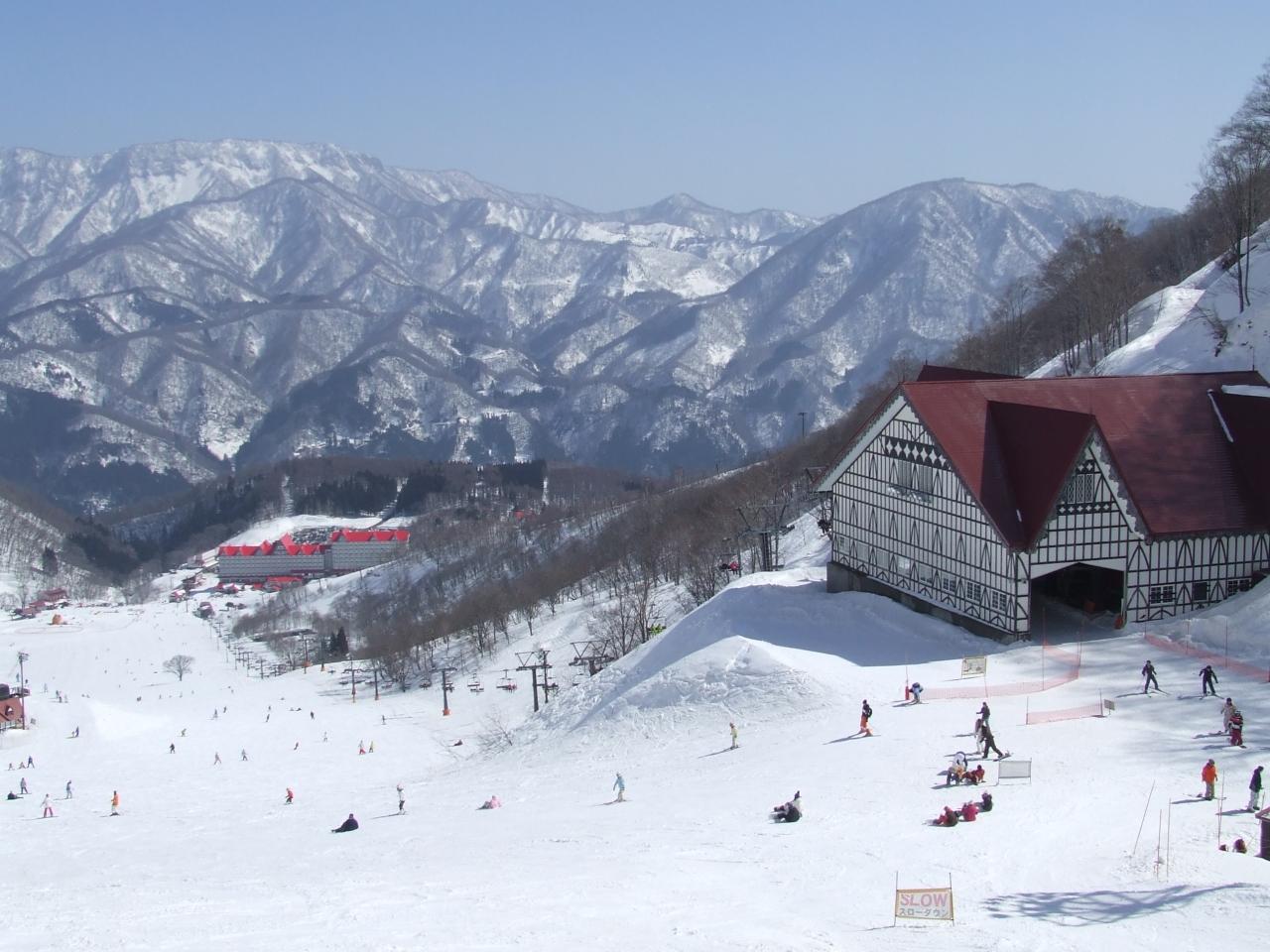 Hakuba Accommodation and Ski Hotels – find self-contained Hakuba accommodation, apartments, ryokan, places to stay, inns, ski lodges, hostels, backpackers, Hakuba hotels and more.
Hakuba Accommodation & Information Guide:
Hakuba Hotels & Ski Accommodation
Welcome! You have found your way to the largest listing of Hakuba Accommodation options online. The Hakuba Accommodation Guide offers a huge range of over 150 Hakuba hotels & resorts, budget hostels & backpacker accommodation, pension, ski lodges, ryokan & traditional inns, ski in ski out, and luxury accommodation to help find the best place to stay in Hakuba. Book online and get instant confirmation! Hover your mouse on the name of each establishment below to get a full description and booking link.

Snow monkeys and Zenkoji Temple tour (from Hakuba)
Hakuba Village in Nagano, Japan is one of Japan's most popular ski areas and host of the 1998 Olympic Downhill. Hakuba receives approximately 11 meters of snowfall annually, with most snowfall occurring in the months of January and February. The area of present-day Hakuba was part of ancient Shinano Province and was part of the territory controlled by Matsumoto Domain under the Tokugawa shogunate of the Edo period. Hakuba was once part of the route called the Salt Road used to bring salt and other marine products from the coast at Itoigawa in Echigo Province (now Niigata Prefecture).
The Hakuba Valley is home to nine resorts, including 135 lifts (inc. 5 gondolas) accessing over 200 runs that offer an expanse of terrain and at least 9 terrain parks. There are 960 hectares of skiable terrain which equates to 137km of piste. Skiing offers Hakuba is varied across the resorts but it's generally very well suited to beginners and intermediates with many long perfectly groomed runs and fantastic fall-line. There's also some world class back country skiing on offer.
Hakuba Village itself consists of several main ski areas and these are broken into sub-areas. The Hakuba ski resorts aren't interconnected via the slopes (except for Hakuba 47 and Goryu, and Cortina and Norikura), but they can be accessed off a common lift ticket and there are free shuttle buses to get around to the different ski areas. At the southern end of the Hakuba Valley are the resorts of Goryū, Hakuba 47, Sun Alpina, Yanaba, Minekata and the Olympic ski resort Happōone (pronounced Happ-o-ney). To the north are the resorts of Iwatake, Tsugaike Kogen, Norikura, and Cortina. Also check out our Hakuba Maps Guide or Hakuba Google Map which provides a wide variety of information about Hakuba accommodation, restaurants, bars transport, webcams and ski resorts. Our Hakuba weather and snow forecast can be found here, our Hakuba Access Guide is here and Hakuba onsen Information here.
Hover your mouse above each name to get a full description and booking link to our Hakuba accommodation
Hakuba Hostels/ Backpacker & Budget Accommodation List – Click Here!
Hakuba is the perfect destination for skiers on a budget and dream location for skiers seeking cheap Hakuba accommodation. Some establishments such as K's House Hakuba Alps and Hakuba Alps Backpackers are purely backpacker style. Monkey Rider Hakuba and B&B Snowbeds Backpackers Hakuba are more upmarket Hakuba budget accommodation providers but still offering competitive prices. Hakuba Powder Lodge is a popular place to stay in Hakuba that offers ski lodge accommodation at a hostel price. Villa Rengtei is conveniently located in Echoland within walking distance to entertainment options and shuttle bus stops. Resort Inn Kotan is only ten minutes from Hakuba Cortina and offers a range of options including dormitory room, standard Western-style room or a Japanese-style room. See more Hakuba budget accommodation here…
With only five minute walk to Happo-one Ski Resort, Gakuto Villas offers modern self-contained accommodation with a fully equipped kitchen, a flat-screen TV and free Wi-Fi. Hotel Phoenix Wing has stylish appointed resort cottages all featuring private terraces and fire places tailor made in Finland. Kashibesso Hakuba Royal Cottages are American-style guest houses in Goryu containing two bedrooms, living room, dining room and kitchen. The Ridge Hotel and Apartments offers guests wi-fi, tv, kitchenette and balcony as well as having a bar/pub, restaurant and kids club onsite.
Canadian Village offers the opportunity to rent by the room only whilst Brownie Log House Rentals (see map) is a popular choice that can accommodate up to eight people. Condo Hakuba Excel provides Western-style condominiums located in a quiet forest. Only 10-minute walk from Happo One Ski Resort, guests at Log Cottage Epoch can rent out an entire cottage. Situated a 2-minute drive from Hakuba 47 Ski Resort, Balls Deep Inn Villas offers self-contained cosy villas fitted with natural wooden décor and stylish furnishings. See more Hakuba self-contained accommodation here…
Hakuba Village offers dozens of pensions, ski lodges, villas and B&B. These range from those with the most basic of facilties to luxurious, from Japanese style to faux-European. So there will always be a number of accommodation options to suit both your style and budget.
Very popular with foreign skiers is Hakuba Pension Meteor a.k.a. Lodge Meteor which is a long standing local Hakuba pension, owned by a local family for two generations. Also popular is Alupu Lodge right on the base of Happo-One and Grove Inn Skala featuring a cosy lounge with a library, a bar and a wood-burning stove. Looking to get right on the slopes? Alupu Lodge is well located right on the base of the Hakuba ski slopes, Penke Panke Lodge is conveniently located next to the Sakka High speed quad at Happoone, whilst Wind Jacket Lodge is only 250 metres from the Happo One ski lift as well the Hakuba night life. Hotel Petite Hamac is a 5-minute walk from Hakuba Happo One Ski Resort.
The Lab is a large ski lodge located within 500 metres of the Happo-One lifts and Land Haus Dancru Netz has the the free Hakuba shuttle almost at the front door. Lodge Karunaju (aka Kalunajyu Pension) is a cosy lodge that offers free parking, free Wi-Fi access and a 24-hour Kashikiri (bath for private use). Pension and Bar Sidehill is somewhat similar, featuring a cosy lounge with a wood-burning stove, a 24-hour hot tub and an organic restaurant. To explore all options you can check our Hakuba Pension and Ski Lodges information here…
Imagine skiing deep Japanese powder snow then coming 'home' to rich cultural experience along with a long soaking hotspring. Welcome to luxury Hakuba accommodation with the many traditional style inns ready to greet you. Some are older, such as Araya Ryokan which provides cosy family-run accommodation located a 5-minute drive from Hakuba Happo One Ski Resort. Some are younger, such as Shirouma-so Ryokan which is a modern Japanese ryokan combining traditional Japanese architecture with a modern Japanese style. Marukin Ryokan is a Japanese-style resort hotel with a fabulous new look, yetnostalgic atmosphere.
Just a 3-minute drive from Happo-One Ski Resort, Maruni Ryokan provides comfortable Japanese-style accommodation featuring hot spring baths. Featuring traditional Japanese-style accommodation with futon bedding, tatami-mat floors and yukata robes, Ougiya Ryokan is 5 minutes from Hakuba Happo-One Ski Field on the free shuttle. Ryokan Miyuki provides a hot-spring bath, Japanese rooms and free WiFi at the lobby, an 8-minute walk from Hakuba Happo-one Ski Resort while those wishing to be just a shorter walk to the slopes can choose to stay at Gensennoyado Maruishi Inn or Hosonokan Ryokan. Want the ultimate hot spring experience? Why not try Yamanasato Inn Hakuba Hifumi which boasts deluxe rooms with private open-air rotenburo bath. Read more about Hakuba Japanese-style accommodation here…

With so many Hakuba hotels and resorts to choose from how does one pick the best option? We've tried to simplify the choice for you by listing on our hotels and resorts page a variety of featured Hakuba accommodation properties which are some of the more popular choices for foreign skiers in Hakuba. However we do encourage visitors to be a bit adventurous and try something new.
Check out our (very) long list of Hakuba hotels and resort accommodation here…
Visitors to Hakuba could do much worse than considering the Hakuba Mominoki Hotel – one of the best known hotels in Hakuba and one that is noted for its luxuriousness, location and English-speaking staff. The unique Shakespeare Hotel in Echoland has a distinctive Edwardian style that features a French/Japanese restaurant as well as a cafe/bar. Every room in the Ridge Hotel and Apartments offers guests, internet access (wireless), tv, kitchenette and balcony/terrace, whilst Hakuba Tokyu Hotel is a classic European style resort hotel offering five star luxury in formal yet comfortable guest rooms at the base of the Hakuba ski fields. Want the ultimate hot spring experience? Why not try Yamanasato Inn Hakuba Hifumi which boasts deluxe rooms with private open-air rotenburo baths.
For those seeking something quieter Hakuba Goryu Hotel Stelle Belle is a resort hotel standing quietly in the woods of Hakuba but still conveniently located only three minutes walk from the Hakuba Goryu ski area. From the lobby lounge in Hotel Goryukan guests can admire a spectacular view of the majestic mountains of the Northern Alps as can one from the rooms at Rosenheim Hakuba located right next to the Hakuba Happo ski lifts. The Hakuba Alps Hotel is an authentic resort-style hotel located at the foot of grand North Alps whilst each of the 28 rooms at the 5-star La Neige Higashikan have all the comforts and conveniences of home. French cuisine made with local Nagano ingredients is served at Restaurant Jardin in the Hakuba Springs Hotel.
There are many other popular choices of luxury or speciality accommodation in Hakuba. These include Hotel La Neige Honkan and Laforet Club Hotel Hakuba Happo as well as Sierra Resort Hakuba
See more Hakuba Luxury & Speciality Accommodation here…
Search Hakuba Accommodation & Hakuba Hotels with our valued partners – get instant confirmation!

Discount Shinkansen Tours: Great Deal for visitors to Japan – up to 52% off!
Hakuba Weather

Hakuba Accommodation Map plus restaurants, bars, cafes and ski resorts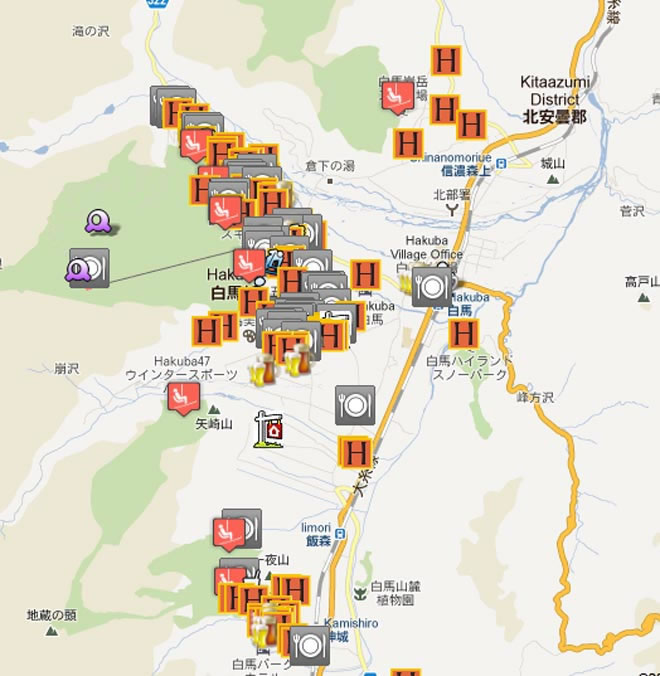 View a larger Hakuba accommodation, restaurant, bars and ski resorts google map here or find Hakuba piste maps, ski trail maps and Hakuba village maps

Hakuba Ski Videos
http://vimeo.com/4620924
http://www.youtube.com/watch?feature=player_embedded&v=JXj9Gj4R6Xk
Thanks for viewing the Hakuba Accommodation Guide!