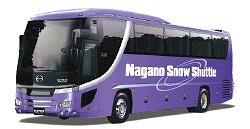 Not sure how to get a Osaka or Tokyo to Nagano bus? Maybe you want to drive from Tokyo to Nagano or get a taxi? This Tokyo to Nagano bus, taxi and driving guide should help you. For getting the train from Tokyo to Nagano click here. For full info about getting from Osaka and Nagoya to Nagano click here. You can also get onwards transport information for Myoko Kogen, Nozawa Onsen, Madarao Kogen, Japan Snow Monkeys, Togakushi and more. Heading to Hakuba – for transport options to and in Hakuba click here. Want to check out some maps to help you? For map links click here. Need to book a Nagano hotel? Get the best Nagano Accommodation deals here!
Osaka & Tokyo to Nagano Bus, Car & Taxi
Bus, Car and Taxi options for getting to Nagano
Plus onwards to Myoko, Nozawa, Togakushi & Snow Monkeys
Discount Shinkansen Tours: Great deals for visitors to Japan – up to 52% off!
Hint: Print these directions out and put it safely in your carry-on luggage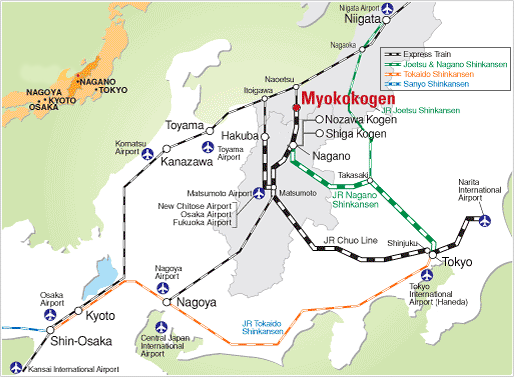 TOKYO NARITA AIRPORT – LEFT LUGGAGE & BAGGAGE STORAGE
Both terminals at Tokyo Narita Airport have luggage storage areas for left baggage. In Terminal One there are two left luggage counters – one on the Arrivals level and one on the Departures level. On the Arrivals level, (first floor) the counter is open 07:00 to 22:00 (7am-10pm) daily. On the Departures level (fourth floor) the counter is open 07:00 to 22:30 (7am-10.30pm) daily. Terminal Two has two baggage storage counters on the Arrivals level and two on the Departures level. They are open 07:00 to 22:00 (7am-10pm). One of the counters (GPA) in Arrivals is open 06:30 to 22:30 (6.30am-10.30pm). The cost is ¥500 to ¥800 per item per day depending on size.
See here re sending your luggage via courier service
Tokyo to Nagano Bus Services
Nagano Ski Resort Shuttle & Airport Transfer
Private Limousine Nagano (Lampya) is pleased to offer a Myoko-Nagano ski resort shuttle for foreign guests visiting Japan. Lampya offers a Nagano airport transfer to/from Narita, Haneda and Nagoya Airports as well as Nagano ski resort transfers, day trips and tours. Lampya is a great option for medium to large groups as you are chartering the vehicle for your own personal use.

BUS: NARITA TO NAGANO SKI AREAS
Nagano Snow Shuttle now runs a direct shuttle from Tokyo airports to Myoko Kogen, as well as Hakuba, Nozawa Onsen and Shiga Kogen. See the Nagano Snow Shuttle for more details and online bookings. Also check the once a day overnight service from Narita Airport by Alpico Bus.
 Learn Japanese on your iPod or add a phrasebook
FROM HANEDA AIRPORT TO TOKYO (NON-TRAIN OPTIONS)
The Airport Limousine Bus departs frequently for Tokyo Station, Shinjuku Station, the city centre hotels and Disneyland. For short distances, ie Ginza, the Tokyo Station area, Shibuya and Shinjuku, taxis are reasonably affordable.
BUSES: TOKYO TO NAGANO
There are two Tokyo to Nagano highway bus services which generally take just over 3 1/2 hours. If you wish to use one, you need to change at Ueno or Tokyo and head for Nagaden Bus at Ikebukero (Seibu Terminal) or Shinjuku station (see map below – Keio Terminal) for the Alpico Bus Line. Tickets are Y4,000 each and schedules are as follows.
| | | |
| --- | --- | --- |
| Bus – Tokyo Shinjuku to Nagano | 14 dep. a day between 6:50-21:10 | 03-5376-2222 |
| Bus – Tokyo Ikebukuro to Nagano | 7:35 9:00 10:35 16:20 17:20 18:20 | 03-5910-2525 |
It is easiest to use the Yamanoate Circle Line for both stations (and free with a JR Pass) from either Ueno or Tokyo stations. You can also catch a limousine bus direct to Shinjuku which costs approximately 3,000 yen and takes one hour, or use the Tokyo Airporter service.
JAPANESE STATION COIN LOCKERS
If just stopping over for a few hours before you take a Tokyo to Nagano bus it's very easy to find secure coin lockers to store your luggage in any major Japanese rail or bus station. These cost from ¥100 for a small locker up to ¥800 for a very large locker. JR's large coin lockers are not only tall but deep. If your bag won't fit then you're using some really scary large luggage. There are no lockers for skis or snowboards. Coin lockers are available by both the East and Zenko-ji Exits of JR Nagano Station (cost is ¥300-¥600).
Note: Stations close overnight! If you want to retrieve your luggage make sure you get there before closing! If left after midnight extra charges will accrue.
More info on coin lockers here. See here re sending your luggage via courier service.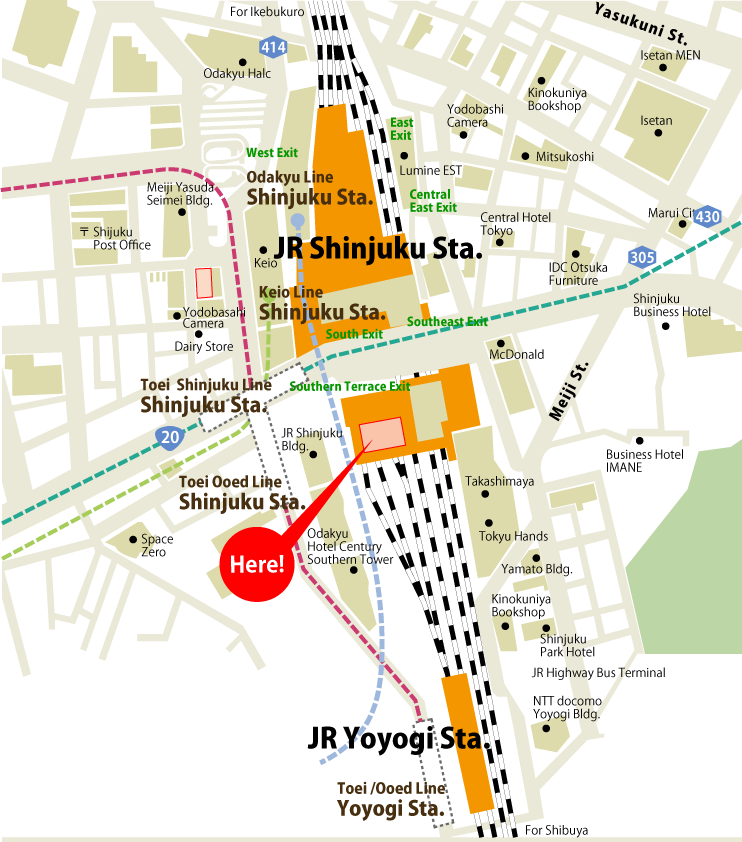 Tokyo to Nagano Bus: Tokyo Ski Bus Options
Between December and April Travex runs a ski bus service direct from Tokyo Station or Ikebukero to the following ski resort areas – Kurohime-Kogen,Suginohara, Ikenotaira, Akakura and Tangram Ski Circus. Madarao ski areas are also serviced by a seperate line. The cost is 4,000 yen one way or 7,500 yen return.
There is a Tokyo to Togakushi ski bus that costs 10,000 yen return. Contact Eagle Kanko Line in Tokyo on 03- 3251-3341
See above re the Japan Ski Bus servicing Nagano ski resorts directly from Tokyo Narita Airport (Madarao ski areas, plus Hakuba, Nozawa Onsen and Shiga Kogen)
Tokyo to Nagano Bus, Tokyo to Iiyama and Madarao Kogen
Direct bus services from Shinjuku (see map above) to Iiyama have been suspended. We will update if we become aware of a replacement service.
Osaka & Kyoto to Nagano plus Kanasai Ski Buses
A direct highway bus from Kyoto to Nagano via Osaka is available from Alpico Bus Line. During winter there are a number of ski buses that take skiers directly from the Kansai area (Kobe, Osaka, Kyoto and Nagoya) to Nagano ski resorts, including Hakuba, Myoko Kogen (Akakura), Nozawa Onsen, Tangram/Madarao Kogen,Togakushi and Shiga Kogen. Tickets can be prebooked but service is only in Japanese. Check this E-Ski Bus link (supplied via Google translate) for more details.
Book cheap Osaka Hotels and Kyoto Hotels here
Nagoya to Nagano Bus
There are direct highway bus services available to Nagano from Meitetsu Bus Terminal (adjacent to JR Nagoya station), as well the Matsumoto and Iida-Ina areas. The direct bus service from Centrair Airport in Nagoya to Nagano was terminated in November 2008. Book cheap Nagoya Hotels here
Nagano to Myoko Kogen Bus
The highway bus to Myoko and the ski resort areas from Nagano station has unfortunately been suspended. Book cheap Nagano Hotels here
Buses: Nagano to Madarao, Tangram and Iiyama
Resort buses run to Tangram and Madarao but you need to check the times with your hotel when you make a booking. There are six-eight shuttles per day from Nagano Station to Tangram and eleven shuttles per day from Kurohime station (one stop before Myokokogen). Note: Winter schedule only.
Nagaden Bus runs two express buses to Madarao from Nagano Station each day and return (during winter only) from the East (Higashi) exit of Nagano Station (Bus stop 3 or 4 – check map below). They also run services from Nagano to Nozawa Onsen via Iiyama. Check here for timetables. Costs per person 1,400 yen one way. Travelling time is approximately 80-90 minutes.
There is a Nozawa Onsen – Togari Onsen – Madarao Kogen shuttle operating from December 2010
Nagano to Nozawa Onsen Bus
Exit Nagano station via the East exit (see below), then take an Alpico bus bound for Nozawa Onsen. There are five buses a day during the winter season. To read the timetable – the top character is "Nagano Station east exit" and the bottom character is "Nozawa Grand Hotel". Reverse around for the return trip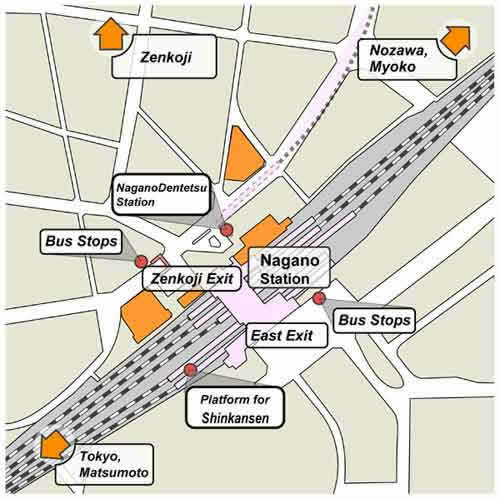 Nagano Station Area Map
Nagano to Togakushi Bus
Exit Nagano station via the Zenkoji exit, then take a Kawanakajima bus bound for Togakushi Camp-jo or Togakushi Chusha-miyamae from the Kawanakajima bus station opposite Nagano station (Stop 7). Get off at either Hokosha-miyamae if wanting to see all three of the Togaksuhi Shrines or Chusha-miyamae if wanting to start at the middle shrine. The scenic bus trip up takes approximately 45-50 minutes through a coil of switchbacks, hairpin bends and mountain passes. Cost is ¥1350 one way and return ¥2400. See here for more details.
If you are coming from Kanazawa or Niigata see below. You can alight at Kurohime for Togakushi and take either a taxi or a shuttle bus (during winter only and must be pre-booked).
BUS: NAGANO TO YUDANAKA ONSEN, SHIBU ONSEN & JIGOKUDANI MONKEYS
Nagaden express buses connect Nagano Station with Yudanaka Station in 45 minutes and for ¥1130 yen one way. From Yudanaka, take a bus or taxi to Kanbayashi Onsen (15 mins / ¥250). There are express buses between Nagano Station and the Shiga Kogen area, which stop at Kanbayashi Onsen near the trail head to the monkey park (40 mins / ¥1300 yen).
OSAKA/NAGOYA TO HAKUBA BY BUS
See here for information on getting to Hakuba from Osaka and Nagoya.
Taxi Services
Taxi: Tokyo Airports to Nagano & Nagoya Airport to Nagano
Chuo Taxi provides a direct service to or from both Haneda Aiport and Narita International Airport in Tokyo to all points in Nagano and Myoko. The cost ranges from ¥12,500 to ¥16,900 depending on your final destination. Reservations are necessary (at least five days in advance) and can be made by via this reservation page.
Alpico Taxi also offers an airport service in Nagano (Japanese info only).
Going by Car
Rental cars in Nagano and Myoko
For ease of pre-booking a rental car online and great selection Tocoo is the only one real choice. This company provides an English website and support in English, plus some cars can come with English GPS*. Most major car rental companies have branches in Nagano but these can also only be found in major cities such as Nagano, Joetsu City and Tokyo. Check here to see what licence you require for driving in Japan.
Remember to book snow tyres and make sure your radiator has anti freeze. *If you can only get a Japanese GPS here are video instructions to help you.
DRIVING INSTRUCTIONS
Follow the instructions below to get to Nagano City. From there take the local Route 18 or the Joshin-etsu Expressway between Nagano and Joetsu City and look for the turn-offs to Lake Nojiri (Nojiriko), Kurohime, Togakushi, Myokokogen, Arai, Iiyama, and/or the various resorts.
If travelling in winter check the weather and road conditions first – even if conditions are fine at your departure point. You may need to possibly equip your car with snow tyres.
A very simple (.pdf) driving guide can be downloaded here.
DRIVING INSTRUCTIONS AND DISTANCE FROM TOKYO TO NAGANO
From the Shinjuku district of Tokyo go west in the direction of Hachioji and from the urban expressway enter onto the Chuo Expressway. After Kofu, look for the Okaya junction which takes you in the direction of Nagano. Alternatively take the Kanetsu Expressway to the Fujioka J.C.T and head towards Nagano on the Joshinetsu Expressway. Distance: 250-300km Time: 4.30-5.00 hours
DRIVING INSTRUCTIONS AND DISTANCE FROM OSAKA OR KYOTO TO NAGANO
Take the Meishin Expressway to the Komki J.C.T, head up the Chuo Expressway and the follow instructions as below. Distance: 450-500km Time: 5.30-6.30 hours
DRIVING INSTRUCTIONS AND DISTANCE FROM NAGOYA TO NAGANO
Take the Chuo Expressway to the Okaya J.C.T and head towards Nagano on the Nagano Expressway. Distance: 250-300km Time: 4.30-5.00 hours
DRIVING INSTRUCTIONS FROM NIIGATA, KANAZAWA OR TOYAMA TO NAGANO
Take the Hokuriku Expressway to Joetsu I.C.(Naoetsu) and switch to Joshinetsu Expressway. Exit at Myoko Kogen I.C., Toyota Iiyama I.C., Shinano-machi I.C., Shinshu-Nakano I.C. or Iizuna. Alternatively take the local Route 18 from Joetsu.